Apple thought to be seeking vast expanses of office space in Seattle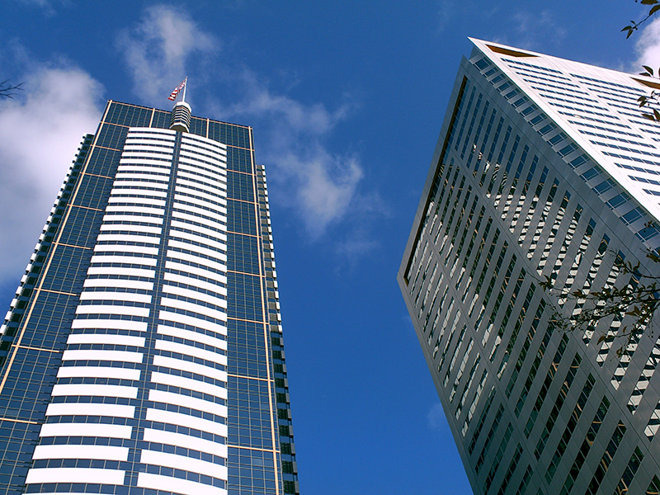 AppleInsider is supported by its audience and may earn commission as an Amazon Associate and affiliate partner on qualifying purchases. These affiliate partnerships do not influence our editorial content.
Real estate companies in the Pacific Northwest are allegedly "buzzing" that a large California business, presumably Apple, is eyeing Seattle for potential expansion.
Citing multiple sources familiar with the matter, GeekWire on Friday claimed that Apple may be seeking hundreds of thousands of square feet of office space, accommodating up to 2,300 workers. Sites identified as interesting to the unnamed California company are the Centre 425 building, the 929 Office Tower, and the Lincoln Square expansion tower, all under construction.
It's not clear why Apple would want a massive presence in Seattle. While Apple just purchased machine learning startup Turi, located in the area, that firm already has office space and staff could easily be relocated to existing Apple offices in the region with room to spare.
After Apple purchased cloud computing company Union Bay Networks in 2014, it set up a temporary office space, ultimately moving into a larger venue in downtown Seattle. Apple currently leases about 30,000 square feet in Seattle, suitable for around 200 employees and support for same.
LinkedIn profile checks show only about 85 Apple workers in the area not tied to retail operations, and that includes some (but not all) of the people associated with Turi. Additionally, AppleInsider has been told that the Apple office space is improved and ready for employee move-in, and has been for some time, yet remains mostly empty.
A Seattle space would put Apple engineers closer to large data centers and large hubs for cloud-based computing. However, even that attraction is outweighed somewhat by Apple's own data centers in the U.S., with facilities in Newark, California; Reno, Nevada; Maiden, North Carolina; and Prineville, Oregon.
Apple's new Silicon Valley headquarters is nearing completion, which will house 12,000 just in the main building after the completion of Phase 1. Phase 2 will add additional workspace, as well as a small data center.