Apple hires former Porsche race car director for alleged 'Project Titan' role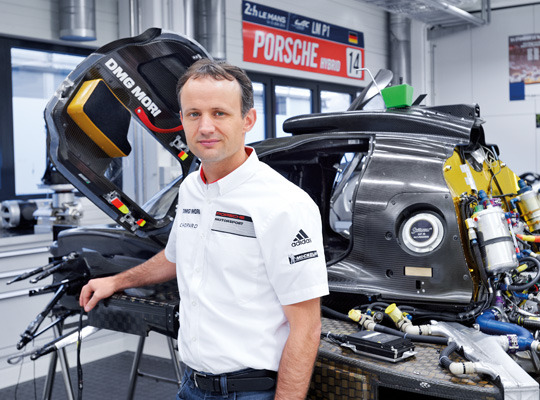 AppleInsider may earn an affiliate commission on purchases made through links on our site.
Porsche's race program lead, Alexander Hitzinger, was allegedly brought on to Apple's "Project Titan" car program in the spring of 2016, a new report reveals.
The report, first made by German publication Manager Magazin claims that Hitzinger departed to do something "which has a significant and direct impact on society." Hitzinger's LinkedIn profile confirms his departure from Porsche in March, and notes that he joined a "technology company" in San Francisco in April.
From 2006 to 2011 Hitzinger worked as Head of Advanced Technologies for Red Bull Technology. From mid-2006 to mid-2007 he also filled the role of Technical Director of the Scuderia Toro Rosso Formula One team. Since 2011, Hitzinger has been Technical Director of the Porsche LMP1 project.
While at Porsche, Hitzinger returned the company to endurance racing, and assisted in development of the 919 hybrid sports car. Hitzinger's command led the company to Le Mans and endurance racing world championships in 2015 and 2016.
"Project Titan," Apple's car project, was reportedly staffed by more than 1,000 engineers and other personnel working out of top secret labs in Sunnyvale, Calif., some of whom were pulled from other consumer product teams.
"Project Titan" also appears to have run into trouble last September when sources said top executives expressed displeasure with the group's slow progress. Subsequent reports indicated the team faced mounting unforeseen obstacles that ultimately culminated in the axing of dozens of employees.
According to the most recent rumblings, Apple has pivoted away from a full-fledged self-driving car platform and is now focusing on the development of autonomous vehicle software and supporting hardware. Interestingly, Apple's driverless product, if it ever materializes, might intersect with the company's augmented reality initiative. In October, reports claimed Apple is currently testing AR-based navigation and other autonomous vehicle solutions using virtual reality simulators.
Closer to Hitzinger's specialty, officials from Apple met with premium automaker McLaren to discuss a purchase, but the discussions never went as far as a bid, according to McLaren's CEO.