Apple v. Samsung remanded back to court where legal battle began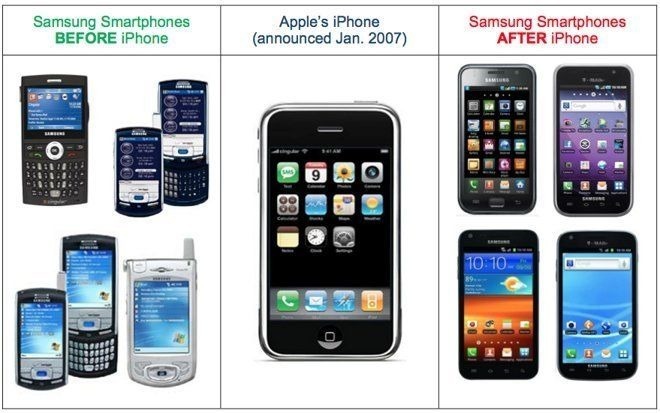 AppleInsider may earn an affiliate commission on purchases made through links on our site.
After five years and a through America's legal system, including a sojourn to the highest court in the land, Apple's patent infringement case against Samsung is returning to where it began.
The U.S. Court of Appeals for the Federal Circuit on Tuesday handed down an order remanding the Apple v. Samsung case back to its originating venue, the Northern District Court of California. It is now left up to that lower court to settle the dispute, which might entail a new damages trial.
"While Apple requests continued panel review, Samsung requests that we remand to the district court for a new trial on damages. [...] Instead, we remand this case to the district court for further proceedings, which may or may not include a new damages trial," the CAFC ruling said.
Today's ruling comes some two months after the U.S. Supreme Court sided with Samsung in finding design patent case damages should only apply to individual components of a smartphone, not the entire product. As such, penalties related to patent infringement rulings should not be calculated on whole device sales.
"Just like the Supreme Court, the Federal Circuit declined to instruct the trial court exactly how to determine what constitutes the appropriate 'article of manufacture' for any given case," said Case Collard, a partner at international law firm Dorsey & Whitney. "That issue will now be remanded to the trial court for determination."
The article of manufacture argument took up a significant portion of the Supreme Court hearing. Apple believes Samsung should pay damages on entire device sales for infringing on Apple's patents, a much larger sum than damages based on parts alone. The company also argued that Samsung failed to provide compelling evidence that would contradict Apple's view of article of manufacture over the course of five-year legal process.
Apple initially won more than $1 billion in damages as part of California jury trial against Samsung in 2012. Part of that sum was subsequently vacated in a partial retrial, while a successful Samsung appeal to the CAFC and other lower court revisions whittled Apple's collective court down to $548 million. Samsung agreed to pay the amount in 2015, including the $399 million sum attached to the case heard by the Supreme Court last year.
"Trial courts are well suited for this type of analysis, so it makes sense that the Federal Circuit — rather than create a procedure from whole-cloth — would like to see how the trial court approaches the problem," Collard said. "Court watchers will now turn their attention to Judge Koh to see if she decides to hold a new trial on damages in light of these rulings."
In remanding the case, the CAFC notes the lower court "should consider the parties' arguments" to determine what additional proceedings, if any, are needed to resolve the issue. Judge Koh could, for example, set a new damages trial to set a test for identifying an article of manufacture, then apply that rule to Apple's lawsuit.