See how Apple's growth in Greater China could once again top European revenue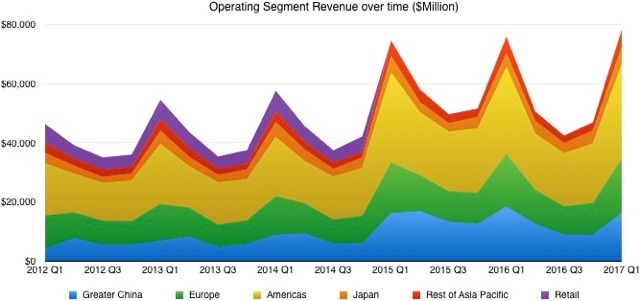 AppleInsider is supported by its audience and may earn commission as an Amazon Associate and affiliate partner on qualifying purchases. These affiliate partnerships do not influence our editorial content.
Apple's success in Greater China has wavered slightly over the last year, with the region now bringing in less revenue for the company than Europe, but data suggests the market has every chance of bouncing back and re-overtaking Europe's sales figures.
In Operating Segments Revenue data provided as part of Apple's quarterly financial results, China has shown itself to be a great source of increasing income for the iPhone producer.
In the first quarter of 2012, China accounted for $4.08 billion of the company's revenue. For the following three years, Greater China was the source of relatively modest revenue, with seasonal highs in the first and second quarters dropping down to around $5 billion in the third and fourth quarters. During this entire three-year period, the peak was $9.29 billion in Q2 2014, with a low of $4.64 billion in Q3 2013, excluding the earlier $4.08 billion figure.
In Q2 2015, while other regions endured their usual revenue reductions, Greater China's revenue actually increased to $16.82 billion, making it the second-largest region on Apple's list of operating segments.
Things took a major turn in the first quarter of 2015 when Apple reported its best ever quarter, with $74.6 billion in revenue stemming from increased income across all operating segments. While the Americas and Europe saw year-on-year growth of 23 percent and 20 percent, respectively, Greater China stood out with growth of 70 percent. The bump represented an extra $7.3 billion compared to the year before.
The launch of the iPhone 6 and 6 Plus in September 2014 was a major contributor to the record revenue. While Mac sales increased year-on-year by 14 percent and iPads dropped 18 percent in the quarter, the iPhone refresh led to an increase of 46 percent compared to the year before, with close to 75 million units sold during the period.
It is also notable that Apple changed how it reported its operating segments data in the same quarter, eliminating "Retail" as its own segment in the reports and incorporating the revenue into each respective region. In previous years, Retail would account for between $4 billion and $7 billion in revenue on its own, but the change means the other segments benefit from a small revenue boost from that point onwards.
The general revenue trend across all regions is a reduction after the first quarter, hitting a low for the Q3 results, and then rebounding sharply in the first quarter, coinciding with the annual iPhone refresh. In Q2 2015, while other regions endured their usual revenue reductions, Greater China's revenue actually increased to $16.82 billion.
This increase meant China became the second-largest region in Apple's list of operating segments, overtaking Europe for the first time. Greater China would maintain its position for another four quarters, before Europe took back its runner-up position in Q3 2016, and has kept its place ever since.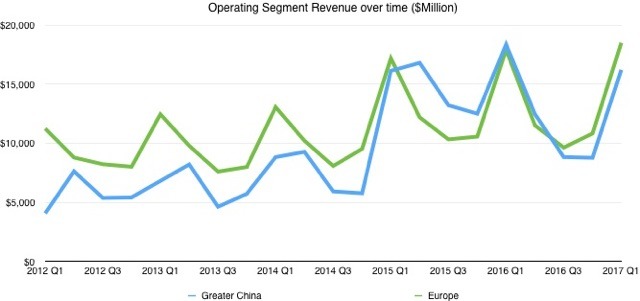 The most recent financial results could have been an opportunity for Greater China to take the lead, but the $16.23 billion of reported revenue was just not enough to beat Europe's $18.52 billion. Greater China's results also represented a year-on-year contraction of 11.6 percent, making it the only operating segment to perform worse than the year before.
Apple CEO Tim Cook's comments during the latest financial results call suggested China's slightly disappointing results were down to currency issues. "The currency has devalued 6 percent year over year," Cook advised, with mainland China actually up six points on the same quarter last year on a "constant currency" basis, suggesting matters are improving.
The latest quarter's results were also being compared against what was Greater China's all-time quarterly record of $18.4 billion.
Even though revenues are down, China is still a great prospect for future growth for Apple. Recent figures from IDC claim the Chinese smartphone market grew by 18.7 percent year-on-year for the fourth quarter of 2016, with annual shipments up 8.7 percent in 2016 compared to 2015.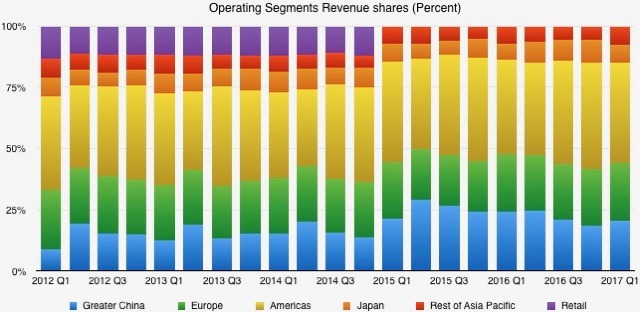 The analytics firm's data suggests that Apple's shipments in China had, in fact, decreased year-on-year by 12.8 percent in the quarter, moving against the market's overall growth, with local producers capitalizing on the increased consumer demand. The iPhone 7 and iPhone 7 Plus "did not create as much of a frenzy compared to the past," the analysts claimed.
Despite this, IDC suggests consumers in the region may be holding off from upgrading to the current iPhone in favor of this year's 10-year anniversary release, which may also attract more Android users wanting to use a premium device.
If the exchange rates improve in the next year, and if Apple's iPhone refresh manages to capture more of the still-growing market, Greater China could possibly retake second place from Europe within a year or two.