Stock-outs could signal the death of Apple's iPad Air 2 ahead of expected lineup refresh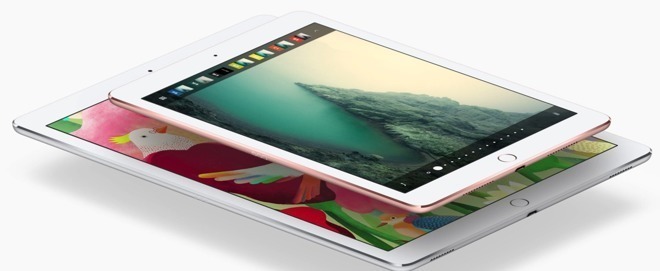 Inventory of Apple's entry-level 9.7-inch iPad continues to dry up as a trio of new models are rumored to soon launch, potentially suggesting the popular iPad Air 2 will be axed for a new model with faster processor.
As can be seen in the AppleInsider Price Guide, certain popular configurations of the iPad Air 2 are not available to purchase from authorized Apple resellers. The company typically draws down inventory of products in such a fashion ahead of launching new models.
At MacMall, neither the space gray nor silver variants of the 32-gigabyte Wi-Fi-only iPad Air 2 are in stock. And on the high end, B&H lists all LTE-equipped 128-gigabyte models as "no longer available," suggesting inventory will not be replenished.
Apple itself has wait times for new orders as well: silver, gold and space gray versions of the Wi-Fi iPad Air 2 deliver no sooner than Feb. 20 for online orders. Even retail availability is slowly drying up, with some Apple stores advertising new inventory will arrive by Feb. 24.
Apple first released the iPad Air 2 in late 2014, giving it a then-top-of-the-line A8X processor. In 2017, however, it lags well behind the current iPad Pro lineup and its A9X chips, putting it as an entry-level option starting at $399.
Dwindling iPad Air 2 availability comes as Apple is expected to revamp its tablet lineup, headlined by two new iPad Pros at the high end of the lineup. It's expected that Apple will stick with 12.9 inches for the jumbo-sized model, and adopt a new form factor with a 10.5-inch display for the smaller variant.

The company is also rumored to debut a third new iPad sized at 9.7 inches, serving as a new entry-level model. Such a move could spell the end for the iPad Air 2 after a nearly two-and-a-half-year run.
Rumors claim the budget-priced 9.7-inch iPad will feature a version of the A9 chip found in the iPhone 6s.
Despite being the least powerful model, market forecasts call for the new entry-level 9.7-inch version to be the best selling option in Apple's lineup. Last quarter, the average selling price of an iPad was just $422.98, revealing that consumers prefer lower prices over more horsepower — Â the 9.7-inch iPad Pro starts at $599, while the 12.9-inch version is $799 and up.
With the iPad Pros to see upgrades and the iPad Air 2 to potentially be replaced, Apple's odd tablet out appears to be the iPad mini, which also has not been updated since 2014. Back in 2015, it was suggested that the latest iPad mini 4 could be the last update ever to the 7.9-inch form factor.