Supply chain expects 49.5M iPhone sales in Q2, profits retained by high ASP until 'iPhone 8'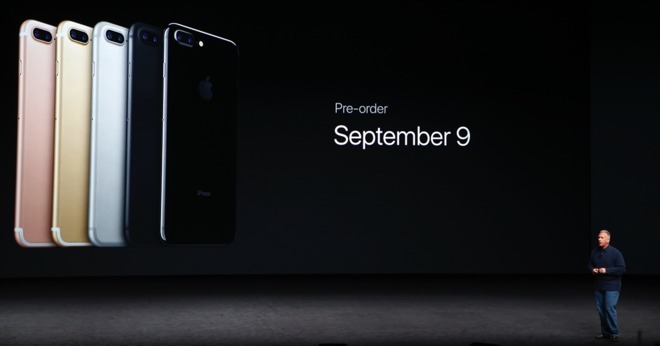 A recent analyst report suggests that Apple will see a slight drop in iPhone sales from 2016 for the next two quarters, but profits will be relatively unaffected because of the continued consumer interest in the iPhone 7 Plus.
Timothy Arcuri from Cowen and Company expects to see stock and demand balance for the iPhone 7 family reached this quarter, with 48.5 million iPhones sold in Apple's second fiscal quarter from 2017. This is down from 51.2 million in the second quarter of 2016 in part because the last fiscal quarter had an extra week of sales, cannibalizing from this quarter somewhat.
Average selling price will remain high, as Arcuri believes that the iPhone 7 family accounts for about 85% of the sales balance, versus 75 percent for the iPhone 6s family in 2016 at this time. Additionally, the iPhone 7 Plus appears to be headed for about 40% of the iPhone 7 sales, versus about 20% from 2016.
In the third fiscal quarter, 38.5 million iPhones are expected to be sold, with similar proportionality as in the second quarter, again eclipsing the iPhone 6s and 6s Plus sales mix from the previous year. The third quarter of 2016 saw 40.4 million iPhone sales.
Arcuri sees an average selling price for the second fiscal quarter at $685, with a drop to $616 for the third quarter. In 2016, average selling price hit $641 and $595 for the second and third fiscal quarters, respectively.
"A feature-rich launch" is expected by Arcuri in the fall of 2017 with panel sizes of 4.7-, 5.5-, and 5.8-inches expected. The analyst also expects a glass casing, with either aluminum or stainless steel framing.
Apple is also expected to launch immediate successors to the iPhone 7 at the same time, sized with the same 4.7- and 5.5-inch screens. Reportedly, the "iPhone 7s" family, including a 5.5-inch model, will retain LCD display technology.