Which internet-only TV service should Apple device owners use?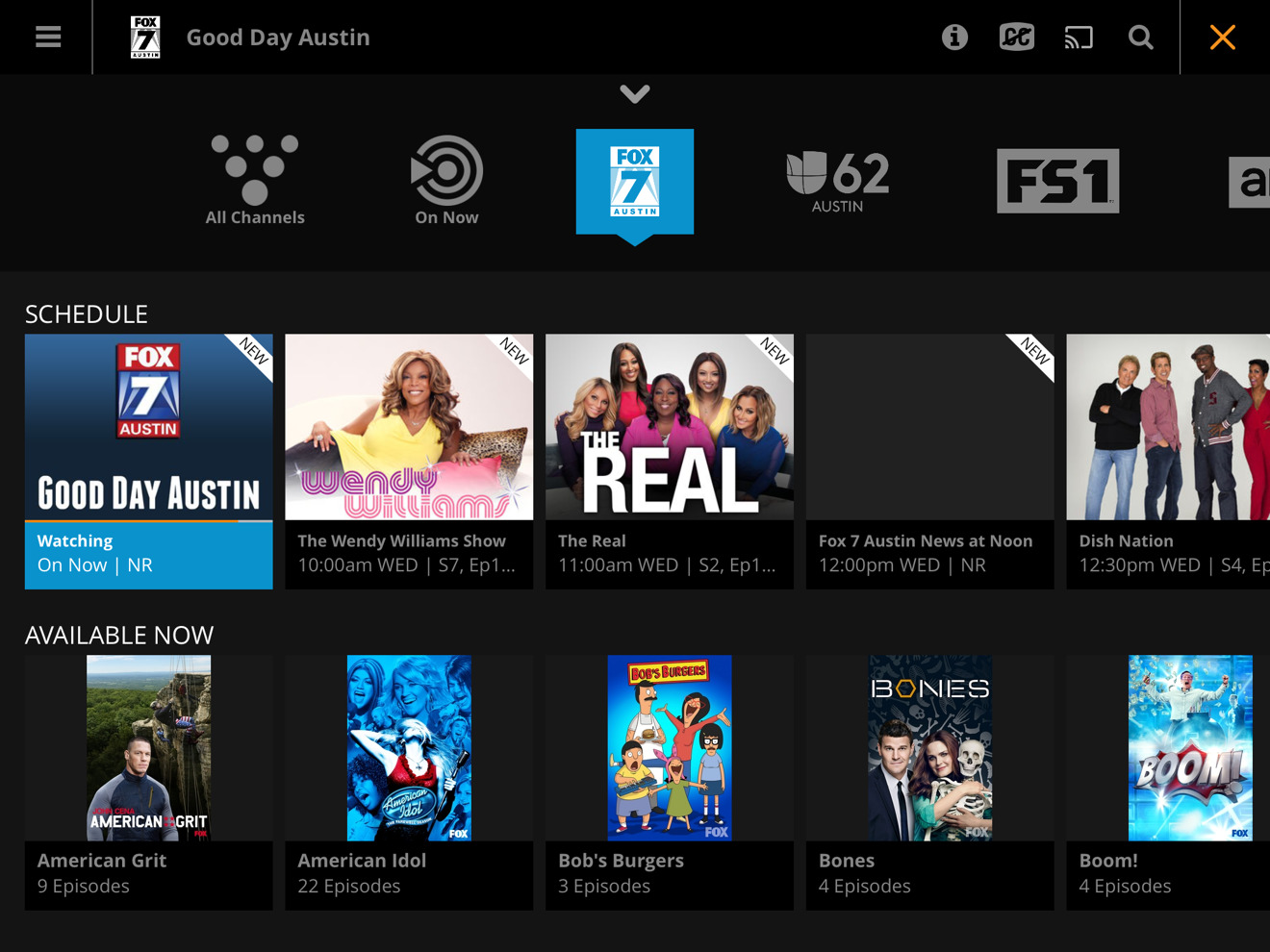 People truly wanting to cut the cord now have three major internet TV services to choose from: Sling TV, PlayStation Vue, and DirecTV Now. All of them support iOS devices and the Apple TV, among other platforms — which one if any should you consider subscribing to?
Sling TV
Sling, owned by Dish, offers three different packages. The "Orange" level costs $20 per month and includes over 30 channels, most notably three ESPN stations for sports fans, and crowd favorites like AMC, Comedy Central, and Cartoon Network/Adult Swim.
For some people this will probably be enough — the $25 "Blue" tier includes over 40 channels, with additions like Syfy, FX, NFL Network, and National Geographic, but sacrifices such as ESPN, Disney, and Free Form. There is a $40 "Orange + Blue" option, but that's probably overkill for what it delivers.
What may make more sense is adding one or more of the service's "Extra" bundles, covering areas like news, sports, and movies. Most of these are priced at $5 per month. "Premium" additions are more expensive however, costing up to $15 per month in the case of HBO, which is as much as that network charges for its standalone HBO Now service.
Sling offers a 7-day free trial, and discounts on streaming devices if you choose to prepay for a few months in advance. This includes the fourth-generation Apple TV, which can be had for $89 — much less than the normal $149 — if you sign up for three months.
There can certainly be drawbacks to the service. DVR functions are coming, but aren't here yet, and streaming quality has sometimes been rocky — it can be perfect one day but interrupted the next. This has improved over time, thankfully.
Some people also aren't a fan of the service's carousel-style interface, which can make it awkward to see what's on and quickly flip between channels. It works, but just enough.
PlayStation Vue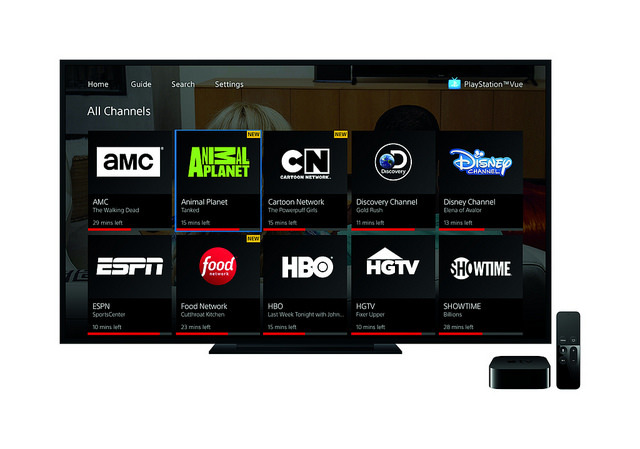 Don't let the name fool you, this isn't a gaming-centric service. In fact this may be the strongest option for many people, if more expensive for the deluxe treatment.
A basic plan costs $29.99 per month but offers over 45 channels, including some that Sling reserves for its higher-end pacakges, like FX and Syfy. There are three other bundles, culminating in the $64.99 "Ultra Slim," which offers HBO and Showtime among its 90 channels.
The only add-ons necessary are usually Epix — which is included in the top two tiers anyway — and some Spanish-language channels from the likes of CNN and NBC. HBO and Cinemax are $15 each if they're not in a bundle, while Showtime is $10.99. Discounts are available for PlayStation Plus customers.
The Vue interface is likely preferable over Sling, highlight trending shows and making it easier to browse through favorites. Critically, Sony was the first to offer cloud DVR functions, saving shows for up to 28 days past their air date. This has been glitchy in the past — and some shows may be off-limits, due to channel, program, or location restrictions — but it's hard to ignore the convenience.
Like Sling, Vue offers a free week-long trial, but don't expect to pick up any free or cheap streaming devices as a bonus.
DirecTV Now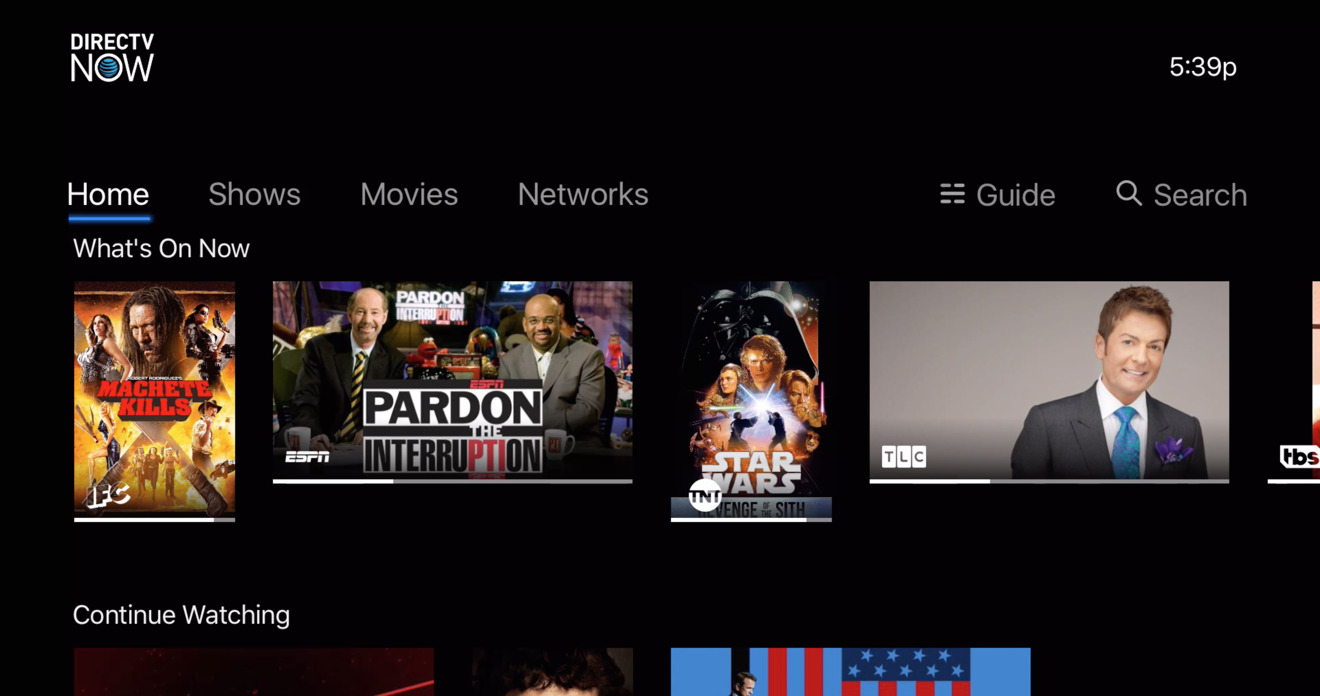 On paper, DirecTV Now should be an ideal service if you want quantity — even its $35 plan covers more than 60 channels, in a lineup that looks more like a conventional cable bundle. Three other bundles offer over 80, 100, and 120 channels, costing $50, $60, and $70, respectively. HBO and Cinemax are simply $5 each, though you're already paying cable-like prices.
You can even get a fourth-gen Apple TV for free if you prepay for three months, which may certainly be tempting if you're in the market for a new service anyway.
DirecTV Now has been plagued with problems since it launched however, ranging from error messages and random sign-outs to streams simply stopping during peak hours. Problems got so bad that T-Mobile decided to drop the service from a promotion in favor of Hulu. There's no DVR functionality to boot.
AT&T is of course working to sort things out, but right now it's likely too much of a gamble for viewers. As usual, there is a 7-day trial, so it might be worth testing the waters as things improve.
The verdict
At the moment PlayStation Vue seems to be the best overall choice, especially because of its DVR support. Sling may still be worth checking out as the cheapest option, especially once it adds recording. DirecTV Now is best avoided unless it comes through in personal testing.
Remember also that yet more streaming services are on the horizon, such as YouTube Unplugged and Hulu's planned option. Apple's once-rumored service appears to have been stymied by negotiations, so don't expect that anytime soon, if ever.