Apple Pay rumored to launch in Ireland on Tuesday, gains Taiwan regulatory approval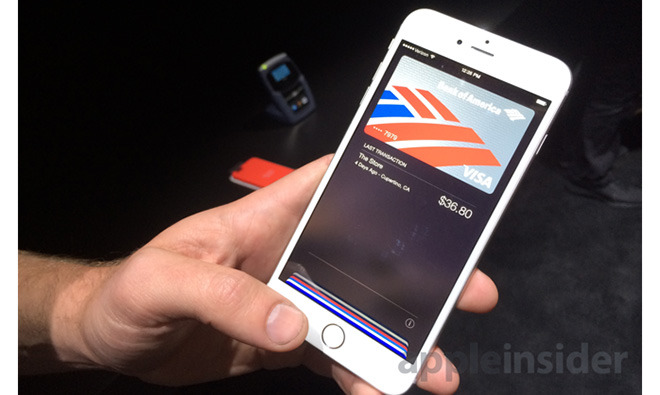 AppleInsider may earn an affiliate commission on purchases made through links on our site.
A rumor on Monday claims Apple is primed to debut Apple Pay in Ireland later this week, while a separate report notes seven Taiwanese banks recently gained regulatory approval to launch the payments service in Taiwan.
Citing sources familiar with the matter, 9to5Mac reports Apple Pay will land in Ireland on Tuesday with the help of multinational banks UlsterBank and KBC. The publication was unable to confirm support beyond the two institutions, though local banks might also be involved.
If true, Ireland will be the 14th country to gain access to Apple's payments system after its U.S. debut in 2014.
The launch would also arrive as Apple faces intense scrutiny over its European tax practices. Last August, the European Commission handed Apple a $14.5 billion fine for back taxes, saying the low rates Ireland offered the company — as low as 0.005 percent in 2014 — qualifies as illegal state aid.
Apple recently filed a 14-point appeal, asserting its European headquarters in Cork, Ireland, was set up in accordance with local and regional laws. Ireland is also contesting the EU ruling, saying it "fundamentally disagrees" with the commission's decision.
Beyond Europe, Focus Taiwan reports Taiwan's Financial Supervisory Commission recently granted seven banks approval to provide Apple Pay services in the country. Specifically, the FSC's banking bureau gave Taipei Fubon Commercial Bank, Cathay United Bank, E. Sun Commercial Bank, Taishin International Bank, CTBC Bank, First Commercial Bank and Union Bank of Taiwan the greenlight to initiate Apple Pay operations once the service rolls out.
As of January, the seven banks had issued some 25.4 million credit cards, or 62 percent of the Taiwan's total, the FSC said.
In February, Apple quietly announced plans to bring Apple Pay to the Taiwanese market when it posted a "coming soon" section to a regional website. A corresponding webpage listed seven launch banks, six of which were among the batch granted approval by the FSC. Standard Chartered, the only bank not yet green-lit for launch, is still under review.
Today's news comes as Apple places greater focus on expanding Apple Pay into major European and Asian markets.
Circumstantial evidence suggests Apple Pay will soon debut in Germany and Italy, as Apple recently updated relevant online support documents in those countries seemingly in preparation of an impending launch.