Analysts pontificate on cars, transportation as part of Apple's long-term future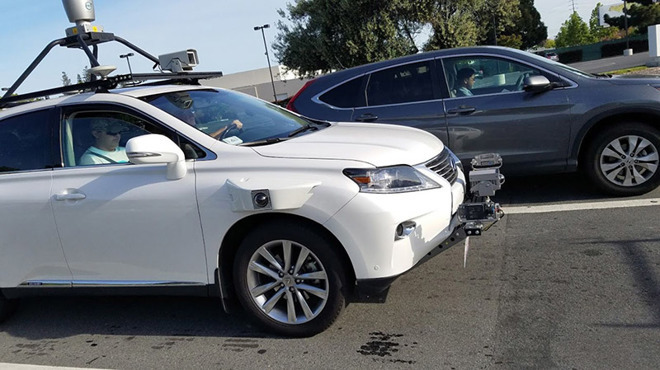 Noted Apple analysts Neil Cybart and Horace Dediu sat down with UBS' Steven Milunovich to discuss Apple's future — and a big topic of conversation was where Apple's intent is in the automotive and transportation spaces.
In a transcript of a conversation had on May 9, Above Avalon's Neil Cybart declared that he believes that "transportation could be the future of Apple," and called the storied Project Titan not a discrete product, but an entire transportation platform. Apple's investments in self-driving car technology, artificial intelligence, machine learning, and mapping point to a more systemic approach to transportation, rather than just a focus on cars.
"If you remove the branding, cars are all about the same now. Car companies don't want to take risks," said Cybart. "That's why you see these crossovers. Is that really the best way forward? I think Apple thinks differently."
The risks of Apple-controlled and developed transportation are less about technology, and more about business realities, according to Cybart. The analyst believes that the first iPhone concepts were developed in the early part of the 21st century, and it wasn't until Apple started figuring out how to sell it that the concept solidified — and cars and associated industries likely won't be any different.
"There's an ocean of money out there. They'll take their part of it." — Horace Deidu
"This management team in particular understands that the way forward is to control the whole experience, both the hardware and software," said Cybart. "The question that everyone is debating is whether there is a business behind this."
"I don't think the chatter about them just doing the self-driving piece and then working with legacy automakers is correct," added Cybart. "That's more or less the press getting snapshots of what's happening with Project Titan and jumping to conclusions. "
Asymco.com founder and Senior Fellow at the Clayton Christiansen Institute Horace Dediu mostly agrees, but believes that there will be an exodus from Silicon Valley as companies figure out how to make money with the long life-cycle of automobiles. However, Apple remains in a good place to capitalize on the long cycle, by holding a massive amount of cash on hand to weather any transitions that may need to happen.
"If you're stamping out sheet metal, you're in a five-year cycle for product launches and a 15-year cycle in terms of vehicle life span. You're looking at a 20-year cycle," said Dediu. "What makes Silicon Valley possible is a one-year cycle time. As a result, the timing is going to cause people disillusionment. I don't think Apple will be disillusioned long term. They'll try to figure it out and get to that plateau of productivity."
"There is a $15 trillion estimate out there for transportation; manufacturing alone is $5 trillion. This is way more than telecom, way more than computing, way more than IT, and even more than healthcare, " concluded Dediu. "There's an ocean of money out there. They'll take their part of it."
On April 21, a report revealed snippets of Apple's California Department of Motor Vehicles self-driving car application, offering insight into the company's autonomous vehicle project. Apple's full application was revealed a bit later, and incorporates a copy of the testing process it used to certify the six drivers who will pilot three modified 2015 Lexus RX450h SUVs.
Even before the autonomous vehicle permits in California, Apple was long rumored to be working on vehicle technology under the "Project Titan" aegis. The company reportedly abandoned efforts to create a branded car in late 2016 when former project leader Steve Zadesky left Apple and handed the reins over to senior VP of Hardware Engineering Dan Riccio.
Project Titan was later transferred to longtime executive Bob Mansfield, who subsequently culled hundreds of employees and refocused the program on self-driving software and supporting hardware.