Photo of Steve Jobs Theater construction show leather seats with integrated power outlets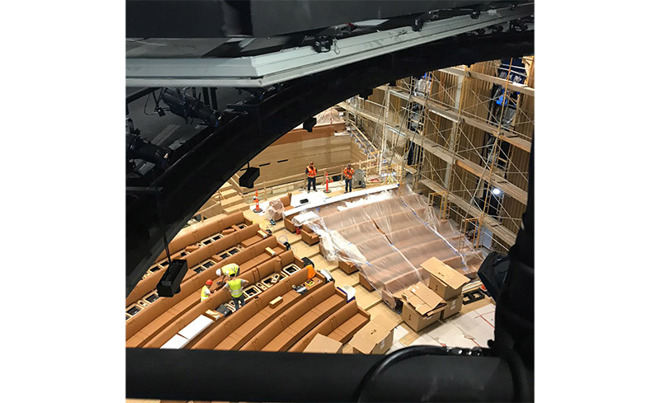 AppleInsider may earn an affiliate commission on purchases made through links on our site.
A photo taken during construction of Apple's Steve Jobs Theater reveals the comfy leather seats media and employees will be enjoying in less than a week, when company executives are expected to take the stage to unveil a host of new products.
Taken sometime this summer, and posted to Twitter by Apple fan Giammarco Nesci in July, the photo above shows contractors unboxing and installing custom leather seating in Apple Park's Steve Jobs Theater.
Upon closer inspection, the bench seats appear to contain hidden wiring, perhaps integrated into what looks to be foldable armrests. While not confirmed, the photo suggests Apple built power outlets into the chairs so audience members can juice up their laptops and other devices during presentations. A report from Bloomberg earlier this week claims the cost of each seat comes out to about $14,000.
Nesci later posted a separate image showing construction on the large circular glass cylinder that crowns the underground auditorium. A much closer view than has been provided in past "spy shots," the photo reveals ceiling panels with recessed downlighting similar to those used in Apple stores.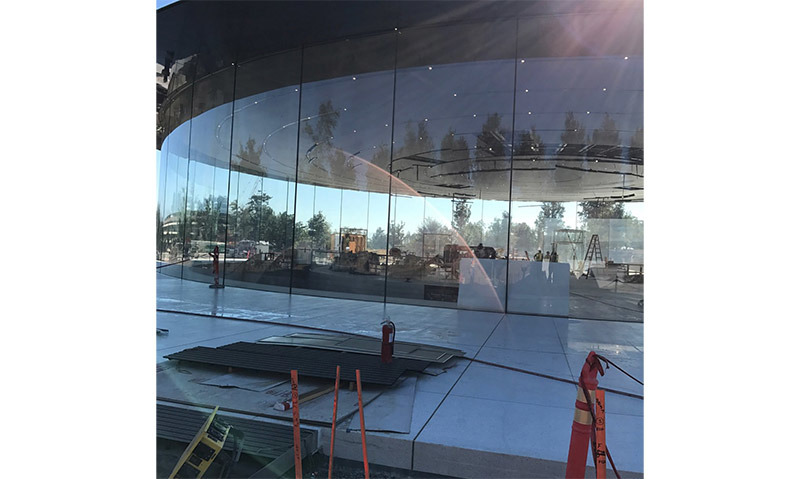 Both images line up with other photos of construction work at Steve Jobs Theater posted to Instagram last week by MacMagazine. Like Nesci's shot focusing on seat installation, the Instagram pictures show an almost complete interior full of custom wood paneling, stairs, railings and other fittings. The set also includes a look at the stage, on which CEO Tim Cook is expected to debut new iPhone models next week.
Though other areas of Apple Park have yet to be completed, most notably landscaping, Apple has wrapped construction on Steve Jobs Theater ahead of its Sept. 12 special event. The structure sports a unique freestanding glass foyer and all the trappings one would expect from the world's most valuable tech company. For example, the building's elevators rotate as they rise and lower, allowing passengers to enter in one direction and exit facing another.
Apple last week invited members of the press to a special event at which the company is expected to unveil new iPhone, Apple Watch and Apple TV models. AppleInsider will be covering the event live from Steve Jobs Theater on Tuesday, Sept. 12, at 10 a.m. Pacific.