Apple's Angela Ahrendts calls rumors of being Cook's successor 'fake news'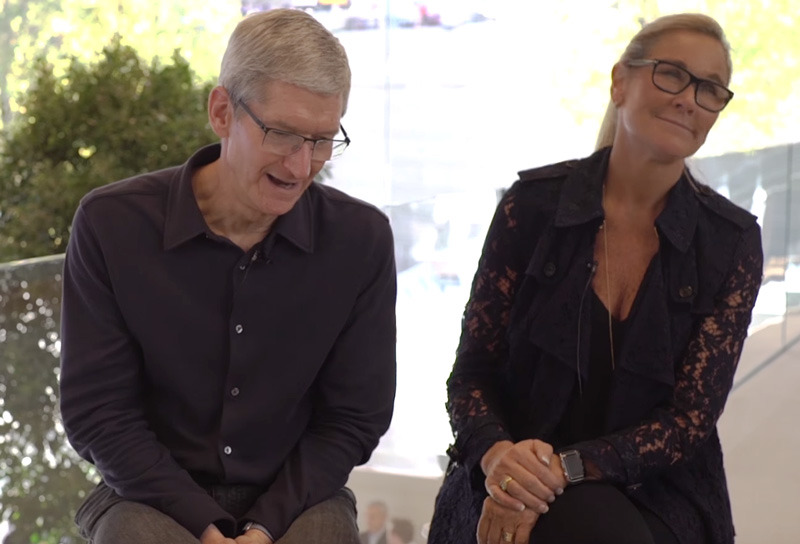 In denying rumors that she's lined up to replace Tim Cook whenever he exits as CEO, Apple's senior VP of retail — Angela Ahrendts — borrowed a phrase from U.S. President Donald Trump.
"Fake news, fake news, silly, no," Ahrendts said in a video interview with BuzzFeed News, released on Tuesday. She was joined by Cook, and spoke with BuzzFeed at last week's launch of the new Michigan Avenue store in Chicago.
Cook avoided the question.
"I see my role as CEO to prepare as many people as I can to be CEO, and that's what I'm doing, and then the board makes a decision at that point in time," he commented.
"We'll see what happens," he said, "but we'll be working as hard as possible to make as many as possible."
On the topic of Trump — whose name is on a hotel within sight of Apple Michigan Avenue — Cook dismissed the possibility that the President might retaliate against opposition on matters like immigration and LGBT rights. Trump infamously attacked Apple during his election campaign, but has also bragged about bringing related jobs to the U.S. Cook has attended White House meetings and made phone calls.
"We stay out of politics but we do engage on policy discussion," Cook said. "But we don't go back and forth on personality kind of stuff. That's not what we're about. I think most people look at that and even if they disagree, they respect if you're coming from an authentic place."