weMessage promises to bring iMessage to Android, uses Mac as server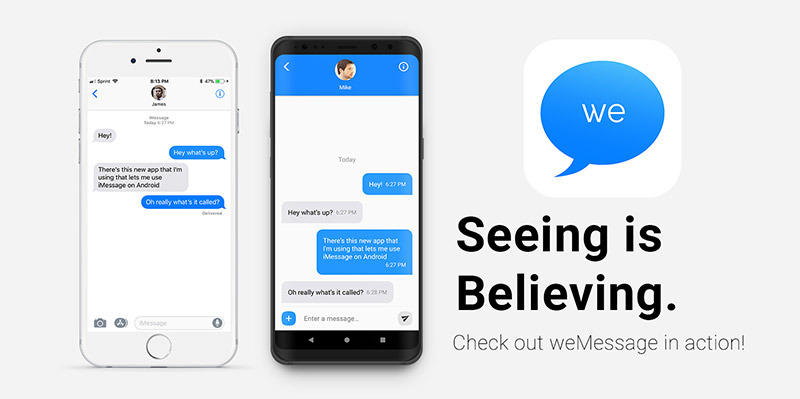 AppleInsider is supported by its audience and may earn commission as an Amazon Associate and affiliate partner on qualifying purchases. These affiliate partnerships do not influence our editorial content.
A new Android app called weMessage brings unofficial support for Apple's iMessages to devices running Google's operating system, but users need a Mac to complete the ad hoc setup.
According to the app's website, weMessage delivers full iMessage support to Android handsets "without reverse engineering or exploits," a feat many developers have attempted to reproduce over the years to varying levels of success.
To work, weMessage creates an unofficial Messages server on Mac using a macOS app called weServer. The app is not currently available for download on the Mac App Store, meaning Mac owners need to modify Security & Privacy settings to bypass Apple's app installation safeguards.
As explained by the app's developer, 16-year-old Roman Scott, iMessages need to be sent through an Apple device to enable authentication, thus ensuring delivery. Essentially, weMessage is a relay server that present a workaround for Apple's closed iMessage platform.
Scott goes into more detail on how, exactly, weMessage works in an FAQ.
"weMessage works by using Apple's developer tools that hook into the Messages app, as well as by turning on Accessibility features that will perform the message sending," Scott writes. "There was zero reverse engineering involved in the creation of this app, so all messages being sent are legitimate."
Scott believes the solution is "fair," as users need an Apple device to take advantage of weMessage.
In addition to sending and receiving iMessages, weMessage supports group chats, attachments, read receipts, AES encryption and more. The accompanying weServer software offers support for multiple devices, message queuing, notifications, message logging, commands and customization options.
Apps like weMessage are almost universally disabled by Apple, either through software updates or legal threats.
Though Apple has yet to open its first-party chat platform, the company was once rumored to debut an iMessage app for Android. Later rumblings claimed Apple went so far as to create mockups of various iMessage clients for Android, one of which implemented Google's Material Design.
Apple has in the past brought certain services to its mobile OS rival, the most prominent being Apple Music for Android in 2015. However, the company is loath to port services that add intrinsic value to its own ecosystem.
Messages on iOS is quickly becoming a platform for unique first-party features like the iMessage App Store and Apple Pay. Most recently, Apple last week launched Apple Pay Cash, its peer-to-peer payments service, to users running iOS 11.2. The feature allows iPhone and iPad owners to send money to family and friends via iMessage.