Apple Maps activates Transit directions in South Carolina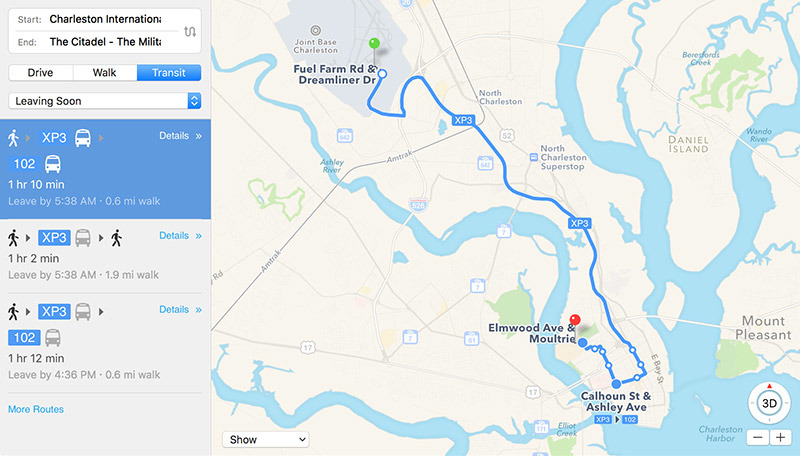 Apple recently enabled Apple Maps public transit data for major metropolitan areas in South Carolina as part of ongoing efforts to build out its mapping service, granting users access to bus timetables, schedules and routes.
Available in a number of cities, including Charleston, Columbia and Greenville, Transit directions in South Carolina provide iOS and macOS users the ability to plan trips, create routes and view schedules for local public transport operations.
Apple's iOS Feature Availability website has not yet been updated to reflect the recent addition, but a quick check shows bus data is now active in heavily trafficked areas within the state.
In the capital of Columbia, for example, Apple Maps now furnishes timetable and route data for The COMET, a relatively new transit service that boasts real-time bus locators, free Wi-Fi and more. The port city of Charleston is also represented with information gleaned from the Charleston Area Regional Transit Authority (CARTA), while users in Greenville now have access to Greenlink bus data.
The new public transportation data complements Amtrak integration first added in 2016.
It appears Apple has yet to incorporate 3D renderings of larger bus and train stations in its maps app, a feature that displays clearly demarcated entrances and exits for fast on-foot travel.
After ditching Google's mapping technology in favor of its own service, Apple reinstated Transit data into iOS with the release of iOS 9. Building a transit data platform from scratch, the tech giant leaned on IP acquired through purchases like HopStop and Embark, though the feature has been slow to roll out.
Similar to other navigation solutions, Apple Maps Transit provides routes, departure times and other relevant data for buses, trains, ferries and other forms of public transportation. In addition to local schedules, users can access top-down views of select underground subway and train stations.
Apple continues to build out coverage for Transit after launching the service with relatively sparse support in the U.S. and China. Beyond major cities in the U.S., Apple is concentrating Transit efforts across the UK and Japan.