Apple supplier comments not likely to affect long-term financial prognosis, Gene Munster suggests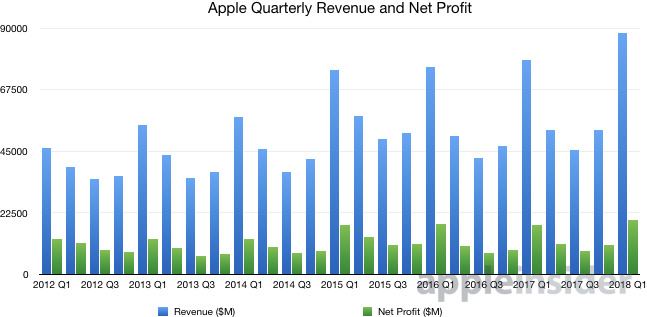 Negative comments from two Apple suppliers about the next iPhone generation could hamper investor expectations for the next quarter, suggests Gene Munster of Loup Ventures, but predictable iPhone sales make this only a near-term risk instead of a long-term problem.
There is a "modest risk" of about 3 percent to Wall Street's revenue estimates, Munster writes, caused through two recent reports from companies embedded in the iPhone supply chain. While the June quarter's revenue guidance from analysts and investment firms hover at $52.2 billion for the period, the comments could bring the value down to between $48 billion and $51 billion.
Munster refers to AMS, the producer of VCSEL modules used for the iPhone X TrueDepth camera array, as one of the firms warning of issues, with the company advising earlier this week a "key customer" is being slow in finalizing specifications of parts for an order. It is largely thought the unnamed customer is Apple, with other analysts believing the iPhone producer is the source of half of AMS' revenue. Loup Ventures wagers that there is "a greater than 50 percent chance" AMS is referring to Apple.
TSMC, manufacturer of the A10 and A11 chips, is identified as the other negative factor, after the Taiwanese firm recently revised its full-year revenue target to the low-end of earlier forecasts, down by approximately $1 billion. This has been attributed to continued weak demand in the mobile sector, as well as uncertainty in the cryptocurrency mining market.
"Our level of concern jumps if three suppliers give a cautionary outlook," writes Munster. "To date, only two have given warnings."
For revenue in the upcoming quarterly results, iPhone is expected to contribute about 64 percent of sales, with both investors and Loup ventures reckoning 53 million units sold in the period, up 5 percent year-on-year.
For the average selling price (ASP), investors are said to expect it to be $735, up 12 percent year-on-year, while Loup is more ambitious with its estimate of $753, up 15 percent on last year. Loup thinks the iPhone X makes up more of the iPhone sales mix than thought by others, with the suggestion iPhone X accounts for 29 percent of iPhone sales in the quarter.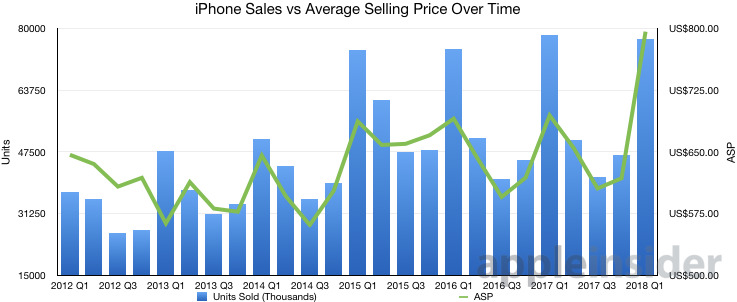 Services revenue will make up about 14 percent of sales in the quarter, earning just above the investor average at $8.4 billion in the quarter, making it a year-on-year improvement of 19 percent. Services revenue is increasingly important "given the weak tail of the iPhone X cycle," Munster adds, with the relatively predictable sector's growth over the last nine quarters being the rationale behind Loup's estimate.
For the other product segments, Mac is predicted to account for 9 percent of sales in the quarter and 4.2 million units, remaining flat compared to last year, while iPad revenue will make up 9 percent of sales with 8.9 million units, again flat year-on-year. While Apple does not report Watch sales data, Munster estimates revenue from the device to make up 3 percent of sales from 3.3 million units in the quarter.
Munster also raises the issue of Apple's repatriation of overseas cash stores, reminding investors that Apple announced in January that it will pay $38 billion in repatriation taxes, implying that $215 billion will be brought back to the United States. "If there was no tax holiday Apple would have paid about $80 billion in repatriation taxes, compared to the $38 billion they are actually paying," the analyst points out, along with Apple's $30 billion capital expenditure investment over the next five years.
For capital returns, Loup expects Apple will increase its buyback over the next three years by around $70 billion. For dividends, it is thought Apple will announce a one-time dividend payment worth $12 billion, and a 15 percent annual dividend increase that will cost Apple approximately $10 billion over a four-year period.