Apple plans to open corporate office across from Carnegie Library store, report says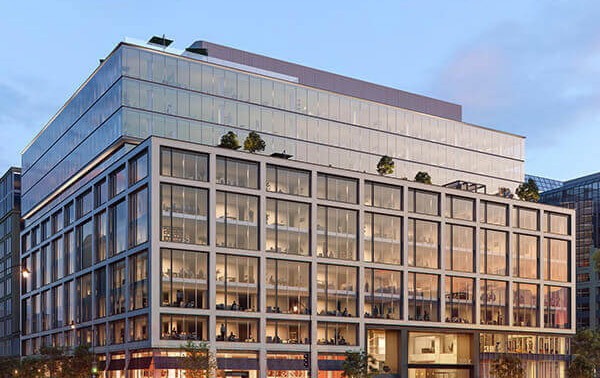 Apple recently signed a lease for office space in a soon-to-be developed Washington, D.C., building located directly across from Carnegie Library, where the company is expected to open a flagship retail outlet later this year.
Citing a source involved in the deal, Bisnow reports Apple will lease a full floor in 700 K St. NW, currently under development as a high-end office building.
Part of The Meridian Group's Anthem Row project, 700 K St. is one of four properties in a complex previously known as Techworld. Meridian purchased the site in 2014 and began a $142 million redevelopment in 2016 with plans to split the building into two addresses, 700 K and 800 K. Microsoft's Innovation and Policy Center is located two blocks away.
The Anthem Row facility overlooks Carnegie Library, which will later this year house a 63,000-square-foot global flagship Apple store. Apple signed a ten-year lease for the historic building in 2016 and was granted permission to renovate the structure last year.
Apple revealed plans for Carnegie Library last May, saying the location will be refitted to retail chief Angela Ahrendts' specifications. Along with the usual sales floor and Genius Grove amenities, Apple intends to use the space to host free concerts, art exhibits and educational workshops.
While Apple's intentions for 700 K are unknown, the lease reportedly covers about 23,000 square feet, a relatively small area for the tech giant. Apple typically seeks larger offerings, into the hundreds of thousands of square feet, making the D.C. deal an outlier.
Also in 2015, Apple inked a deal for its first major office space in San Francisco, a 76,000-square-foot facility in the city's SoMa neighborhood estimated to accommodate 400 to 500 workers.