Macquarie slashes Apple stock target price from $222 to $188 over weakness in Services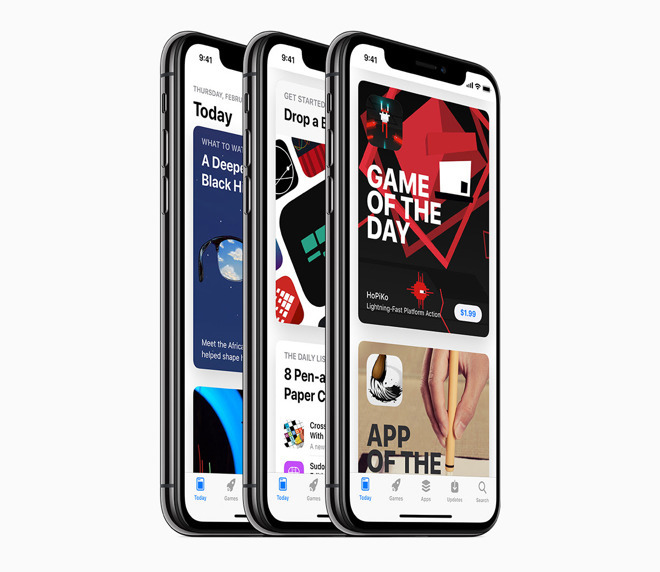 The continuing growth of Apple's Services arm won't last forever, warns Macquarie Research, advising investors of the possibility that revenue growth for that aspect of Apple's business could dip in 2019 for a variety of reasons.
The Services division has long been a source of reliable revenue growth for Apple, with the sector reliably seeing quarterly year-on-year growth of between 17 percent and 31 percent for the last three years. While flattening iPhone unit sales are causing issues for analysts Services has been seen as a highlight of Apple's finances, though that may change.
According to an investor note from Macquarie Research seen by AppleInsider, while it has previously advised Services becoming the future of the company, the high and dependable growth of the arm may waver and start to slow down. After expected full year 2018 growth of 26 percent, it is forecast that Services growth will decelerate in 2019 to 21.8 percent — notably lower than the previous year.
"We think once AAPL starts to lap Services' F2Q'18 31-percent year-on-year comp in March, growth rates will begin to slow," predicts Macquarie's analysts.
Key pillars
The firm suspects the top three drivers of Services revenue for the last three years have been Licensing, the App Store, and AppleCare revenue, with each expected to slow down in the coming quarters. Smaller Services business, including Music, iCloud, and Apple Pay, are "not big enough to counter and pick up the slack to maintain current growth rates."
For Licensing, which is "driven largely by Google's Traffic Acquisition Cost payments," the increase in fees from making Google the default search option is thought to have helped increase revenue in the field. As Apple will soon be lapping last year's TAC increases, this will bring the growth rate for the area down.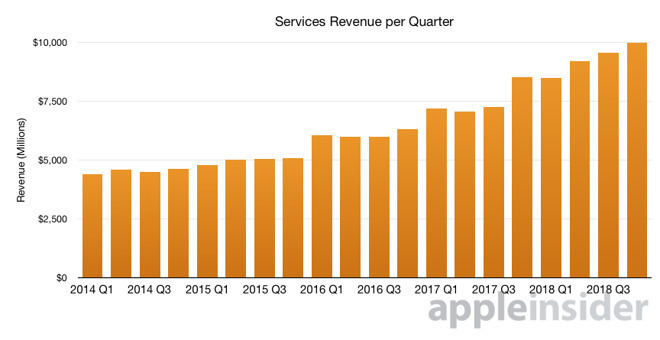 The App Store is said to be reliant on Asia-Pacific markets for its growth for the last two years, with China, Japan, and Korea touted as major drivers of APAC growth in 2017. As the bulk of this revenue stems from games, Macquarie suggests the freeze on new game registration in China may drag the rate down in the next year.
It is a high-margin business for Apple, but even that is at risk, the note reads. With little change in the 30 percent commission rate, the firm sees regulatory, legal, and competitive pressures on the App Store potentially leading to a fee decrease eventually.
The third main pillar of Services revenue, AppleCare, saw 15 percent growth in 2018 due to the price step-up for the iPhone X from $129 to $199. While there may be modest gains from consumers due to the step-up, a similar level of increase is unlikely to appear in 2019, according to Macquarie.
Smaller Services
Despite the reported growth of Apple Music, and in turn increased revenue, music streaming is said to be a "structurally lower margin business" than the rest of the Services line, limiting its impact on growth.
While Apple Pay is going from strength to strength, including reaching over 1 billion transactions in a recent quarter and being used by 71 out of the top 100 merchants in the United States, the analysts doubt the service is a meaningful growth driver given the company's size, beyond adding extra functionality to Apple's hardware, like the iPhone and Apple Watch.
Noting the lack of a publicly-disclosed take-rate, it is suggested by Macquarie that Apple Pay would need to have a transaction volume of $300 billion in 2019 to make up 1 percent of Service's revenue.
While Macquarie covers most areas of Apple's Services business, it does not discuss the under-development and potentially-lucrative video efforts currently expected to launch in early 2019. The project, which has Apple spending at least $1 billion on original video content, may be provided to its existing Apple Music customers for free via the TV app pre-installed on its devices, along with paid subscription "channels" for third-party services — which would likely spur subscriptions to the service.
Macquarie Research has set a 12-month share price target for Apple at $188, down from $222.
Others praise Services
While most analysts have focused on iPhone unit sales and ASP as being reasons to downgrade Apple's stock, Macquarie's negative take joins some other analysts praising the growing power of the Services business.
For Morgan Stanley's Katy Huberty, the Services portfolio could help Apple sustain 20-percent annual growth for the next five years, and could grow to over $100 billion per year by 2023. On the Chinese App Store growth slowdown, Huberty suggests it is a short-term stall that won't cause major issues for the Services arm, and will continue to draw massive revenues for the company.
Loup Ventures' Gene Munster has written multiple times about a paradigm shift in investor viewpoints of Apple, changing from a hardware-reliant company to "Apple as a Service." Munster is of the view that Apple's reliance on the iPhone for revenue growth with diminish over time, in favor of increasing its portfolio of software services.