Apple may fund original podcasts exclusive to its own services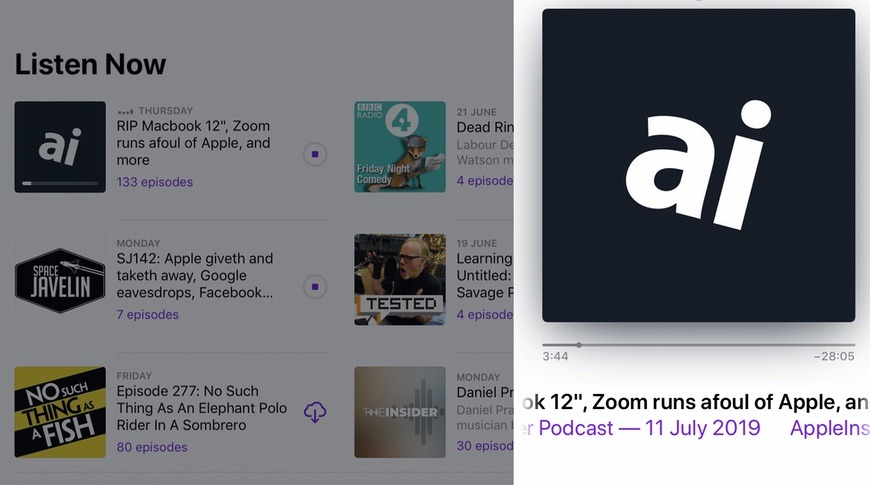 Apple may be expanding its original content efforts into podcasts, with a report claiming the iPhone maker will be funding productions of audio-based shows that it will offer its customers exclusively via the Podcasts app, taking a similar strategy to Spotify.
Apple's devices have offered the ability to listen to podcasts for quite some time, ranging from specialist content from publications like AppleInsider to major outlets and hobbyist shows, with all currently offered by the Podcasts app preinstalled in iOS devices and iTunes on desktops.
While currently the shows on offer are produced by third-party companies, with only items like event recordings being made by Apple itself, Bloomberg reports Apple will start funding original content that will be exclusive to Apple's services.
Unidentified sources claim executives at Apple have reached out to media companies over the possibility of securing exclusive rights to host specific podcasts. Though preliminary, Apple has yet to offer details of its strategy, but sources say the company plans to make deals it hasn't previously considered pursuing.
Apple would not be alone in attempting to make exclusive content for its own devices at the expense of other podcasting services. In February, it was revealed Spotify acquired major podcast creator Gimlet and podcast creation and distribution producer Anchor, in order to chip away at Apple Podcasts' market share.
It is speculated that the Apple Podcasts app is used for between 50% and 70% of listening for most podcasts, industry executives claim, with monthly podcast listenership more than doubling in the United States since 2014.
The immediate response to the news saw Spotify's shares drop by 2.7% on Tuesday, the biggest intraday decline for the streaming service's stock in the last three weeks.
A shift into original programming for the Podcasts app would be an extension of the company's existing strategy of improving its services with subscription-based offerings. Having already launched Apple News+ and with the video-based Apple TV+ and Apple Arcade on the way, funding podcasts seems like a logical fit alongside the others.
While it may not end up being content offered under a subscription, Apple's funded podcasts could help provide advertising revenue. According to the Interactive Advertising Bureau, podcasts generated $479 million in advertising revenue in the United States in the last year, with sales growing 65% on average per year for the last three years.