Apple TV+ to reportedly launch in November for $9.99 a month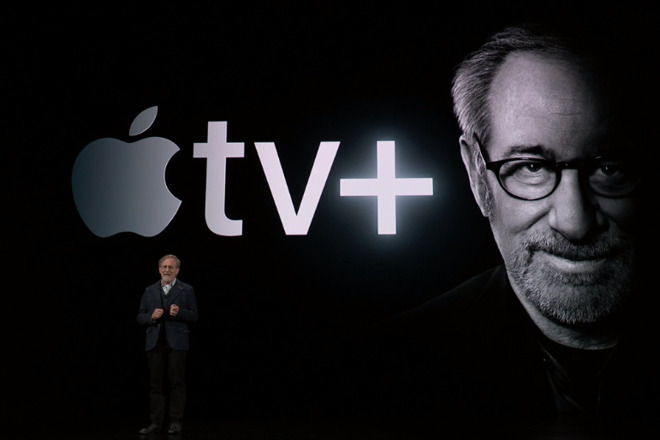 A report on Monday puts a date to Apple's upcoming Apple TV+ launch, saying current plans are to launch the subscription service in November for a monthly fee of $9.99.
Citing sources familiar with Apple's plans, Bloomberg reports the streaming service debut will arrive in November with a limited slate of shows. Following Apple's services rubric, the video product will likely be offered as a free trial as more shows are added over the coming months.
Apple TV+ is said to launch with a reboot of Steven Spielberg's "Amazing Stories," a series about unusual homes called "Homes," news drama "The Morning Show," Jason Momoa vehicle "See" and "Truth Be Told." Other shows are in the works and should hit Apple TV+ over the next year.
Unlike Netflix and Amazon, which air entire series at one go, Apple is thinking about releasing three episodes of a given show on day one and following up with weekly installments, the report said. Segment competitor Hulu typically follows a weekly release schedule like those adopted by broadcast and cable channels.
The report is less clear on a subscription price for Apple TV+, saying Apple is mulling a monthly fee of $9.99. If true, Apple would field three subscription services — Apple Music, Apple News and Apple TV+ — for the same going rate.
Echoing recent reports, Bloomberg sources say Apple is spending big on new content in a bid to lure customers away from incumbents like Netflix and Amazon. For example, the company is supposedly spending some $300 million for two seasons of the star-studded "The Morning Show."
Apple TV+ was unveiled at a special event in March, where Apple trotted out Hollywood celebrities attached to its various projects. Directors Steven Spielberg and J.J. Abrams, actors Jennifer Aniston, Steve Carell, Jason Momoa and Reese Witherspoon, and Oprah Winfrey took the stage to introduce upcoming shows, series and specials.