Apple's reliance on China continues to grow despite expansions in Brazil and India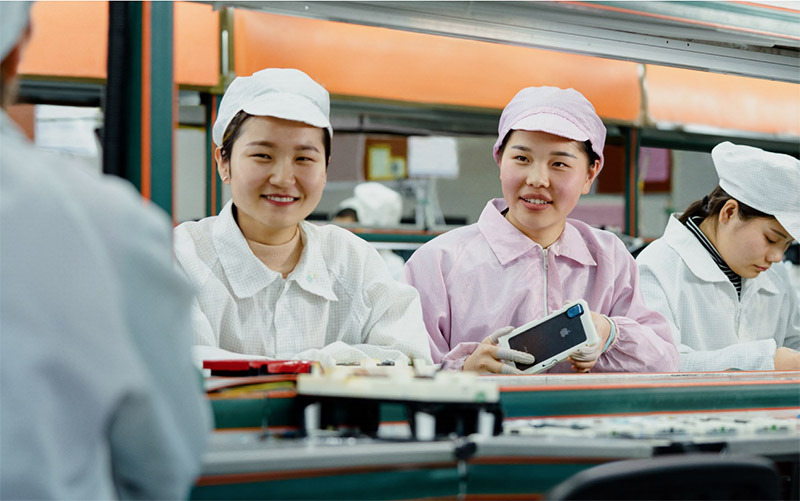 With Apple products due to face fallout from new tariffs imposed on China by President Donald Trump, including pending sanctions set to impact iPhone and iPad in December, a report on Wednesday shows the tech giant's reliance on Chinese manufacturing has not waned.
Apple, like many companies in the U.S., depend on Chinese contract suppliers to pump out massive quantities of product. For the iPhone maker, "Assembled in China" items range from flagship devices like iPhone, iPad, Apple Watch and MacBook to accessories and peripherals.
As Trump's tariffs loom, Apple's dependence on Chinese production lands the company in an economically uncomfortable situation. Tariffs on AirPods, Apple Watch and HomePod are set to take effect on Sept. 1, while a levy on iPhone and iPad is slated for Dec. 15. That leaves Apple precious few options from which to consider.
The company could, as some analysts predict, leverage its substantial market position and holdings to absorb the cost of Trump's tariffs. Alternatively, it could pass those costs along to the consumer or, as per rumors over the past few months, work with suppliers to shift manufacturing out of China and into established bases of operation in Brazil, India and Vietnam.
According to an evaluation of publicly available supplier data (PDF link) compiled and collated by Reuters, it appears Apple does not intend to deviate from its current strategy.
According to annual supplier reports, Foxconn, Pegatron and Wistron have over the past five years expanded within China to serve Apple's growing needs. As noted by Reuters, Foxconn grew its operation from an already impressive 19 locations in 2015 to 29 facilities in 2019, while Pegatron expanded from eight locations to 12 over a similar period.
Further, Chinese suppliers account for a larger slice of smaller essential items and raw material like aluminum casings, cables, chips, circuit boards, glass and more, the report says. The country's share of said items grew from 44.9% in 2015 to 47.6% in 2019.
The reports analyzed five years of Apple data on locations operated by the company's top 200 suppliers by spend.
As Reuters points out, plants in Brazil and India are significantly smaller than their Chinese counterparts and, more importantly, do not serve international demand. Both Brazil and India impose high taxes and trade restrictions on certain goods in a bid to goose domestic output.
Whispers that Apple — or more specifically its contract manufacturers — plans to exit China in favor of Brazil, India and even Vietnam to avoid knock-on effects of Trump's tariffs have floated since the U.S.-China trade war began. CEO Tim Cook attempted to put those rumors to bed in July.
"There's been a lot of speculation around the topic of different moves, but I wouldn't put a lot of stock in that if I were you," Cook said during Apple's third quarter earnings conference call. "The way that I view this is that the vast majority of our products are kind of made everywhere. There's a significant level of content from the United States, and a lot from Japan to Korea to China, and the European Union also contributes a fair amount. That's the nature of a global business and I think that largely that will carry the day, and in the future as well."
Cook is also on good terms with Trump as one of the few tech industry generals willing to interface directly with the president and his administration. The pair recently discussed tariffs and other topical issues over dinner earlier this month, a meeting that has become something of a yearly tradition.
Trump later said Cook made a "good case" that it would be difficult for Apple to bear the upcoming tariffs while competing with companies like Samsung, which will not face the same obstacles. Whether the powwow will result in an exclusion for Apple remains to be seen.
Beyond the supposed economic incentives of doing business in China is the country's intense development of manufacturing technology. Indeed, producing Apple's increasingly complex devices may not be tenable with another workforce. Cook addressed the issue two years ago.
"The popular conception is that companies come to China because of low labor costs. I'm not sure what part of China they go to, but the truth is China stopped being the low labor cost country years ago," Cook said in a 2017 interview at the Fortune Global Forum. "That is not the reason to come to China from a supply point of view, the reason is because of the skill."