Dubious Taiwan telecom slide claims Apple won't change iPhone pricing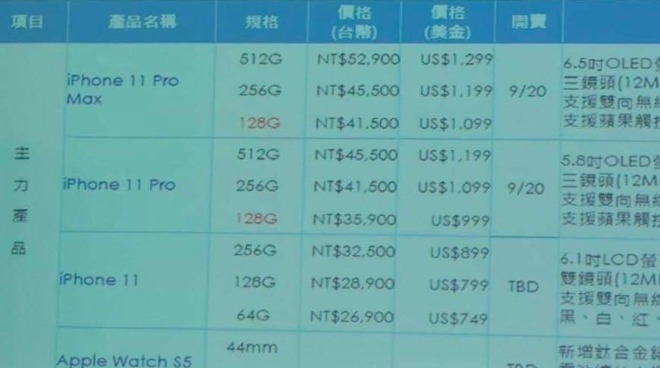 AppleInsider may earn an affiliate commission on purchases made through links on our site.
The new generation of iPhones will be shipping on September 20 at the same pricing as the models that are replaced, an alleged slide from a Taiwanese carrier briefing claims — but some details on the slide cast doubt on the veracity of the information.
The photograph, allegedly taken within a Taiwanese mobile network's internal briefing ahead of the 2019 iPhone launches details the devices as the "iPhone 11," "iPhone 11 Pro," and "iPhone 11 Pro Max," as replacements for the iPhone XR, iPhone XS, and iPhone XS Max respectively. The page offers details that are largely "known" from rumors, but combines them into one sheet.
Three versions of each model will apparently be on offer, the shot shared by Slashleaks claims, with the "Pro" versions offered with 128GB, 256GB, and 512GB capacities. The "iPhone 11" is said to be available in 64GB, 128GB, and 256GB variants.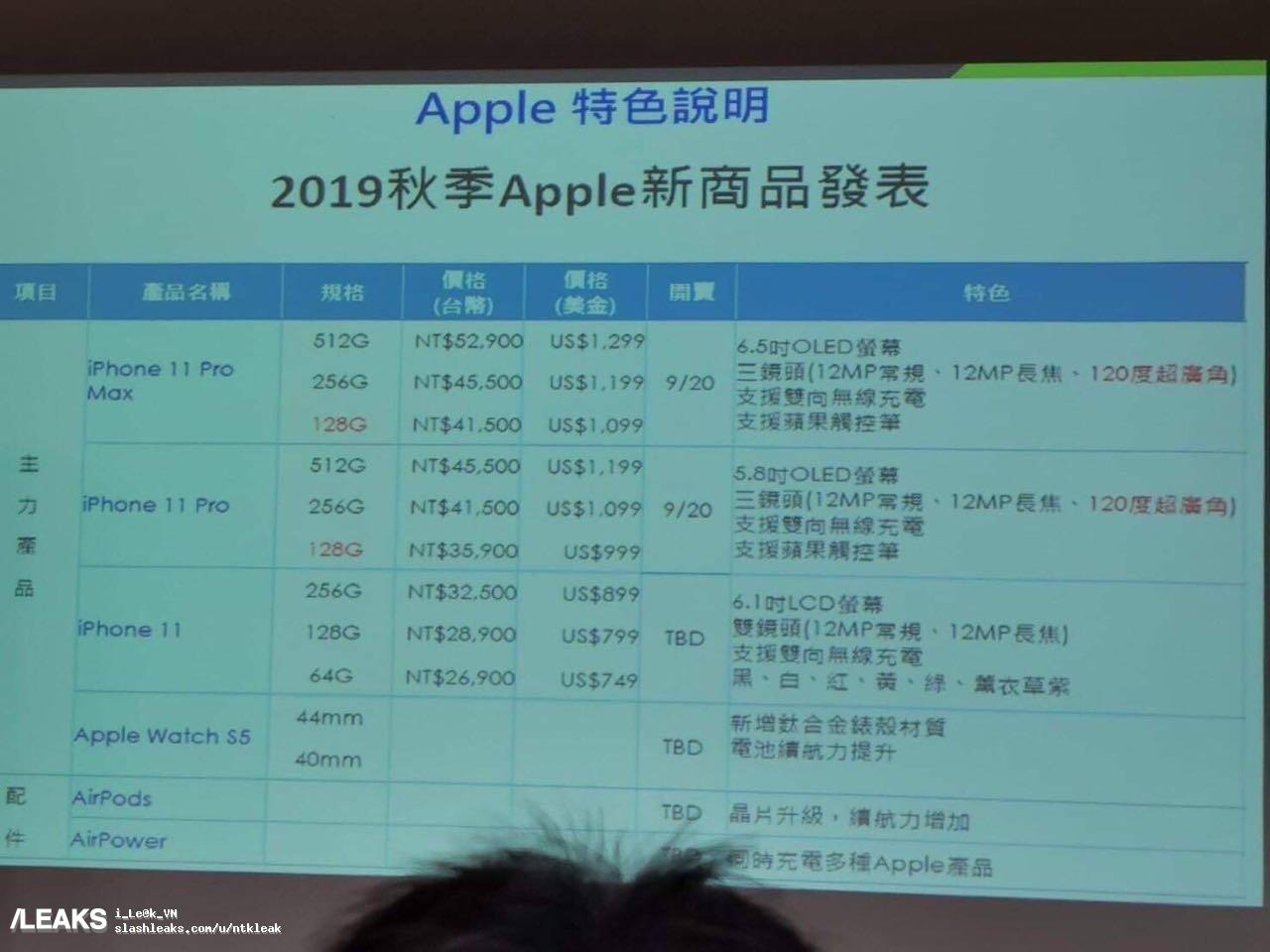 The "iPhone 11 Pro" will cost between $999 and $1,199 depending on capacity, with the "Max" version between $1,099 and $1,299. Like the iPhone XR, the "iPhone 11" will cost $749 for the lowest-capacity option, rising to $899 for the largest.
For both the "iPhone 11 Pro" models, they are listed as shipping on September 20, while the "iPhone 11" is marked as to be determined.
Also on the page is the "Apple Watch S5," which is listed as being offered in 44mm and 40mm variants, though without pricing or availability information on the page.
While the image seems convincing, there is the addition of two listings towards the bottom of the slide that casts some doubt as to the veracity of the information. The inclusion of a line for "AirPods" seems illogical due to a lack of rumors relating to a third-generation device being imminent. The appearance of "AirPower" is extremely unlikely to be true, because Apple cancelled the mat some time ago.
That this is an image of a foreign-language slide at a presentation which cannot be verified. It is plausible that the slide is made up of the carrier's best guess of what Apple will announce, rather than Apple-provided details.