Questionable analysis claims US iPhone user base growth has stalled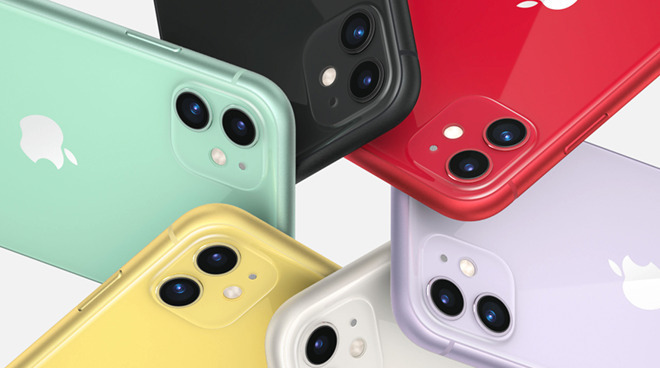 AppleInsider is supported by its audience and may earn commission as an Amazon Associate and affiliate partner on qualifying purchases. These affiliate partnerships do not influence our editorial content.
Apple's iPhone user base in the United States is slowing its growth, according to Consumer Intelligence Research Partners in a questionably-derived analysis, with iPhone retention rates and fewer Android switchers claimed to be the reason for the stalled growth.
Apple's most recent financial results on Wednesday revealed overall revenue for the quarter of $64 billion, with iPhone-specific earnings of $33.36 billion down 9% year-on-year. The slight drop in iPhone revenue was made up by improvements in other areas, with growth in Services, Wearables, and iPad more than making up for the shortfall.
In a report from CIRP, Apple's continued growth of iPhone sales in the United States is slowly grinding to a halt, with minimal sequential-quarter improvements over the last year. It is estimated Apple's iPhone install base in the United States reached 204 million units for the September quarter.
"Apple added the fewest number of iPhones to the US install base in a quarter in six years," declared CIRP partner and co-founder Josh Lowitz. "Both quarterly and annual growth have slowed to the lowest levels since we started tracking iPhone sales and retirements in 2012."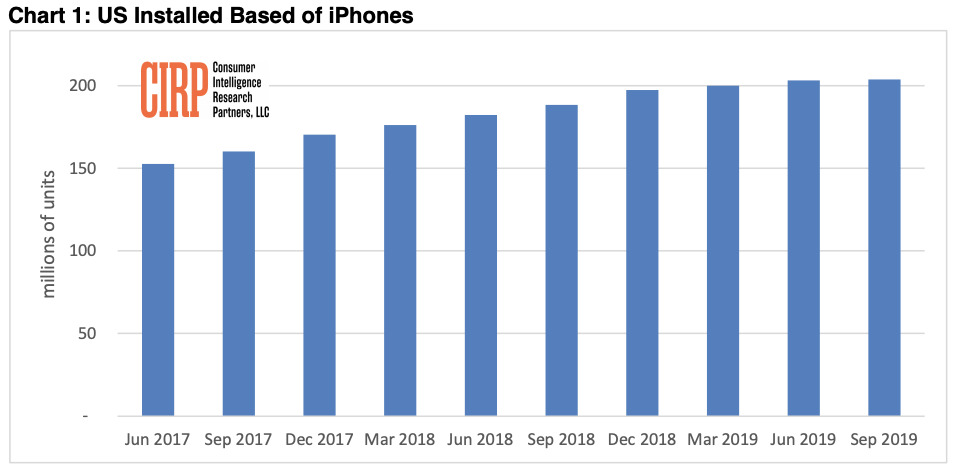 CIRP believes this is due to a number of reasons, including a lower pool of first-time smartphone buyers, and a lower number of Android switchers moving to iOS. "The trend toward keeping old phones longer protects the size of the installed base, however," CIRP adds, with older iPhones kept active and preventing switching from iOS to Android, though "platform switching in both directions is down."
CIRP's analysis is questionable, as the 204 million figure is based on estimated global sales of 43 million, which is in turn produced by combining the estimated average selling price of $783 with figures Apple disclosed. Apple's current reporting policy means it does not provide units figures for global iPhone sales, forcing analysts to make educated guesses based on data that has been officially provided, as well as acquiring more information from other third parties.
The last known average selling price was $783.87 in the fourth fiscal quarter of 2018. At the time, Apple had released the iPhone XS and iPhone XS Max. The iPhone XR had yet to be released, making it an impossible compare to the fourth fiscal quarter of 2019, with the entire iPhone 11 and iPhone 11 Pro line available for about two weeks at the end of the quarter.
CIRP also provides analysis on different devices Apple classifies as "Other Products," including the AirPods, Apple Watch, Apple TV, HomePod, Beats headphones, Beats wireless headphones, Beats speakers, and cases.
In its report, the Apple TV maintains its lead as the most-owned product among the group with close to 25% ownership among Apple customers, followed closely by Apple Watch with around 20%, then HomePod and AirPods between 5% and 10%. While most products on the list have comparable ownership rates as found in September 2018, with some growth in the Apple TV, the HomePod is seen to have outpaced cases, and Beats devices.
CIRP's results are based on a "survey of 500 US Apple customers" who purchased an iPhone, iPad, or Mac between July and September. This is a too-small pool to base general ownership trends in the United States, especially as it takes only the view of customers who bought more expensive items, and not existing iOS device or Mac owners buying the accessories.