White House confirms President Trump's Apple factory visit on Wednesday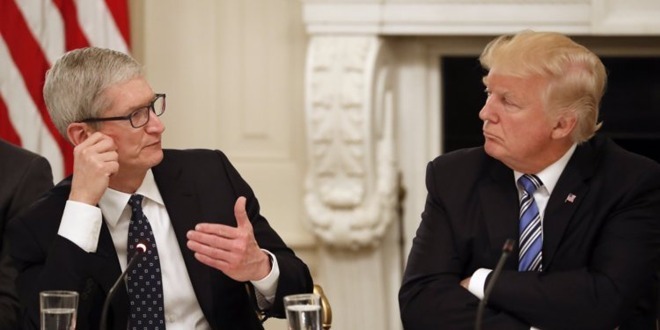 AppleInsider is supported by its audience and may earn commission as an Amazon Associate and affiliate partner on qualifying purchases. These affiliate partnerships do not influence our editorial content.
The White House has confirmed President Donald Trump will be paying a visit to a facility in Texas used to produce Apple's new modular Mac Pro on Wednesday, though finer details of the visit's purpose has yet to be revealed.
Reports over the last week claimed President Trump will be visiting the Mac Pro plant based in Texas, in order to promote companies in the United States that can create jobs, as well as keeping them within the country instead of resorting to offshoring. It was believed both Trump and Apple CEO Tim Cook would be in attendance, with the trip involving a tour of the facility.
The White House has since confirmed to CNBC the visit is scheduled to take place on Wednesday, a date that was raised in reports on Friday. The Trump administration only confirmed the visit by Trump, not if Cook or other members of Apple's executive team will be there, but it is likely such a high-profile visit would involve Cook.
The visit is apt, considering Apple's proclamation the previous Mac Pro was "Made in the USA" for its launch in 2013, while the new Mac Pro will be assembled at the same Texas facility, despite earlier reports suggesting Apple would outsource production and assembly to China. Trump has repeatedly made calls for US companies to move away from China-based production and to bring manufacturing to the United States, with particular attention made to Apple both before and during his presidency.
For Apple, the meeting is likely to be used as a way to keep the Trump Administration happy by giving Trump a promotional opportunity. It could potentially generate some goodwill from the President in the form of policy refinements, such as how the ongoing trade war and import tariffs affect Apple in the future.
While an unlikely but carefully-constructed relationship, Cook and Trump have spoken multiple times over the last few years, with Cook receiving praise for being a "great executive" for making contact with Trump. The two have also met for dinner at the Trump golf club in New Jersey, at White House meetings, and Trump has even called Cook to wish him Happy Thanksgiving.
Along with Cook's rapport with Trump, Apple has also taken other steps to carry favor with the President. It was revealed on Thursday Apple has accepted the services of well-known Trump ally Jeffrey Miller to help assist with negotiating the China-U.S. Trade war.
Editor's note: Due to its political nature, comments for this article have been disabled.