Cook, Trump to meet at Apple's Texas plant on Wednesday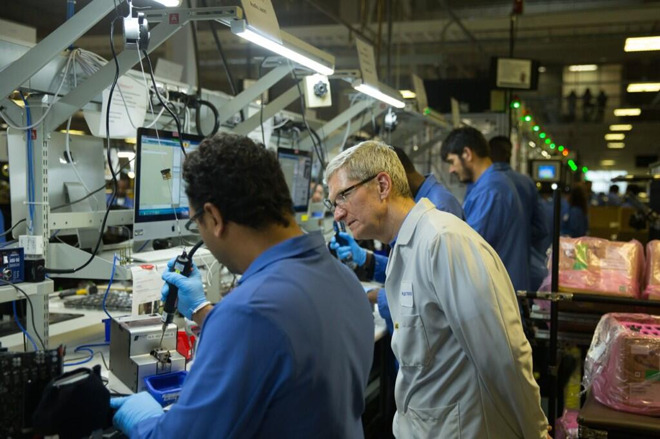 Apple CEO Tim Cook will on Wednesday host President Donald Trump at a computer facility in Texas where the company's Mac Pro is assembled.
Citing multiple sources familiar with the matter, Reuters reports Cook and Trump will tour the Mac Pro plant to showcase companies that create and keep jobs in the U.S., though neither Apple nor the White House has confirmed the visit.
The report puts a date on the scheduled meeting, which was previously expected to occur sometime next week.
While not confirmed, Cook and Trump will likely visit a plant in Austin, Texas, that Apple has in the past used to build the previous generation Mac Pro. The company was quite vocal about the flagship Mac's "Made in USA" lineage when the desktop debuted in 2013, a point hammered home in press materials and photo ops with C-suite executives including Cook.
Apple's new and improved Mac Pro, slated for release in December, will also be assembled at the Texas facility. Prior to an announcement in September, the company was reportedly planning to outsource production and assembly of the high-end Mac to China.
The Wednesday visit underscores Cook's strong and somewhat controversial relationship with Trump, a rare connection among Silicon Valley CEOs who have distanced themselves from the Republican president. A number of tech industry elite nominated to Trump's business advisory board have since resigned, with Cook remaining as one of few original members.
Cook's willingness to engage Trump directly despite obvious ideological differences — most recently immigration issues — has earned praise from the president, who lauded the Apple chief's communication skills in August. Trump said Cook's ability to discuss "problems" is "why he's a great executive, because he calls me and others don't."
For Apple, the benefit of a clear path of communication to the president ultimately boils down to business interests. Cook's tactics have proven successful in deflecting fallout from Trump's China tariffs. In August, for example, Cook and Trump discussed the trade war and other pressing topics over what has become an annual dinner.
In addition to Cook's personal efforts, Apple in October hired Trump associate Jeffrey Miller to lobby on the company's behalf. The former vice finance chairman of Trump's inaugural committee will help Apple navigate "trade issues as they relate to technological goods and services," according to a lobbying registration form.