Coronavirus to hit Android's hopes for 5G, folding screens the hardest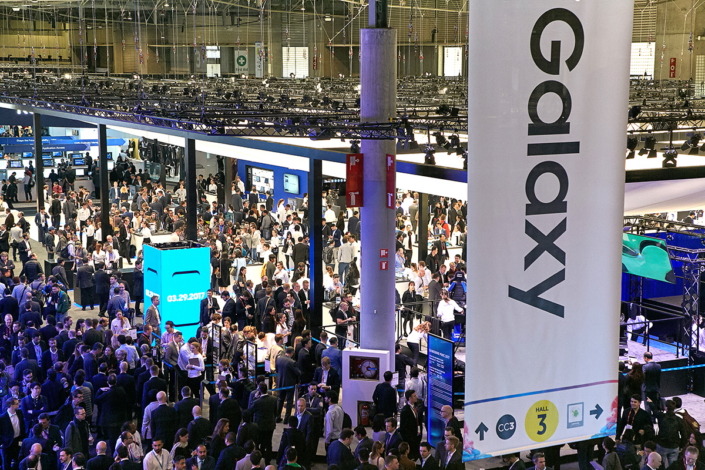 As Apple deals with interruption of the COVID-19 epidemic in China, its Android competitors face all the same issues; except that they make far less money and operate on much thinner margins across fragile shipment volumes.
They were also hoping for a leg up on Apple provided by early support for 5G and new folding screen form factors, both of which are complicated by production interruptions related to factory closures and delayed promotion due to canceled industry events.
MWC, 5G and foldables
This year's Mobile World Congress in Barcelona was just canceled due to concerns related to the coronavirus. The event, which draws in 100,000 participants from around the world, is the mobile industry's largest and most important confab of companies ranging from handset makers to chip fabs and network equipment vendors. Apple has notably never relied on MWC to stoke interest in its products.
MWC has historically served as a way for Android makers to launch new models and for global representatives to meet to discuss the rollout of new technologies, this year dominated by talk surrounding 5G deployments. The cancelation of MWC won't stop work on 5G deployments. Still, it is unfortunate timing for an industry struggling to work out a consensus between players already on edge due to tensions between the US and China, specifically regarding the deployment of Huawei networking equipment.
Meanwhile, Samsung, Huawei, and Lenovo's Motorola brand have all been seeking to promote new Android phones with folding screens as well as 5G. Both technologies involve production hurdles that will only be higher with the interruptions in the supply chain posed by coronavirus containment and remediation.
"Vendors' planned product launches will be canceled or delayed, given that large public events are not allowed in China," Canalys stated earlier this week. "It will take time for vendors to change their product launch roadmaps in China, which is likely to dampen 5G shipments."
Apple already peaked
Unlike Samsung and other big Android makers who capitalize on MWC and other events held early in the year to introduce new phone models, Apple launches its new iPhones in September, right before the holiday season kicks off. Apple has already shipped its largest quarter of iPhones, and also just serviced the largest surge of smartphone sales to occur in China during January's Lunar New Year festivities.
The March quarter has historically been Apple's slowest; it's the quiet quarter when newspapers run their alarmist stories sensationalizing the idea that Apple is "cutting production" among its partners as peak demand abates. That's not the case with Android makers. They commonly launch their new flagship models in the first calendar quarter because they have the least direct competition for attention from Apple.
Additionally, Android producers have historically sold relatively consistent volumes of handsets in each quarter. Apple's peak seasonal sales dramatically focused on the holidays are an anomaly in the smartphone industry. Samsung, for example, didn't experience any bump during the holidays. It saw its 2019 December quarter Mobile revenues fall 15 percent from the September quarter. Other phone and PC makers similarly maintain far less cyclical sales cycles than Apple, with sales being driven all year long by a constant flurry price cuts and new model introductions.
Xiaomi's chief executive Lei Jun announced earlier today, as noted in a Reuters report, that the company's current quarter smartphone sales "will face an impact," and predicted they would only rebound over the next two quarters. The news service added, "Xiaomi and domestic rivals, which include Huawei Technologies Co, Oppo, and Vivo, had been hoping to boost sales in 2020 with the release of more 5G-enabled phones compatible with the country's newly upgraded telecommunications infrastructure."
Apple's low-cost replacement for iPhone SE appears likely to go on sale this quarter, but Apple isn't dependent upon trade shows or special events to announce its minor products. The budget model has historically been announced in a press release and sold in relatively minor volumes.
Apple's Android competitors are far less resilient to interruption
Coping with interruptions to component supplies and shuttered assembly plants certainly poses a challenge to Apple. But of all the handset makers in the world, Apple is by far the best positioned to ride through interruptions due to its clout as a premium vendor. Apple can afford to pay a premium to gain access to parts affected by shortages, and to arrange for priority handling of its assembly and shipping of finished goods.
Apple has a long history of buying up premium technologies and production priority. In 2012 Apple paid a small premium to own state of the art fingerprint scanning technologies when Android competitors viewed AuthenTec as an unaffordable component for their cheap, thin margin handsets. More recently, as Samsung and Chinese phone makers retreated to $300 middle-tier and lower price points to find volume sales, Apple spent a premium to develop its TrueDepth camera array to launch iPhone X's Face ID. This attracted hundreds of millions of sales to a new mass-market price point reaching above an astounding $1,000.
And despite being a competitor of Samsung in premium handsets, Apple was able to lock down the supply of Samsung's highest quality OLED displays for use in its own iPhones, simply by offering Samsung a price it couldn't refuse. Conversely, when Apple found a chip fab that could deliver superior results over Samsung's own System LSI, it had no problem paying a premium to buy up high volume production capacity at TSMC's state of the art chip facilities— one of the most extremely rare and wildly expensive factories on earth— to build its A8 and subsequent custom silicon designs powering its iOS devices.
If Samsung could sell its premium Galaxy S phones in similar volumes as Apple, it would do so in a hot second. Yet neither Samsung nor any of the big handset makers of China, nor even Google itself has managed to create a viable business of selling hundreds of millions of high-end phones to highly satisfied audiences. They are instead forced to focus on lower-tier models sold to emerging markets, including India, where the limited demand for high-end phones is again being siphoned off by Apple, just as has been in China and across the rest of the world.
Coronavirus is striking Android's 5G, folding screen strategy to take on iPhone
Over the past two years, Android makers have focused on two strategies they hoped would give them an advantage in taking on Apple's premium iPhones: support for new 5G mobile networks and the adoption of flexible, bending display panels supporting a new variety of folding mobile devices.
Both promised to give Android makers an entry into premium markets in ways that Apple couldn't immediately address. That's because unlike its Android competitors, Apple's high volume, all-premium strategy revolves around creating just a few new models each year and selling each in high volumes. Initially, Apple introduced just one new iPhone each year, in stark contrast to the thousands of models and sub-models sold by each Android maker. Today, Apple still has only three new models of phones introduced in 2019, differentiated mostly by camera features and screen size.
This allows Apple to take advantage of massive economies of scale. All three models of iPhone 11 and iPhone 11 Pro use many of the same components, including the same A13 Bionic processors. This is wildly effective for selling iPhones in high volumes to broad audiences. It's also the perfect model for rapidly rolling out new features such as Apple Pay, Face ID, and Portrait photography. However, it makes it more difficult for Apple to adopt emerging technologies at an incremental pace. It interrupts Apple's winning strategy to introduce a single new iPhone with 5G, or to introduce a new $2,600 folding flagship aimed at a premium niche.
Apple's adoption of 5G was only expected to arrive by the end of this year, while certain Android phones with 5G have been shipping for more than a year already. Similarly, Apple's focus on one basic form factor with iPhone makes it more difficult to experiment with folding designs. As reflected in all of the new products clamoring for attention from Samsung, Huawei, Lenovo and others over the last year, 5G and folding phones have been the top two strategies in providing some sort of defense against Apple's further expansion over the total domination of the premium cream of the market.
The luxury of limited runs
Apple's mass-market luxury production model has been very successful at generating massive profits while establishing a solid base of customers it can further service with apps, music and movie subscriptions, Apple Arcade, TV+ and accessory hardware ranging from Apple Watch to HomePod to AirPods. However, Apple's model only works when there's enough demand supporting a particular product to sell in quantities that can generate a profit.
Apple gave up on selling iPod HiFi, Xserve, and 17-inch notebooks because there wasn't enough volume to sustain their profitability. Other products and services Apple sells are strategic enough to sell without the company's typical margins and volumes. Apple TV was originally described as a "hobby" and has since become a minor business on its own, but it still isn't selling at Apple's typical margins and volumes. Apple still offers it though, because of its role in sustaining other efforts tied into the Apple ecosystem. Apple TV also benefits from its use of older versions of the processors used in high-end iPhones and iPads.
Apple can't, however, afford to build a vast number of such devices. The company has demonstrated no interest in creating a mini-tower or even a middle-priced Mac display. It doesn't sell printers or cameras or other products just to fill a category. That's because the efforts to develop and maintain such devices are high, and would sap the company's ability to focus on products that are likely to make a difference, profitably or at least strategically.
That's the very reason why companies that sell virtually everything don't make much money from it. Samsung, in particular, has a near-infinite range of tablets and netbooks and other PC offerings that have never make any significant contribution to its profitability while sucking up the company's resources. And Samsung is probably just copying Sony, which was previously famous for making one of each thing it possibly could, to the detriment of its future survival and relevance as a tech company.
In China, Huawei, Xiaomi, and others operate as if they have no intention of earning profits. It's therefore a natural fit for all of these companies to get behind being the first to deliver 5G and folding phones, if only to make a name for themselves in an arena where Apple has consistently stolen all the headlines for itself.
The high cost of interruptions
Any impact Apple feels from interruptions of its materials and component supply lines will be far more damaging to the companies that were already making next to nothing in ideal conditions. Even during the historical peak sales of smartphones, Samsung's mobile operations were only hobbling along, reliant on the company's other businesses, including its booming semiconductor and display operations. When Chinese makers began aggressively expanding their operations, it was Samsung, not Apple, that was the most harmed in the domestic Chinese market.
Last year, as the U.S. and China engaged in a tariff tit-for-tat, analysts and pundits predicted that China would retaliate for the Trump Administration's Entity List ban on Huawei by attacking Apple. And a media narrative emerged that a significant number of people in China were actively boycotting Apple out of patriotism. AppleInsider noted at the time why China was clearly not incentivized to attack Apple, and laid out how phony the claims of boycotts were. That has since proven to be correct, and reports of China attacking Apple— one of its major employees and taxpayers— were simply not true.
Instead, we predicted that the turmoil in China would mostly affect Windows and Android. Since then, Chinese Android makers have signaled plans to reduce their dependence on Google Services globally in an alliance to build their own apps. It remains to be seen how well that will work, but it directly refutes the widely reported idea that the trade war would hurt Apple the most. Apple has since rebounded to growth in China.
Even in the winter of 2018 when Apple's iPhone sales were suffering the most from the economic uncertainty in China, Samsung was suffering far worse. Apple's iPhone revenues fell by an alarming 19% but the company's operating profits overall only fell by 11%, despite iPhone sales representing the majority of Apple's business. During the same period, Samsung's mobile revenues dropped in parallel by 11% but its operating profits from Internet and Mobile collapsed by 37%. That's particularly rough because while Apple's earnings remained over $23 billion in the quarter, Samsung IM's total profits bottomed out at just $1.2 billion over the same period, despite its vast size and unit shipments of phones, tablets and PCs.
That indicates fragility in contrast to Apple. Samsung's Android competitors in China are making even less money on their phones, tablets, and computers, making any unfortunate interruption to business a much more difficult situation to recover from. And it's happening just as the window of opportunity for launching early 5G or foldable phones is being shut down by quarantines.