'iPhone 12' leak details smaller TrueDepth notch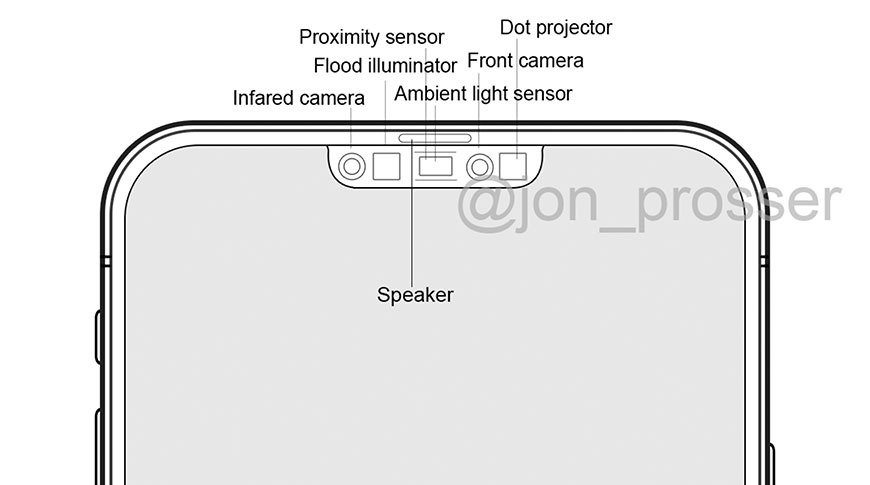 A pair of images shared by avid Apple leaker Jon Prosser on Sunday detail what appears to be schematic drawings of a next-generation "iPhone 12" handset, the top portion of which illustrates a TrueDepth sensor "notch" that is substantially smaller than existing designs.
Posted to Twitter by Jon Prosser, one image looks to be a photograph of a CAD drawing similar to those seen in past Apple hardware leaks from partner manufacturers. A second illustration, thought to be produced using information provided by the original schematic, offers a cleaner view of the handset's design with a focus on the so-called "notch."
Both images depict a TrueDepth package that is significantly more compact than arrays included in flagship iPhones since iPhone X in 2017.
The module layout in the allegedly leaked schematics represent major updates to Apple's original design. Notably, the earpiece speaker has been moved above TrueDepth to sit in the smartphone's thin bezel, thereby freeing up space in the notch and surrounding area. Current iPhone models with Face ID cradle the speaker between important — and physically large — components, with the system's dot projector and front-facing full-color camera to the right, and infrared flood illuminator and infrared camera to the left.
The purportedly new arrangement shows iPhone's speaker positioned directly above stacked ambient light and proximity sensors, which themselves have been moved inward to take a more central location in the array. TrueDepth's transmitting and receiving element packages, once referred to as "Romeo" and "Juilet," are also moved toward center.
TrueDepth might also see a slight reduction in height, but such tweaks are difficult to confirm without detailed measurements.
While not a large change, "iPhone 12's" smaller notch will offer a few additional millimeters of screen real estate for end users.
A potential reduction in iPhone notch size was first reported by analyst Ming-Chi Kuo, who last July predicted Apple to adopt the design in switching to smaller front-facing cameras. Rumors of a complete removal of the once-controversial notch followed in September when reports indicated Apple was working on prototypes that squeezed TrueDepth's parts into iPhone's upper bezel.