Microsoft tests multi-window iPadOS support for Word and PowerPoint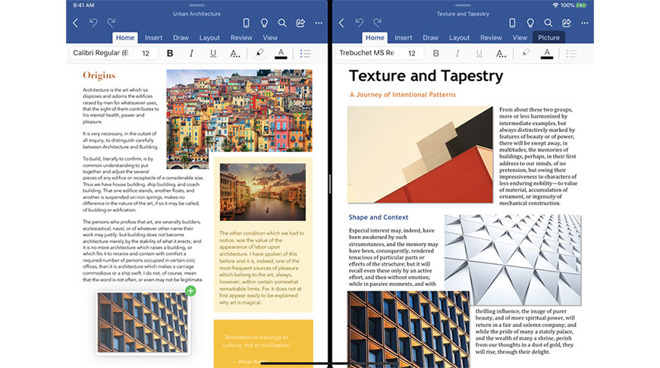 AppleInsider may earn an affiliate commission on purchases made through links on our site.
Microsoft on Wednesday offered a sneak peek at upcoming Office capabilities for iPadOS, with Office beta testers now able to open multiple documents side-by-side in Word and PowerPoint.
Technically an enhancement of Apple's Split View, the mechanism allows for two instances of the same app to be opened and viewed side-by-side. For example, users can open a first email in one Split View pane while composing another in the second pane. Previously, Split View support was limited to one window per app.
Microsoft is now experimenting with the feature, allowing users to open multiple Word or PowerPoint documents side-by-side.
There are a few ways to access the capability in beta form:
Touch, hold, and drag a file from the Recent, Shared, and Open file list in the app to the iPad screen edge to open it side-by-side.
In Word or PowerPoint, swipe up from the bottom of the screen and open the dock. Then touch and hold the same app's icon and drag it off the dock to the left or right edge of the screen. Then tap the document to open it.
In Word or PowerPoint, access the Recent, Shared, and Open views in the app start screen, tap the "" menu for a file in the list, then tap Open in New Window.
For now, Split Screen support is restricted to so-called "Office Insiders," or members of Microsoft's public beta testing program. Those interested in trying out the new feature must join the Office Insider program and download beta versions of Office apps through Testflight.
Whether multi-window support will make it to a shipping version of Office remains to be seen, though it appears Microsoft put significant time and effort into integrating the iPad-only feature.