Apple TV+ predicted to hit 100 million subscribers by 2025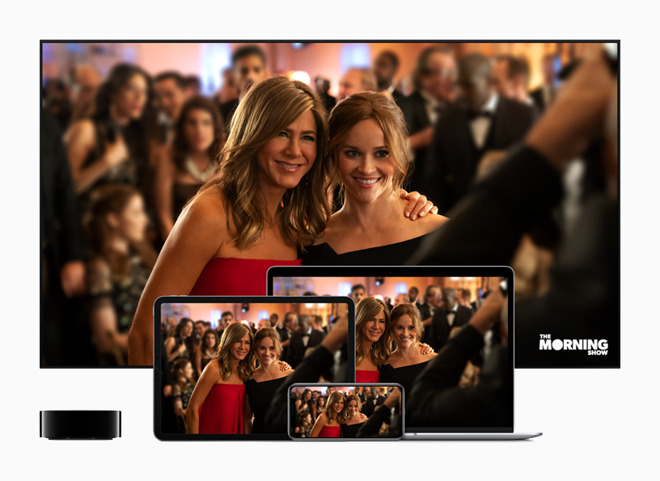 AppleInsider may earn an affiliate commission on purchases made through links on our site.
Apple TV+ isn't booming quite yet, but investment bank JP Morgan is telling investors not to write off the service just yet, estimating that it will hit 100 million subscribers in five years.
In a note to investors seen by AppleInsider, lead analyst Samik Chatterjee maintains that Apple TV+ could hit 100 million paid subscribers by fiscal year 2025. That's despite the fact that content and adoption for the premium Apple streaming service has been "largely lackluster."
Chatterjee predicts that most current subscribers are taking advantage of free promotions, and that even activations of promotions for eligible users has been low. Current data implies that only 5% to 15% of eligible devices are taking advantage of the free year.
But the lukewarm response to Apple TV+ may have been partly due to its small catalog of titles, something that Apple is actively working on improving. Apple TV+ launched with 8 original shows, but now have 28 titles. That's much less content than its competitors — even new ones like Disney+.
That says nothing of quality, which Chatterjee expects to be important. Apple TV+ is differentiating itself by "vying for exceptional talent to enable aware winning content." Increasing the quality and quantity of content will increase the likelihood to convert those on promotions to paying customers, the analyst added.
In addition to rapidly securing and adding new content, Apple also appears to be outspending its competitors. Initial reports suggested that Apple was allocating $1 billion toward content development, but that number could be as high as $6 billion now. Some of those investments could also be used to drive subscribers to Apple TV+ via podcasts.
The analyst also outlined some of the signs that Apple TV+ is evolving fast. Apple TV+ could, as an example, open an opportunity for Apple's Services business to grow "much broader and beyond just the iOS eco-system."
"While adoption of Apple TV+ has had a slow start to-date, we believe investors should not be writing off the long-term prospects just yet, as we see the confluence of improving quality, quantity and budget as drivers of increased adoption going forward," Chatterjee wrote. Chatterjee is predicting 100 million paid Apple TV+ subscribers in 2025.
The analyst forecasts Apple TV+ paid subscribers to ramp up slowly throughout 2020, but adds that it expects a "healthy percentage" of renewals past current trial periods and increased adoption among Apple's installed base.
For comparison, Netflix hit more than 100 million subscribers in 2017, about six years after it split its digital streaming offering from its DVD-by-mail service. Currently, Netflix has 167 million subscribers globally. In January, Apple TV+ had about 34 million, though the company doesn't offer regular updates on the number.
JP Morgan's AAPL price target remains unchanged at $365. That's based on a blended price-to-earnings multiple of 22.0x and a earnings-per-share of $16.86.
Shares of Apple were trading at $325.18 on Thursday morning.