Shortcuts can run locally on Apple Watch in watchOS 7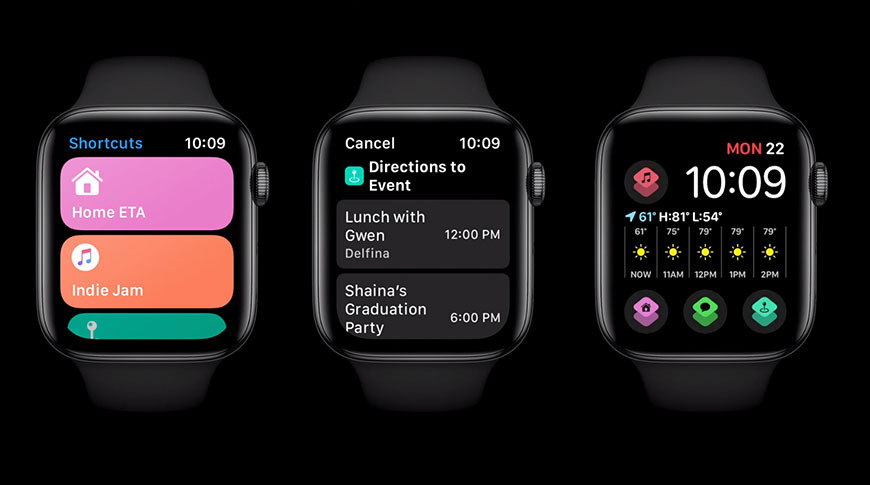 Apple Watch users will be able to run Shortcuts on their device without a connected iPhone once watchOS 7 sees release this fall, greatly expanding the feature's capability beyond iOS.
Shortcuts on Apple Watch promises to deliver powerful one-tap triggers for complex actions like running Apple Music playlists, controlling HomeKit appliances, requesting Siri processes and more. Many of those capabilities will arrive on Apple's wearable for the first time with watchOS 7.
Siri Shortcuts support for watchOS was announced on Monday, though Apple failed to detail how the feature will work. Specifically, it was unclear whether shortcuts will be available on Apple Watch as standalone native actions or remote triggers when tethered to iPhone.
Apple answered that question in a developer session on Friday, noting Watch can run shortcuts locally without a connected iPhone.
There are a few factors at play in shortcut handling. First, shortcut type is taken into consideration. If the action is an NSUserActivity, watchOS 7 looks for a host app which, if installed, will run. Absence of said app results in an error message. Similarly, shortcut intents are handled locally on Watch through app extensions or remotely on iPhone as a backup.
Federico Viticci spotted the video and shared its contents in a tweet.
A new Shortcuts app provides users with a list of shortcuts synced across iOS, iPadOS and watchOS via iCloud. The new support also brings shortcuts to watch faces as dedicated complications.
The first watchOS 7 beta went out this week ahead of an expected release this fall.