Apple to launch Apple TV+ bundle with CBS All Access, Showtime for $9.99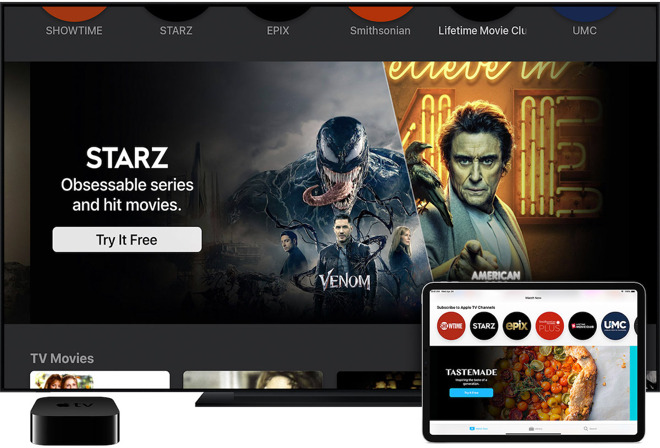 AppleInsider may earn an affiliate commission on purchases made through links on our site.
Apple plans to launch an Apple TV+ bundle that includes both CBS All Access and Showtime content for $9.99 a month.
The bundle would allow users to access premium content from all three services through the Apple TV app. Reportedly, the move is meant to spur adoption of Apple's a la carte Apple TV Channels service.
Apple's bundle, which would be the first of its kind in the company's services portfolio, could launch as soon as Monday, Bloomberg reported.
CBS All Access and Showtime normally cost $9.99 and $10.99 a month, respectively, while Apple TV+ runs users $4.99 a month. That means the bundle — if the pricing is accurate — represents about $15 worth of savings.
Users can already access CBS All Access and Showtime on the TV app, and Viacom has long offered discounted bundles for both content providers on its own website. The bundle will allow Apple users to consolidate their subscriptions, however.
Introduced in 2019, Apple TV Channels is a feature that lets users browse and view content from a variety of providers on a single app. Users must still pay for the content providers they want to watch — including Apple's own Apple TV+ service.
Earlier on Thursday, a report claimed that Apple plans to launch a new bundled subscription called "Apple One" that includes services such as Apple Music, Apple Arcade and Apple TV+. The bundle could come in various price tiers, with some packages including iCloud storage or Apple News+.