Apple offering CBS, Showtime as a $9.99 Apple TV+ add-on bundle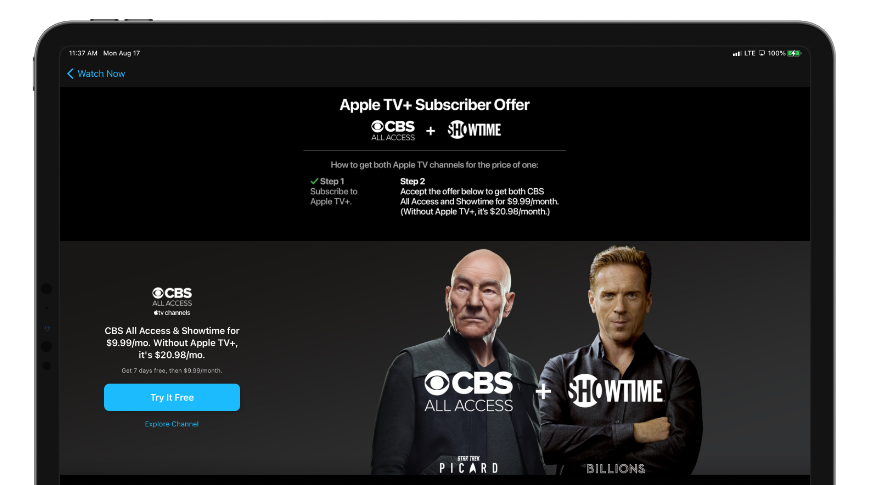 Apple has launched its first premium Apple TV+ bundle, allowing users to add on CBS All Access and Showtime for an additional $9.99 a month.
Starting Aug. 17, U.S. customers can choose to bundle Showtime and CBS All Access with their Apple TV+ subscription for an additional $9.99 a month, bringing the monthly commitment to $14.98. CBS All Access and Showtime typically cost $9.99 and $10.99 a month, respectively. Up to six family members can share the bundle using their Apple ID and password.
"Apple TV+ gives you access to award-winning Apple Originals, with more high quality series and movies being added each month," said Eddy Cue, Apple's senior vice president of Internet Software and Services. "This bundle is a big bonus for Apple TV+ subscribers, giving them the best of CBS and Showtime on the Apple TV app at a great value."
The bundle allows users to access premium content from all three services through the Apple TV app. Reportedly, the move is meant to spur adoption of Apple's a la carte Apple TV Channels service. Showtime features popular shows like "Billions," "Homeland," and "Shameless," while CBS All Access has "The Good Fight," "Star Trek: Lower Decks," and "The Late Show with Steven Colbert." CBS All Access also includes an expanded library of ViacomCBS titles, including "Spongebob Squarepants," "Chappelle Show", and other favorites from BET, Comedy Central, Nickelodeon, and MTV.
Last week, a report claimed that Apple plans to launch a new bundled subscription option called "Apple One" that includes services such as Apple Music, Apple Arcade and Apple TV+. The bundle could be offered at different price tiers, with some packages including iCloud storage or Apple News+