UK carrier EE bundling Apple services with iPhone & Apple TV hardware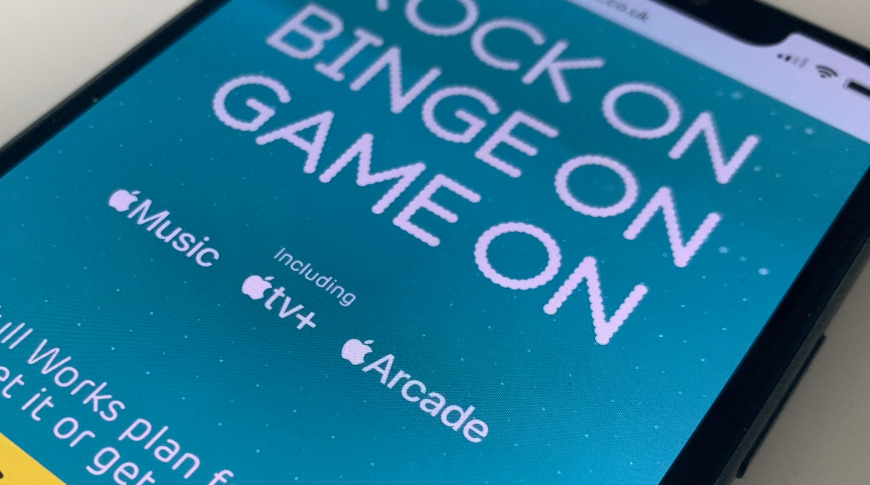 Cell customers on the UK's EE carrier can now choose deals that add Apple Music, Apple TV+, and Apple Arcade as part of their monthly fee, meaning cost savings in certain configurations.
Having previously offered its broadband customers a deal including a free Apple TV 4K, UK carrier EE has now added a services bundle to its iPhone contracts.
EE's new program gives customers access to Apple Music, Apple TV+ and Apple Arcade — though not Apple News+ — for the duration of their 24-month contract. Each of these elements are described as a "Smart Benefit," and contracts offer either one or three of them in the deal.
For example, a 66/month contract (approximately $88), gets customers an iPhone 11 Pro with 10GB data and their choice of one Smart Benefit. For comparison, the closest equivalent EE deal without this bundle of Apple services costs 59/month ($79).
That's a 7 difference, so choosing either Apple Arcade or Apple TV+, each 4.99, means paying more than the service costs. The best option for one Smart Benefit is to choose the Apple Music one.
It appears that only the individual 9.99 Apple Music option is available. There isn't an option at present for the family sharing version.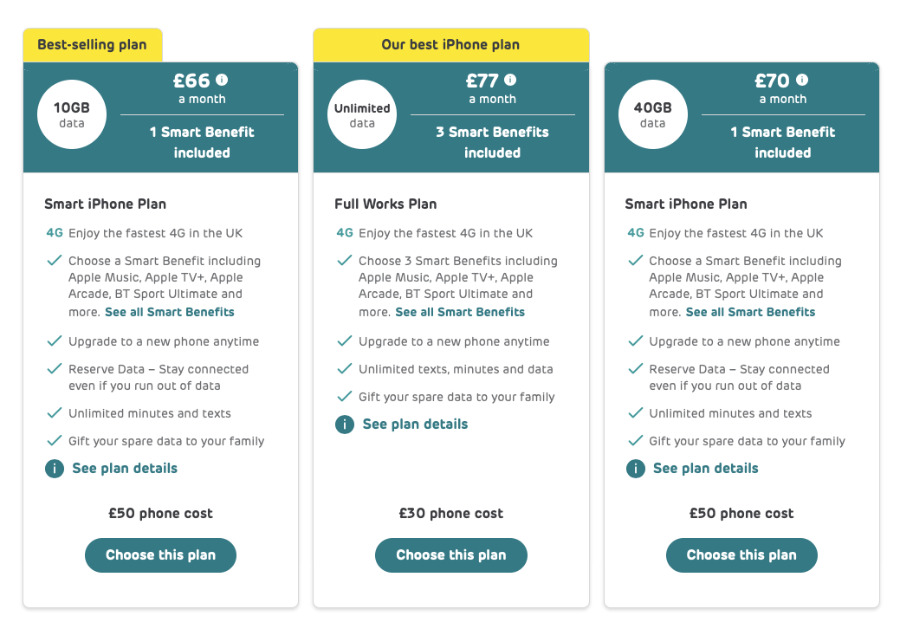 Alternatively, a 77/month deal ($102) called the Full Works gets all three available Apple services, plus unlimited data. The nearest equivalent without the Apple bundle costs 68 ($91), so for an extra 9, customers get a saving on the services of 10.97 ($14.66) per month.
Each of the deals includes an initial cost for the phone, ranging from 30-50 ($40-66) depending on the contract, but also the option to change phones at any point. It's not clear what costs might be involved at the point of upgrading, but customers are not locked in to whichever phone they get now.
This is particularly significant as EE has was the first UK carrier to launch 5G, and Apple's shortly forthcoming "iPhone 12" range will support that.
UK's Three offering Apple TV bundle
Separately, the Three carrier in the UK has now announced a 5G broadband bundle offering an Apple TV 4K box, plus a year of Apple TV+. It's a service that claims broadband-style internet speeds, but provided wirelessly over 5G.
Three claims that its 5G Home Broadband service provides up to 200Mbps. The package costs 34 ($45) per month, plus a one-off upfront cost of 29 ($39), and is a limited-time offer expiring on September 17.
Not all UK areas are covered by Three's 5G network yet, but there is a similar offer called 4G Home Broaband for 27/month ($36) and 29 upfront.