All the new watch faces in watchOS 7 and Apple Watch Series 6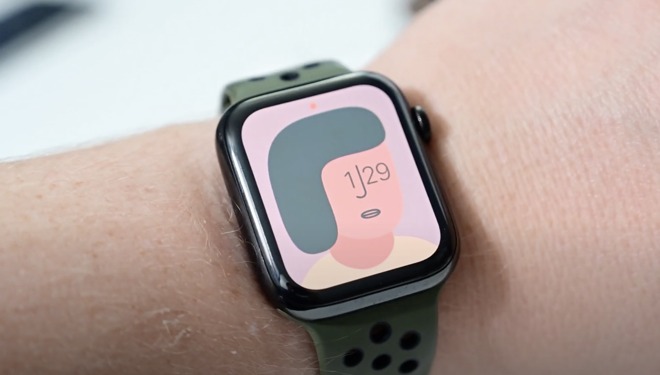 AppleInsider may earn an affiliate commission on purchases made through links on our site.
Apple has officially released watchOS 7 to Apple Watch owners everywhere. The update brings a plethora of new features, including seven new watch faces with countless customizations.
Each of these new faces not only has a different look, but many of them also have unique functionality, such as the tachymeter on the Chronograph Pro face.
Chronograph Pro
As we mentioned, the Chronograph Pro was already shown off by Apple during its WWDC 2020 event as it announced watchOS 7. More classic timepieces are the inspiration for the face, and it offers a tachymeter in the center for measuring speed.
GMT
GMT is a unique watch face that shows two time zones simultaneously on your Apple Watch. With a tap or a tip of the Digital Crown, the time zone can be changed.
This face has a dual-color design with many contrasting options to choose from. Users can also customize the four complications as well as turn the center date on or off.
Stripes
Stripes is one of our favorites of the bunch. It is a simple design that has many applications. The watch face is made up of a series of stripes ranging from two to nine. Each stripe can have its own user-selected color, and the angle of the stripes can be adjusted in 15-degree intervals.
For instance, you can create a SCUBA flag with a red, white, to red set of stripes at an angle. Or celebrate the return of football with your favorite team — such as the OSU Buckeye helmet pattern above. Match it to your outfit, match it to the season, or match your band.
The Stripes face can be full-screen or a circle in the center. We think the full-screen looks better, but the circular option supports complications.
Memoji
The Memoji watch face brings Apple's cute characters to the face of your Apple Watch. Users can choose between any Memoji characters they created, a specific Animoji character, a random Animoji, or a random user-created character.
Typograph
With a similar style to the Numeral watch face, Typograph plays with the fonts of the time. There are two dial options of the face — one with 12, 3, 6, and 9 shown large and the other with all the numbers more near the image like a traditional clock face. Then there are three styles — classic with some flair, modern with clean lines, and rounded.
Apple provides the choice of Roman, Arabic, Arabic Indic, and Devanagari symbols. Then comes the huge array of colors, some with solid backgrounds, then a complication if choosing the second dial option.
Count Up
Another unique face, Count Up, allows you to start counting up after just a tap. Tap on the face, and a start button appears in the center. Press start, and it will start a stopwatch. Tap again to see the elapsed time more prominently or stop the clock.
Count Up comes in the full array of colors as well as with four corner complications.
Artist
The Artist face is a collaboration between Apple and artist Geoff McFetridge. There are several different real human faces on this face that alternate each time you tap the face or lift your wrist.
The Artist face also inverts to an outline of the selected face when your wrist is down, and your Series 6 or Series 5 always-on display is conserving battery.
The time is cleverly integrated right into the face and makes for a unique look unlike any of the past Apple Watch faces.
Try them out
The best part about these watch faces is it gives you more opportunities to express your own personal style with Apple Watch. Between the new color options, new band styles, Apple Watch is a very personal device.
The latest Apple Watch Series 6 will have all of these faces along with all the older ones, but Apple Watch Series 4, Series 5, and Apple Watch SE get them as well a part of watchOS 7.