Apple to discourage iPhone 12 launch day lines with reservations, 'express' pickup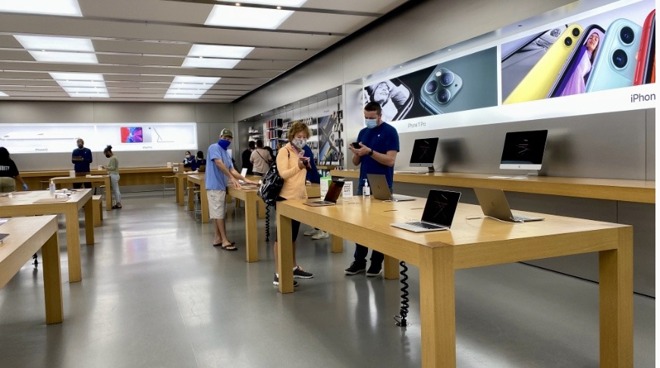 AppleInsider may earn an affiliate commission on purchases made through links on our site.
Apple will reportedly discourage long lines and close contact at its retail locations on iPhone 12 launch day due to the pandemic.
Part of those efforts include a new "express" experience that allow users to pick up iPhone orders without close contact with other shoppers. At least 20 stores across the U.S. and Europe have "express" setups available, with rows of sales counters separated by plexiglass.
In addition to expanding "express" stores to an additional 30 stores by the end of the month, Apple told Business Insider that it will prevent long lines from forming in front of Apple Stores by providing customers in the queue a reservation slot to pick up their iPhones at a later time.
Some stores won't offer in-store shopping at all. The Union Square location in San Francisco, for example, will require buyers to make a reservation in advance to buy an iPhone 12 or iPhone 12 Pro model on Friday.
For stores that do offer in-person shopping, Apple's coronavirus protocols are still in place. Shoppers must wear a musk and will be temperature checked at the door. Occupancy at Apple retail locations will also be limited and social distancing rules will be in effect.
As of Oct. 21, there are 225 Apple Store locations that have reopened in the U.S. and another 227 open across the globe.