Apple executives talk M1 chip, macOS Big Sur redesign, and more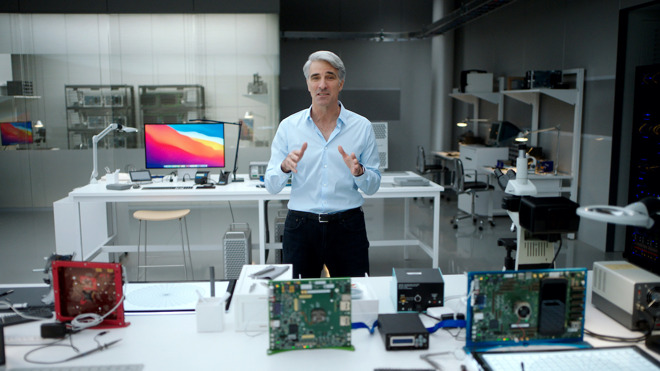 AppleInsider may earn an affiliate commission on purchases made through links on our site.
A trio of Apple executives sat down to discuss the first Apple Silicon M1 chip, the possibility of a touchscreen Mac, and more in a new interview.
Just a couple of days after Apple unveiled the M1 chip at its Nov. 10 event, The Independent spoke with Apple software chief Craig Federighi, hardware engineering chief John Ternus, and marketing chief Greg Joswiak about a variety of Apple Silicon- and macOS Big Sur-related topics.
On the performance of the M1, for example, Joswiak and Federighi told The Independent that they almost "couldn't believe" the type of power Apple's hardware team was able to achieve.
"We overshot," Federighi said. "You have these projects where, sometimes you have a goal and you're like, well, we got close, that was fine'. This one, part of what has us all just bouncing off the walls here - just smiling - is that as we brought the pieces together, we're like, this is working better than we even thought it would."
Ternus added that as the development momentum built, the team realized that the chip was doing thing that they hadn't expected.
"We started getting back our battery life numbers, and we're like, You're kidding. I thought we had people that knew how to estimate these things," Federighi said.
As far as the branding of the M1 chip, Joswiak said the "M-series" "makes a lot of sense for a Mac chip." He added that the letter "A" was started as the first chips from Apple, but after that family of silicon, the company started using letters that made sense — such as "H" for headphones.
When asked about how the MacBook Air and the 13-inch MacBook Pro are differentiated, Federighi pointed out that the Pro model notebook has a cooling system, and explained that the more cooling these devices have, the faster they become.
On the note of the new Macs, Ternus said it didn't make much sense to "just go and change the design just for the sake of changing a design." Hence why the MacBook Air, MacBook Pro, and Mac mini models appear roughly identical to their Intel counterparts.
"I think these systems do make a statement of like: Look, look at what's possible with M1 and with all our technologies. I think they're a tremendous foundation for for this transition, just to start with M1," Ternus said.
The actual switch to Apple Silicon from Intel was a process that was years in the making, Federighi said. But, of course, it's not the first architecture transition that Apple has made for its Macs.
"We've done this before," the Apple VP said. "We've watched others in the industry do it in the meantime, not so successfully. But we've, I believe, really perfected these sorts of transitions, we know exactly how to handle the tools to make it really easy for developers."
Federighi was also asked about rumors of a move to touchscreen for macOS, and he downplayed — but didn't outright deny — those rumors.
The Apple software chief explained that, despite its similarities to iOS and iPadOS, macOS Big Sur wasn't designed with touch in mind. Instead, it was created "in a way that felt most comfortable and natural to us, not remotely considering something about touch."
"We're living with iPads, we're living with phones, our own sense of the aesthetic - the sort of openness and airiness of the interface - the fact that these devices have large retina displays now. All of these things led us to the design for the Mac, that felt to us most comfortable, actually in no way related to touch," Federighi said.
The full interview contains some more details and tidbits, and can be found here.