Qualcomm's latest under-display fingerprint sensor is 50% faster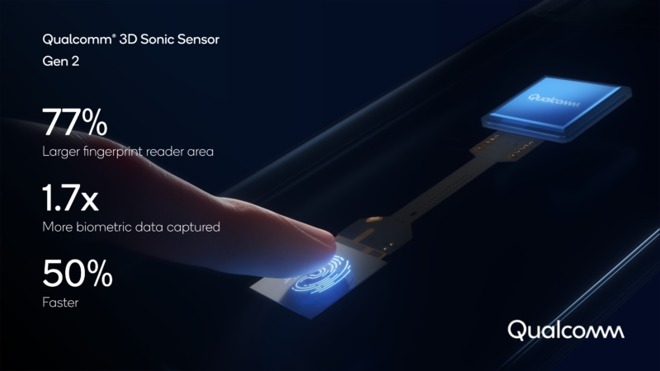 AppleInsider may earn an affiliate commission on purchases made through links on our site.
Qualcomm at CES 2021 debuted a new under-display fingerprint sensor expected to launch on Android flagships — and possibly an iPhone — in 2021.
The new 3D Sonic Sensor is 50% faster and 77% larger than Qualcomm's previous in-screen fingerprint reader. It measures 8mm x 8mm, compared to the previous generation's 4mm x 9mm.
Qualcomm says it expects the new generation of 3D Sonic Sensor to start appearing in high-end Android flagships as soon as the first half of 2021, The Verge reported on Monday.
The announcement of the new reader comes amid rumors that Apple will bring its Touch ID biometric system back to the iPhone lineup sometime in 2021.
In August 2019, analyst Ming-Chi Kuo predicted that the 2021 iPhone, possibly the "iPhone 13," could sport both Face ID and Touch ID. He also indicated that Qualcomm would be the likely supplier of the fingerprint reading technology.
As recently as October 2020, a leaker with a reliable track record said that under-display Touch ID on an iPhone is still on the horizon.
Having both Face ID and Touch ID on an iPhone could offer a number of benefits for users, including more secure dual-authentic requirements and an alternative unlocking process for when a user's face is obscured by a face mask.
Rumors of an iPhone with display-embedded Touch ID first surfaced prior to the release of the iPhone X. While Apple has switched to Face ID on its flagship smartphones, Touch ID is still present on lower-cost iPhone models and iPad devices.
Since the debut of the iPhone X, there has also been a steady stream of patent applications suggesting that Apple is still working on an under-display fingerprint reading technology.