Jeff Bezos to step down as Amazon CEO, AWS chief Andy Jassy to fill role in Q3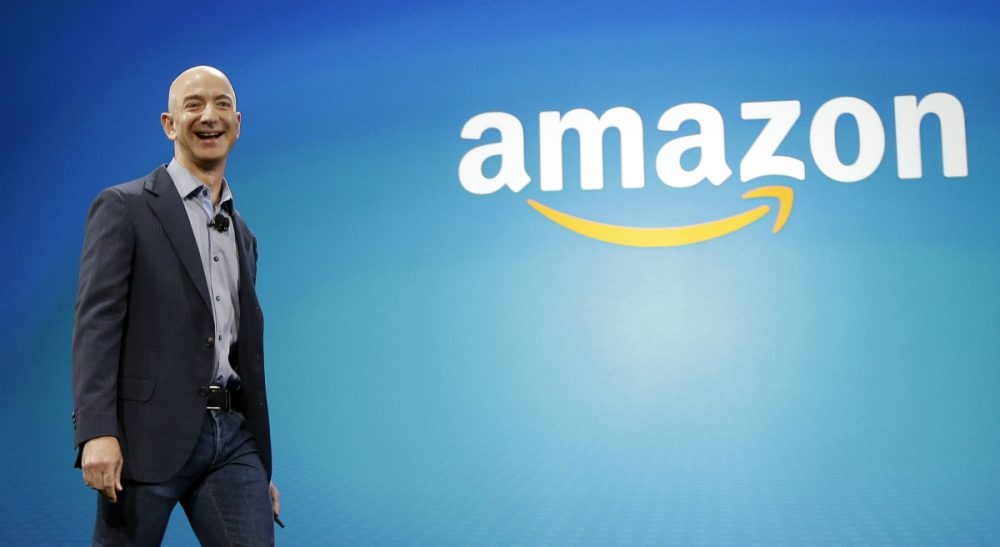 Amazon founder Jeff Bezos will step down from his role as CEO of the retail giant later this year, with Andy Jassy tapped to be his replacement, the company announced on Tuesday.
Jassy is set to take over for Bezos as Amazon's chief executive officer in the third quarter of 2021, Amazon announced during its quarterly earnings call on Tuesday. Previously, Jassy served as CEO of Amazon Web Services. Bezos will transition to the role of executive chair of the Amazon Board, the company said.
"Amazon is what it is because of invention. We do crazy things together and then make them normal. We pioneered customer reviews, 1-Click, personalized recommendations, Prime's insanely-fast shipping, Just Walk Out shopping, the Climate Pledge, Kindle, Alexa, marketplace, infrastructure cloud computing, Career Choice, and much more," Bezos said in a prepared statement. "If you do it right, a few years after a surprising invention, the new thing has become normal. People yawn. That yawn is the greatest compliment an inventor can receive. When you look at our financial results, what you're actually seeing are the long-run cumulative results of invention. Right now I see Amazon at its most inventive ever, making it an optimal time for this transition."
Bezos also penned an email to Amazon staffers that was published on the company's blog following the announcement. In the message, the Amazon CEO said he wants to devote proper time and attention to his "Day 1 Fund, the Bezos Earth Fund, Blue Origin, The Washington Post, and [his] other passions."
"In the Exec Chair role, I intend to focus my energies and attention on new products and early initiatives," Bezos writes.
Amazon reported revenue of $125.6 billion for Q4 2020 and earnings per share of $14.09, both beating expectations for the quarter. As with Apple, the holiday 2020 quarter also represented the first time Amazon's revenues have eclipsed $100 billion.
Previous predictions have identified Jassy as a likely successor to Bezos. The AWS chief joined Amazon in 1997 and led the cloud services team to its current dominant position in the industry. In the fourth quarter of 2020, AWS reported revenue growth of 28% and net revenues of $12.74 billion. AWS also continues to drive much of Amazon's profits.
"[Jassy] is well known inside the company and has been at Amazon almost as long as I have. He will be an outstanding leader, and he has my full confidence," Bezos said of the AWS chief in his email to employees.
Bezos founded Amazon as an online bookstore in 1994 and, under his leadership, the company has grown to a retail juggernaut. Amazon has also expanded into other areas, including web infrastructure through AWS; hardware products like the Echo; and even physical retail with the acquisition of Whole Foods.
The Amazon founder was only named the "richest man in modern history" in July 2018 when his net worth increased to more than $150 billion. It was a title he held onto until January 2021, when Tesla and SpaceX CEO Elon Musk passed them.
Amazon and Apple have crossed swords under Bezos' watch. Beyond retail operations, Amazon moved into the lifestyle products and services arena with Siri competitors Alexa and Echo. Amazon's smart digital assistant has become ubiquitous in the consumer electronics space, while Apple's Siri, HomePod and HomeKit platforms have seen slower adoption rates.
In 2011, the online retailer was involved in an antitrust suit targeting Apple's iBookstore platform. When the service launched, Apple upended Amazon's wholesale pricing model with a so-called "agency" model that allowed publishers to control fees for access to digital books. The strategy prevented resellers like Amazon from undercutting those rates, increasing e-book prices and provoking the ire of government oversight agencies. Ironically, a law firm that leveled a successful class action suit against Apple for its iBookstore indiscretions is now taking aim at Amazon over the same issue.