Apple to take reported 30% cut from podcast subscriptions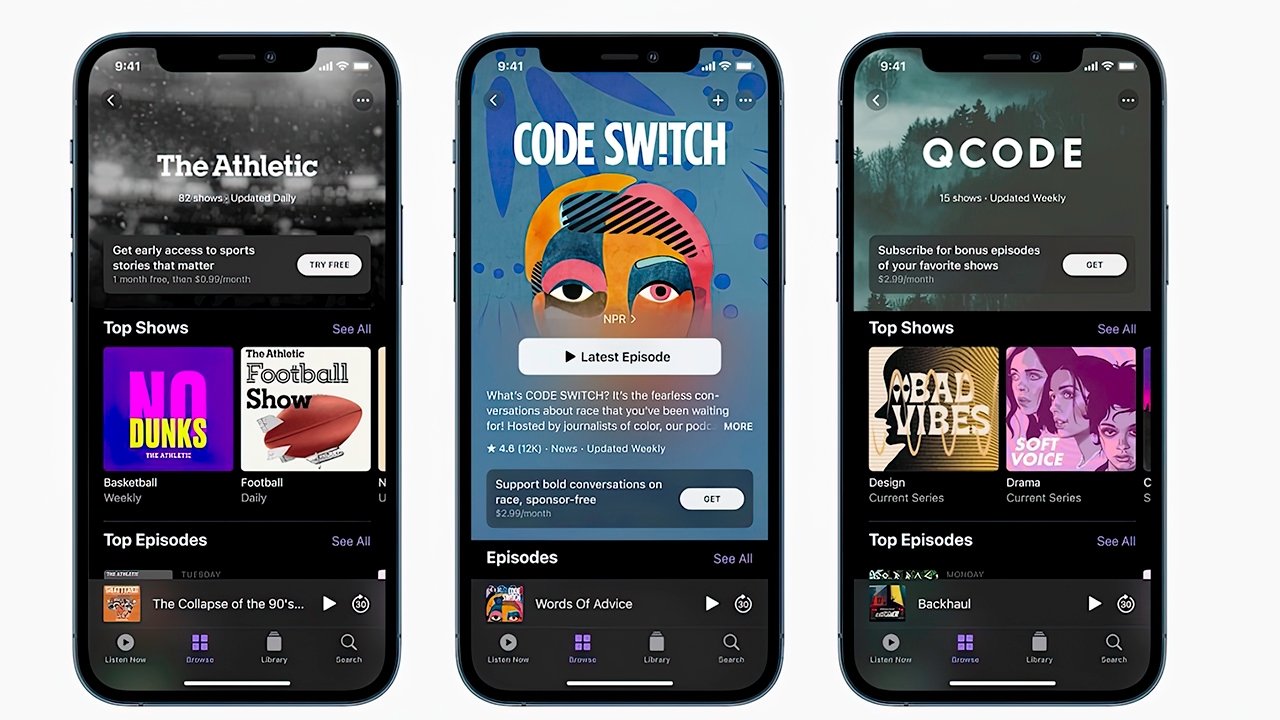 Apple's new podcast subscription service will reportedly take a 30% revenue cut during podcast publishers' first year on the platform.
Apple announced its podcast subscription service at its "Spring Loaded" event on Tuesday. While the company was vague on financial details for podcasters, Recode has uncovered more particulars.
Apple's reported 30% cut applies to any subscription revenue made during a creator's first year using the service. After that, the fee drops to 15%. That reflects changes the company made to App Store revenue in 2020.
Apple's new podcasting approach
Starting in May, Apple will let podcast creators sell subscriptions to listeners directly. The new service will not come with one single, overall subscription fee. Instead, users will be able to pay for each show to which they choose to subscribe.
Apple wants its podcast producers to differentiate subscription content from their existing podcast selection. According to the Recode report, "That could mean ad-free shows or shows with extra content or brand-new shows that only exist on Apple."
"We're also introducing Apple podcast subscriptions, which enables you to unlock new content as well as additional benefits like ad-free listening, early access, and much more," said Tim Cook at Tuesday's event. "So, now you can help your favorite podcasters build their business and fuel their creativity."
Apple will allow podcast creators to set pricing. That can start as low as 49 cents per month in the U.S.
The new initiative marks the first time Apple has made money off of podcasts directly, despite being instrumental in the medium's mainstream growth. The Cupertino company first added podcast support to iTunes in 2005. The word "podcast" is a portmanteau of the words "iPod" and "broadcast."
Until now, Apple executives avoided capitalizing on podcasts because they hadn't viewed them as a significant revenue source. This approach was partially due to the company's privacy stance, limiting its ability to profit from advertising — at least the data-driven type that tracks customers.
Podcasts have exploded in popularity in recent years. Spotify and Amazon have both invested heavily in the medium. A market forecast in March predicted Spotify would overtake Apple in podcast listenership by the end of 2021.
Apple has also invested in boosting its podcast offerings. Earlier in April, it launched the first two episodes of "The Line," an original podcast that will be a precursor to a limited-series TV show set to arrive on Apple TV+ later in 2021.