How find, manage, and listen to your Apple Podcast Subscriptions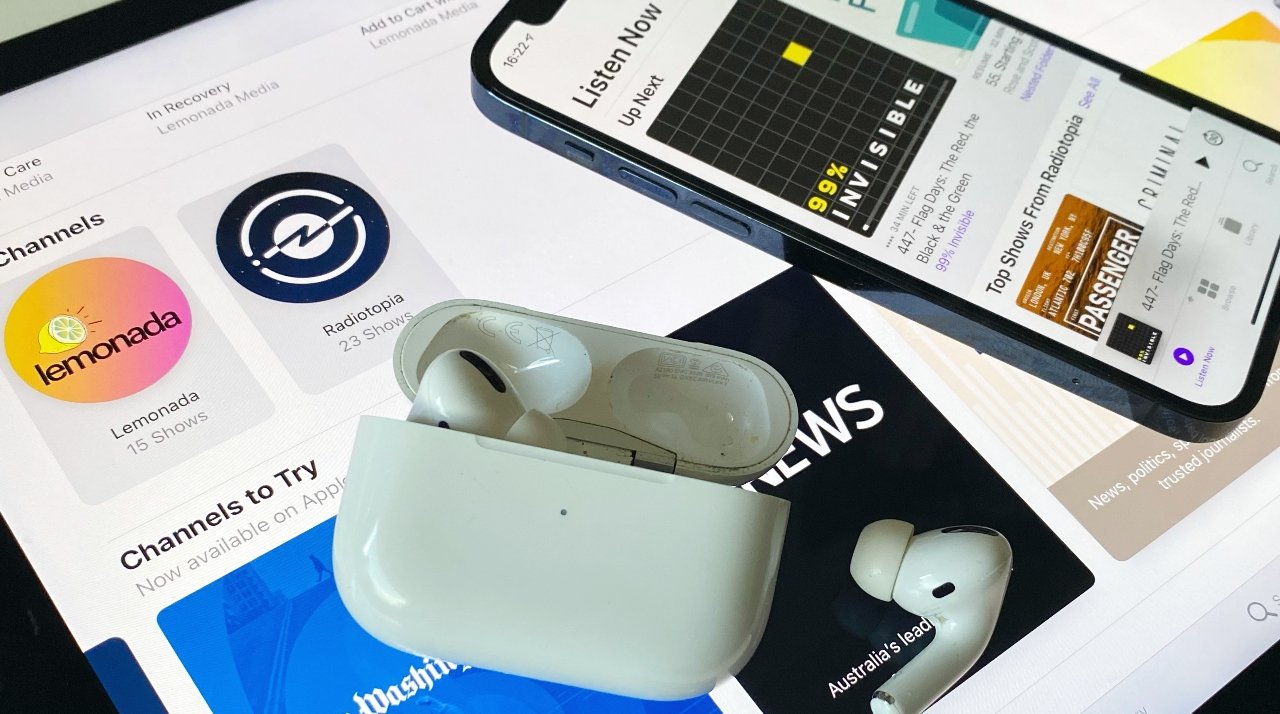 Apple's Podcast Subscriptions work significantly differently from all other Apple subscription services. Here's what to know, and how to make the most of the service.
It's not as if you can be a stranger to the idea of subscriptions if you've been an Apple user for long time. So the idea of the new Podcasts Subscriptions can seem straightforward, yet it's different to all of Apple's other subscription services.
For every other one, from Apple TV+, through Apple Music, and Apple Arcade, you pay one fee and you get access to everything available. That fee may vary depending on whether you've bought a qualifying iPhone, or you've chosen a Family Sharing package.
But overall, it's a monthly price and that's the end of it.
With Podcasts, the idea is that you don't take out some overall podcast subscription, you elect to subscribe to individual podcasts. If you like ten podcasts, you can subscribe to each of them separately.
That's how Apple described the feature when it wasannounced, but there is actually just a little bit more to it than this. Every podcast is a separate subscription — except when it isn't.
"When you purchase Apple Podcasts Subscriptions," says a new Apple support document, "you can either subscribe to a channel of curated podcasts or to a standalone podcast program."
Using Apple's own Podcasts app
It's that word, "subscribe," that's going to cause a lot of confusion. If you go to a third-party podcast app, such as Overcast, and search for a show, you will get a Subscribe button.
But it's not a subscription button.
In Overcast and all podcast players, just as it used to be in Apple's Podcasts, "subscribe" means follow. Now we know why Apple stopped saying "Subscribe" and instead began adding a plus-sign "Follow" button in iOS 14.5.
You can only pay a subscription via Apple's own Podcasts app. Or at least, you can only pay this type of subscription that way. Many podcasts have already used Patreon or other services to offer arrangements where for a fee you get bonus or ad-free episodes.
Then if you have paid a Podcast Subscription in Apple Podcasts, it's still a little less clear what happens after that. In theory, many podcast players work on an RSS feed that means if you add a podcast in Apple Podcasts, the third-party apps can see and play it too.
What is certain is that Apple Podcasts is the only place you can use Podcasts Subscriptions, though. And for the moment, it seems that you can only choose to listen to your subscribed shows, or channels, in Apple's app.
You must also have the latest versions of iOS, iPadOS, macOS, or watchOS in order to subscribe to any podcasts.
The difference between channels and shows
At present, this is a bit clunky. There are individual podcasts that if you subscribe to them, you automatically also subscribe to every other show in the channel.
If it's not very obvious that this is what's happening, still it's like a bonus. You've found one show you want to support and now you're getting a number of others included.
This is currently the case with Radiotopia's podcasts, for instance, and with Lemonada Media. But then Relay FM presents itself as one new subscription channel containing many shows — except at present, there is no subscription fee.
That's because Apple wants podcast creators to make channels, and said at the "Spring Loaded" announcement that it was all about making shows easy to find.
But if the channels idea is about organization, it's surely more about monetizing collections of shows. Subscribing to a whole channel does seem more affordable than picking out multiple different shows, not to mention cheaper.
We'll get used to channels, and podcast creators will as well. But at the moment, it means some organizations are using the new feature as a way to showcase all of their podcasts, rather than actually offer subscriptions for any or all series.
And others are not. NPR, for instance, offers many shows but doesn't have one channel you can see — and does offer subscriptions to individual shows.
Until subscription messages are clearer, and until the definition of a channel is consistent, the answer is to disregard bundles of shows. Find a single podcast you like and subscribe to it.
If you then find you've just been handed a whole catalogue of podcasts in your subscription, have a good time exploring them.
How to find and pay subscriptions
Search for a podcast title or subject you're interested in
From the list that appears, tap on a show
Toward the top there will be a notice about subcriptions
Tap on Subscribe
The notice will extol you to subscribe, of course, but it will always say what the fee is — and whether there is a trial version. There's no requirement for producers to offer a trial, and so far plenty do not. Others, though, offer either 3-day or 7-day trials.
There is another way to find subscription podcasts, and that's via Apple's recommendations. The regular Podcast app now features many, many recommendations for podcasts to subscribe to.
It's also possible for you to recommend shows yourself, by sharing ones you like over Mail, Messages and so on.
How to listen to your subscriptions
You can go to a given show in exactly the same way you used to. It will be in the Apple Podcasts library, and the latest episodes will be promoted in the Listen Now section.
Listen Now is expanding to surface subscribed podcasts. As you scroll through the page, it now changes depending on how many shows you've subscribed to.
Specifically, if you subscribe to two or more channels, the Listen Now page grows a My Channels row. Tapping on that takes you to all of the shows available to you in that subscription.
How to cancel your subscription
Open Settings on your iPhone or iPad
Tap on your name at the top
Choose Subscriptions
Scroll to a podcast in the listing and tap
Select Cancel Subscription
If you are used to other subscriptions then it may seem obvious, but note that this is the only way you can unsubscribe. If you unfollow a show, what used to be called unsubscribe, you do not cancel your subscription.
As with other monthly subscriptions, you must cancel at least a day before the next renewal date. Equally, though, your subscription remains live until that next date.
In this one respect, Apple Podcast Subscriptions are the same as all of the company's other subscription services. Except it isn't part of the Apple One bundle.
The Podcast Subscriptions service is closer to the App Store now, where it's up to you to manage how many apps you want to pay for.
Keep up with everything Apple in the weekly AppleInsider Podcast — and get a fast news update from AppleInsider Daily. Just say, "Hey, Siri," to your HomePod mini and ask for these podcasts, and our latest HomeKit Insider episode too.

If you want an ad-free main AppleInsider Podcast experience, you can support the AppleInsider podcast by subscribing for $5 per month through Apple's Podcasts app, or via Patreon if you prefer any other podcast player.

AppleInsider is also bringing you the best Apple-related deals for Amazon Prime Day 2021. There are bargains before, during, and even after Prime Day on June 21 and 22 — with every deal at your fingertips throughout the event.