Apple releases macOS Monterey with Shortcuts and Live Text
AppleInsider may earn an affiliate commission on purchases made through links on our site.
Apple has released macOS Monterey, the latest iteration of its Mac and MacBook operating system, with users now able to download the final release version to their devices.
Users can manually force the update by opening System Preferences on their Mac, then select Software Update, and then follow the prompts.
Universal Control is a feature that allows one keyboard and trackpad to control three devices, whether they are Macs or iPads. It was not included with the release of iPadOS 15, and did not appear in the betas for macOS Monterey. Apple maintains that it will be available in the fall.
Shortcuts for Mac
The new macOS Monterey also brings Shortcuts from iOS to Mac. The automation tool is a more straightforward system than the longstanding Automator or AppleScript, both of which continue to be supported.
"This year we're bringing shortcuts to the Mac," announced Craig Federigh. "The Mac is after all, where we turn for so much of our creative work. And now you have automate the everyday stuff to achieve peak productivity."
"With the shortcuts editor, you can easily link together a series of actions to design shortcuts for your specific workflows," he continued. "We'll weave Shortcuts throughout Mac OS, so you can run them no matter what app is open."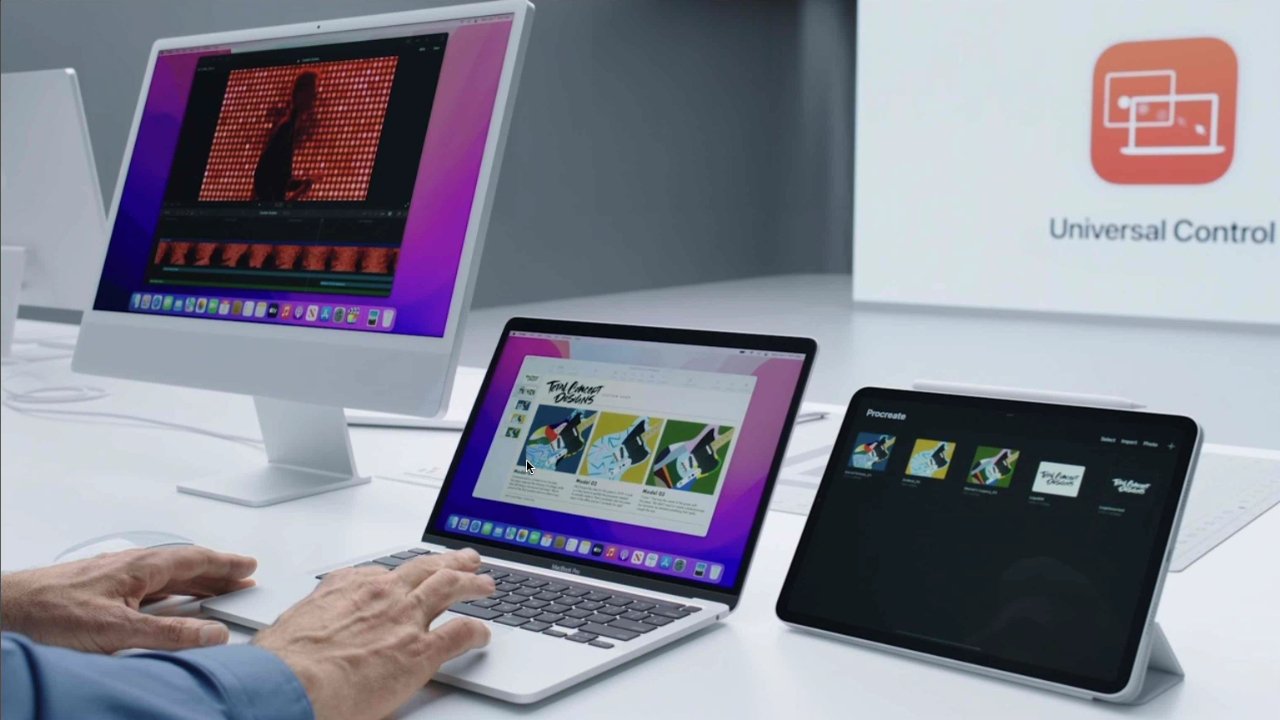 Safari
Safari on macOS Monterey incorporates privacy and performance features, most notably in its new system for displaying and using tabs.
"We built Safari from the very beginning to provide the best browsing experience on Mac, and it continues to blow the competition out of the water," said Federighi. "Our users are doing more in the browser, than ever before, work, school, shopping, entertainment, and that often leaves them with a lot of tabs, Windows and other distractions."
"We think using the browser should feel natural, and uncluttered," he continued. "So we've reimagined the browsing experience we distilled the toolbar to its essential elements. Tabs are more compact, modern, and lightweight, and there's a completely new way to use tabs with tab groups allow you to easily save and manage your tabs, without cluttering up your tab bar."
Privacy and iOS compatibility
Its other major updates also concentrate on adding new features toMessages, as well as improving support for Apple Silicon Macs. It's also bringing the Mac up to date with features that are key to the new iOS 15.
That includes SharePlay. While on a FaceTime call with friends and colleagues, users can share movies, music, and more.
As it enables sharing this information with who users want to work with, Apple has also added to the existing privacy of macOS. Just as it will with iOS 15 and iPadOS 15, Apple Mail will block the ability for emailers to detect when users read their email.
Focus, Translation, and Privacy
Also brought across from the new iOS 15 is Focus. Users can set Focus mode across their devices, which filters out unrelated notifications — and can respond to other users automatically.
By default, Apple includes various specific Focus modes, such as Work, but users can add and customize their own.
Apple's translation app has been expanded upon, and its features will now be available system-wide. "Translate text anywhere, even in many third-party apps," says Apple in a statement. "Just highlight text, rightclick, and select Translate to immediately see the translation."
Also, users who currently pay for iCloud services will automatically be upgraded to iCloud+, which adds new privacy features to the Mac, including a VPN.
Hardware updates
Certain macOS Monterey features are directly related to hardware. A new Low Power Mode "manages energy-intensive apps and processing," meaning battery life is extended.
Continuing the increasing use of spatial audio across the Apple eco-system, macOS Monterey will support it to bring theater-like sound to AirPods Pro, or AirPods Max.
Availability and compatibility
The first developer beta of macOS Monterey is being made available immediately. Public betas will begin in July, and the shipping version will be released in the Fall.
The new macOS Monterey will run on the following models of Mac:
iMac: late 2015 or later
iMac Pro
MacBook Air: early 2015 and later
MacBook Pro: early 2015 and later
Mac Pro: late 2013
Mac mini: late 2014 and later
MacBook: early 2016 and later