Nomad Base One review: The most premium MagSafe charger around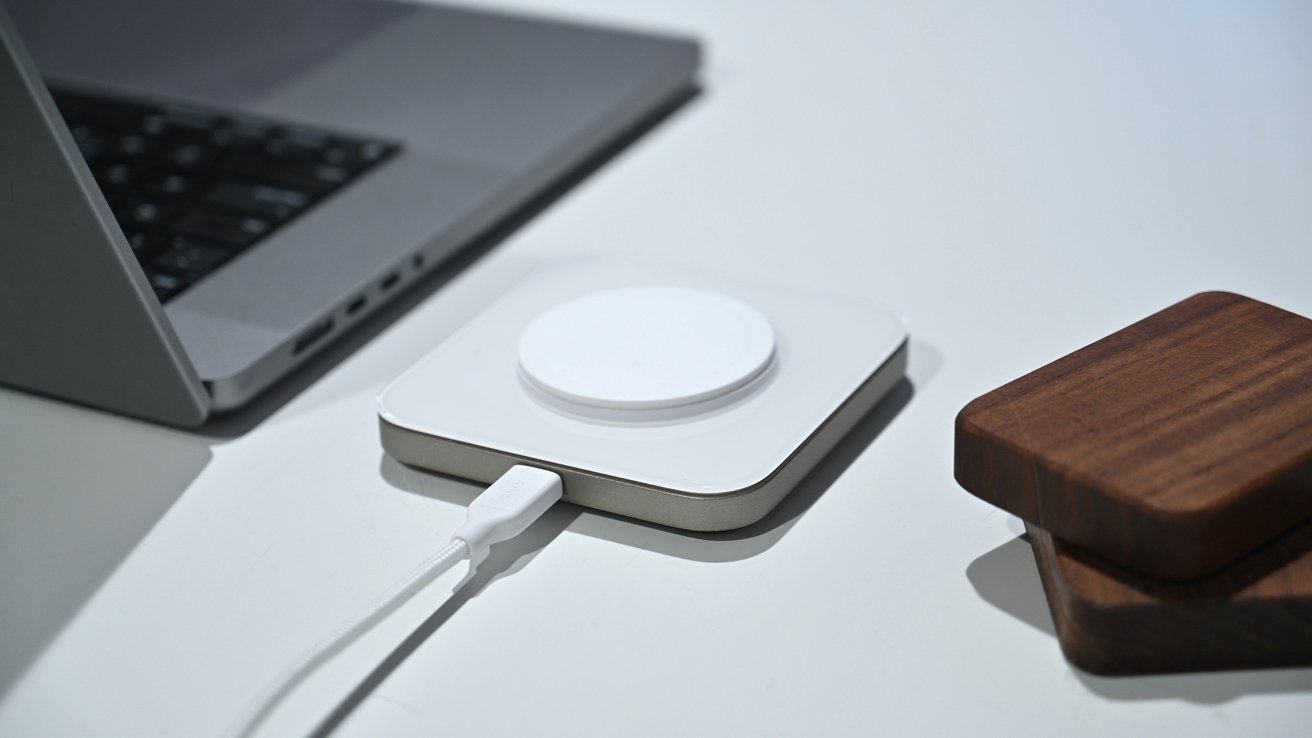 ---
AppleInsider may earn an affiliate commission on purchases made through links on our site.
Nomad's first MFi-certified MagSafe charger — Base One — has landed. With an all-glass and metal design, it's the most luxurious MagSafe charger to hit the market yet.
The accessory maker is trying to make a statement with its first-ever MagSafe charger. It goes beyond just putting magnets into one of their existing chargers as they've done to date.
So far, MagSafe is built into the iPhone 12 and iPhone 13 lineups, as well as AirPods Pro and third-generation AirPods. Since MagSafe is backwards compatible, you can use it to charge Qi devices too, albeit at slower speeds.
It has a hefty metal base atop, which sits a pane of glass. The Apple MagSafe puck rises from the center, elevated from the glass surface.
Nomad includes a USB-C cable in the box, color-matched to the Base One. Our Base One is in a new white colorway — out of the norm for Nomad — but a dark carbide grey option is also available.
Premium materials
Nomad has always utilized premium materials, and that's on full display with Base One. That metal base is anodized aluminum with a finish that shimmers. Aluminum isn't a very dense metal, so the charger has been bolstered by a block of zinc alloy that adds additional weight.
In the hand, Holding Base One feels premium. Tipping the scales at over a pound, it will surely stay put as you lift your phone. The glass top looks beautiful with a slight gap around the edge that appears to hover above the aluminum slightly.
Even the cable is a premium offering. Rather than a simple barrel cable to cut costs, it's USB-C. And a nylon-braided USB-C cable at that.
Not Nomad's foray into MagSafe
This may be Nomad's first accessory to fully incorporate an official MFi module into a charger, but it isn't the first time Nomad has built a MagSafe accessory. Nomad has many accessories that work with Apple's magnetic connection system.
Nomad has an entire case lineup that all supports MagSafe. From a folio to a snap-on shell. There's also a leather cover for Apple's MagSafe puck.
Then we have a pair of MagSafe mounts, some as a stand and others flat.
And, Nomad's Base Station lineup has been updated to include magnetic alignment. The magnets properly align the phone, though they only charge at Qi speeds.
That requisite power
Nomad says that Base One will require 30W of power to reach 15W of delivered power. This differs from Apple's saying that MagSafe only requires a 20W adapter.
If Nomad is using Apple's official MagSafe module, it begs the question as to why it necessitates the additional juice. As it turns out, this is a commonality amongst all third-party MagSafe devices.
Belkin's Boost Charge Pro Portable Wireless Charger Pad With MagSafe also requires 30W of power.
The issue lies within the additional electronics needed with third-party chargers that jump up the power draw to closer to 27W. In the end, Nomad's — and all other third-party MagSafe chargers — can deliver plenty of power to your iPhone when paired with a proper power adapter.
We tested this for ourselves and saw peak power of around 18W while charging our iPhone 13 Pro.
Should you buy the Nomad Base One?
We've been testing the Nomad Base One for the past couple of weeks and find it perfectly lovely. It's wonderfully weighted, fast at charging, and looks great pretty much anywhere. It was crafted with attention to the smallest of details.
In the world of MagSafe accessories, Nomad's Base One is indisputably the most premium solution around. But that lofty premium title comes with an equally lofty price tag.
Priced at $130, Base One is a luxury item. There are certainly more affordable options to jump into MagSafe than this charger. You could buy MagSafe Duo or three of Apple's MagSafe pucks.
But if something makes you happy and you love how it looks, that price tag becomes less critical.
Weighs more than a pound and stays in place
Full-speed MagSafe charging at 15W
Premium design with glass and aluminum materials
Official MFi-certified MagSafe puck
USB-C power supply rather than barrel connector
Huge price tag
Only charges one device
No power brick included
Glass top shows dust very easily
Rating: 4 out of 5
Where to buy