Apple unveils new MacBook Air with M2 processor in multiple colors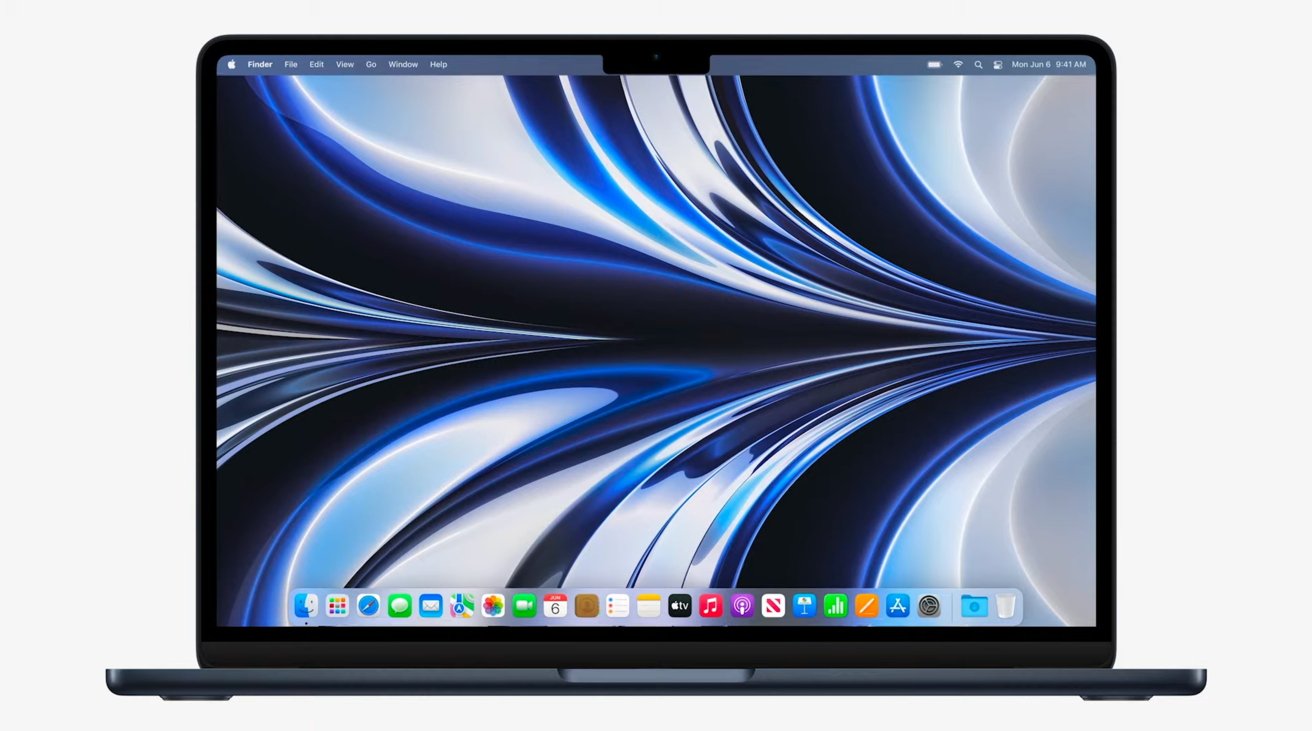 Apple has used WWDC to reveal a major redesign of the MacBook Air, upgrading it to be more in line with the current-gen MacBook Pro range.
Shown as one of the first Macs to be using M2, the update to Apple Silicon, the MacBook Air does away with its traditional thin wedge design in favor of a flatter appearance. Even so, it's still 11.3mm thin and 2.7 pounds. Apple says this is a 20 percent reduction in volume compared to the previous model.
Rumors were partially right about a range of colors, but Apple is offering only four options: Silver, Space Gray, Starlight, and Midnight.
The port selection has been updated, with two Thunderbolt ports joined by a 3.5mm headphone jack with high-impedance headphone support, and the return of MagSafe. This MacBook Air supports Fast Charge to charge the device up to 50 percent in 30 minutes, and customers can buy a 67W USB-C power adapter for this.
Impedance is a measurement of resistance to electrical current. High-impedance headphones can be anywhere from 250 to 600 ohms, which is the term used to describe electrical impedance.
What Apple customers need to know is that high-impedance means high audio quality. In addition, the MacBook Air has a four-speaker sound system. Apple says it brings an audio array with three microphones as well as "advanced beamforming algorithms."
Apple first used the term "beamforming" when it launched the first model of HomePod. Beamforming aims to alter the audio based on the user's environment, such as figuring out which objects in the background absorb or reflect sound.
The NewM2 Chip
Apple's newest custom silicon is the M2 chip. It's an update to the M1 chip and brings an 8-core CPU and a next-generation GPU that can include up to 10 cores. This is two more cores than M1.
The M2 supports up to 24GB of fast unified memory, and Apple specifically mentions workflows such as video editing with a new media engine and new ProRes engine for hardware-accelerated encode and decodes.
The Liquid Retina Display is now a 13.6-inch panel, with support for a billion colors and capable of up to 500 nits of brightness. On the top is a 1080p FaceTime HD camera in a notch, complete with twice the low-light performance of the previous Air.
For customers that want something different, iOS 16 and macOS Venture offer Continuity Camera, so the iPhone can act as a webcam for a Mac.
This new model will be available in July 2022 for $1,199 for customers in the United States.