Future Apple Watch could get cameras for photography & Face ID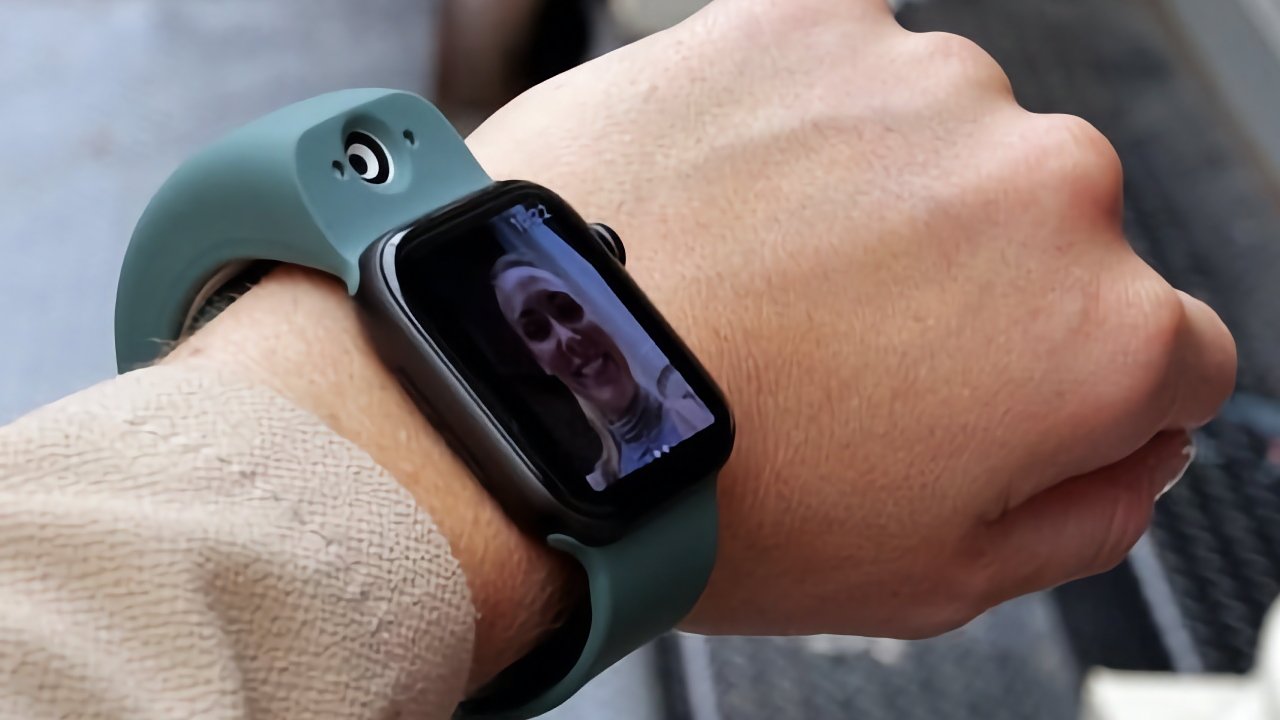 Apple has big plans for cameras in future Apple Watches, if they can be fitted without making the watch awkward to wear — and if the cameras can be of high enough quality.
The popularity of the Apple Watch Ultra has shown that people are willing to wear bulkier devices if there is a clear benefit to them. In the case of the Apple Watch Ultra, that benefit includes a greatly extended battery life, for instance.
Future Apple Watches may also become at least a little larger, as Apple is again looking at ways to incorporate a camera. Previously, Apple has had a patent granted to include a camera in the Apple Watch's Digital Crown, but that's got to have very limited use.
Now in a newly-revealed patent application, Apple is proposing that a Watch could fit a camera into a slight protrusion toward the top of its chassis, above the display. "Wearable Electronic Device Having A Digital Camera Assembly," would be similar to the existing Wristcam in where the camera is positioned, but that product is a whole Watch band.
Apple isn't keen on taking up a whole band, or anything that makes the Apple Watch cumbersome.
"While certain electrical components, such as a camera, may perform desirable
functions," says the patent application, "the integration of such components may result in a bulky device which may hinder user performance, may be uncomfortable to wear, or may be unsuited for performing certain functions (e.g., a camera disposed within a wearable electronic device may be awkward to position when capturing optical input)."
Apple is also dismissive of compromises to fit the camera into a Watch band. "Additionally, low-quality components may not meet a user's quality expectations," it says, "(e.g., a low-quality camera may produce low-quality images)."
It's not just that Apple wants you to look nice on photographs. Apple specifically wants a video camera with up to 4K and 60 frames per second, or a still camera up to 12MP.
That's because this is for more than photography wildlife, more than for capturing the crowd at Little League. This camera is actually meant for more than any regular photography or video.
"The digital camera assembly may be used for a variety of purposes," continues Apple, "including, as non-limiting examples, facial identification, fingerprint sensing, scanning a Quick Response (QR) code, video conferencing, biometric monitoring (e.g., heart rate monitoring), photography, video or image capture, or any combination thereof."
So with a camera on your Apple Watch, you could unlock all of your Apple devices through Face ID.
The Watch could also use its camera to "capture movement of a user's body or other objects during certain activities." Using visual inertial odometry (VIO), "the camera can be used to obtain a high degree of motion sensing accuracy, which may be used to monitor, detect, and/or predict a user's motion or gesture based on certain characteristics."
That's a lot to demand of a camera, and Apple is not expecting to be able to fit one under the screen of an Apple Watch. Instead, it will be on what Apple calls a protusion, and much of the patent application is about how to do that without making the Watch distracting to wear.
"[A] digital camera assembly may be integrated into the wearable electronic device in a way so as to minimize an effect of the digital camera assembly on other electronic components and/or a form factor of the wearable electronic device," says Apple.
"For example, in implementations where a digital camera assembly is positioned within an internal cavity (e.g., camera cavity) of a protrusion," it continues, "the digital camera assembly may extend from the housing, over a band slot, and away from a display, a battery, a circuit assembly, or sensors of the wearable electronic device."
"Likewise, the protrusion may be shaped to avoid interfering with geometry of the band slot," says the patent application, "so that a band/strap may still be permitted to couple with the housing of the wearable electronic device."
The patent application is credited to five inventors, including Christopher M. Warner, whose previous work includes muscle-sensing Apple Watch bands.