watchOS 10 feature roundup: widgets, cycling, enterprise, and more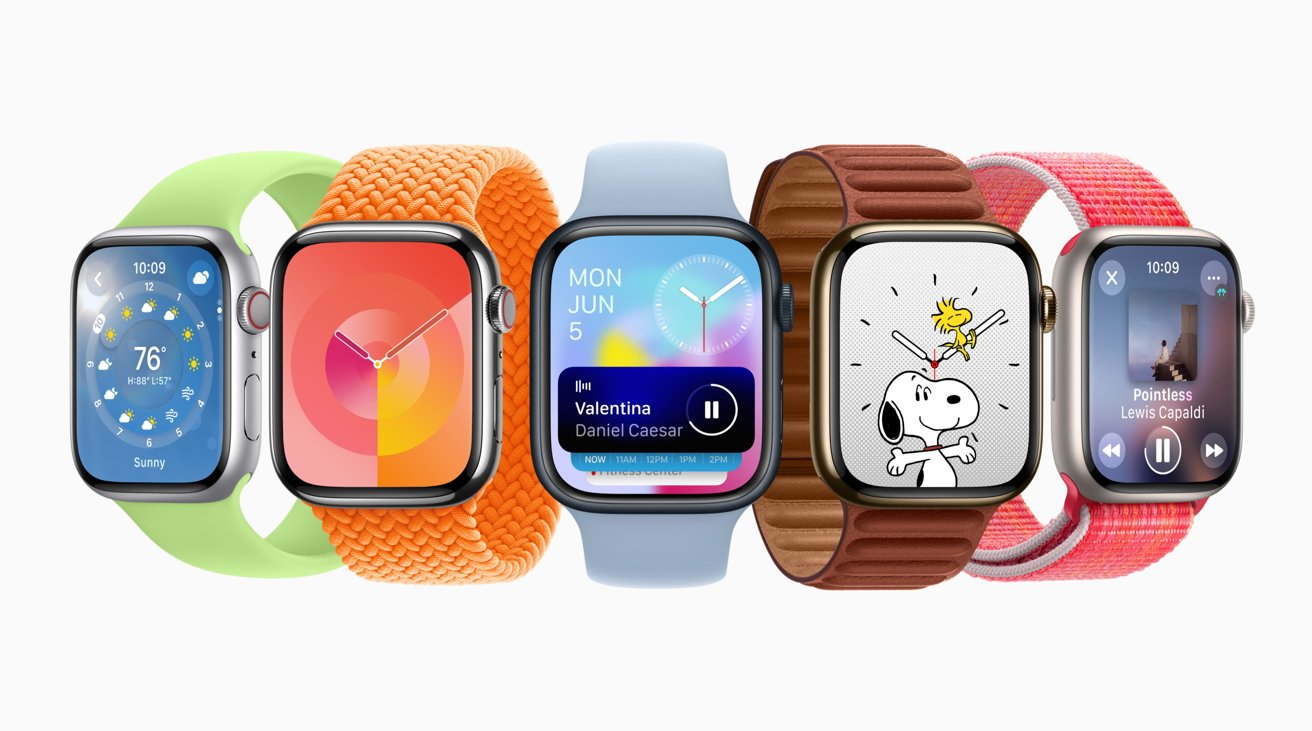 Apple introduced quite a few changes to watchOS 10 during WWDC, with the milestone release including a very widget-heavy approach for the Apple Watch software.
News from WWDC 2023 was dominated by the Apple Vision Pro headset, but Apple did take time to tell developers what to expect from its main operating systems in the fall.
For watchOS 10, a milestone release number, Apple made many changes to the operating system, with most attention made towards widgets and updated apps. There were also alterations to fitness data to help cyclists and hikers, as well as advances in mental and vision health.
Now that the dust has settled, this is what you can expect to see in watchOS 10 from its release in the fall, or shortly after it becomes available to the public.
Design and Widgets
The main attraction of watchOS 10 is Apple's changes in how it handles widgets, with a new way to summon them on the watch face by simply turning the Digital Crown.
Smart Stack lists widgets and pertinent information, such as weather updates and upcoming appointments on the display. This is triggered by turning the Digital Crown, which can then scroll through them.
Core Apple Watch apps including Weather, Stocks, Home, Maps, Messages, and World Clock have been updated to use up more of the display and provide more glanceable information.
Apple has provided the design language to developers, so that there is a cohesiveness between third-party and first-party apps.
Control Center is able to be brought up at any time by tapping the side button. Double-clicking the Digital Crown reverts back to any apps used recently.
Watch Faces
For watchOS 10, Apple has included a pair of new watch faces: Palette and Peanuts
Palette is an artistic watch face that uses three overlapping layers to display the time. As the day progresses, the colors on the display also shift to match, in an ever-changing image.
Peanuts is a watch face featuring the comic strip's characters Snoopy and Woodstock. The pair will interact and play with the watch hands, react to local weather conditions, and work out alongside the user.
Cycling
The main fitness-related changes focus on cycling, with a Workout now offering more data than ever before.
More datapoints including cadence, speed, and power can be added to Workout View using select Bluetooth accessories.
A Power Zones Workout View will appear if a power meter is detected. It will display an estimated Functional Threshold Power, namely the highest level of intensity you can maintain for an hour, as well as Power Zones.
Cycling will appear as a Live Activity on iPhone, which can use the iPhone's full display when tapped. The Live Activity displays data points such as speed, heart rate zones, elevation, and other details, with the intention of the iPhone being more easily viewable mounted to the handlebars instead of forcing riders to look at their wrist.
Hiking
Hikers get a number of new elements to help them get the most out of their outdoor walks.
Last Cellular Connection Waypoint is an automatically generated waypoint in Compass, estimating the last place with cellular reception, for placing calls and checking messages.
Last Emergency Call Waypoint will show where in a route the user had a connection to any available carrier's network, to allow an emergency call to be placed.
An Elevation View shows the elevation of a route and waypoints that a user had traveled along.
Users can search for details of nearby trails, including names, lengths, time, elevation gain, difficulty, and other useful information.
Topographic Maps show nearby geographic elevations with contour lines, as well as points of interest and lakes.
Mental Health
As part of the health-related changes Apple has added more mental health resources.
Mindfulness will allow users to log their emotions and daily moods. Turning the Digital Crown will let users show how they feel via multidimensional shapes.
Health app for iOS 17 will offer insights to what may be contributing to the user's state of mind, such as associations or lifestyle factors like sleep and exercise.
Depression and Anxiety assessments will be available in the Health app, and can be shared as a PDF with the user's doctor.
Vision Health
To try and help maintain the user's eyesight, vision health resources are now being introduced via the Apple Watch.
The Apple Watch light sensor is used to measure time spent in daylight, viewable in the Health app. Under Family Setup, parents will be provided data with Health Sharing.
Connected to this, the Screen Distance feature uses the TrueDepth camera of the iPhone and iPad to prompt users to hold their devices further away from their face.
Fitness+
Apple Fitness+ gains a few small changes in the Apple Watch.
Custom Plans will let users select their personal workout preferences, including days, workout duration, workout types, trainers, and music.
Stacks will allow users to set multiple workouts to perform back-to-back.
Audio Focus can prioritize the volume of music or trainer's voices, depending on the user's preferences.
Enterprise
Enterprise changes include elements to keep workers safe, as well as productive.
Hands-free communication options, and responding to notifications on the go.
Fall Detection alterations to protect workers on a job site.
Support for Mobile Device Management, including remote app installations and account configurations.
Other features
Apple included a number of other elements that don't fit into neat categories for watchOS 10.
Through Workout APIs, developers can take advantage of the improved motion sensors in the Apple Watch Ultra and Apple Watch Series 8 to detect rapid changes in direction and acceleration, which may be used to create new sporting experiences. The APIs will also allow training platforms to import scheduled workouts into the Workout app.
Users can download maps to their iPhone for offline usage, which can then be viewed on the Apple Watch.
Video message playback for FaceTime allows for recorded messages to be viewed on an Apple Watch.
Group FaceTime audio call support.
NameDrop, the contact-sharing feature of iOS 17, will be available on Apple Watch.
Health app will provide follow-up medication reminders, which can be set as critical alerts.
While Apple will try to fit in many of the features in its betas, there's no guarantee that everything will be available to try out, nor that they'll appear at launch. For some features, it is typical to wait for Apple to add them to the operating system weeks or a few months after the actual release of watchOS 10 itself.
Apple is expected to publicly release watchOS 10 in September, alongside its other operating systems.