Hands on: Apple's new FineWoven iPhone 15 cases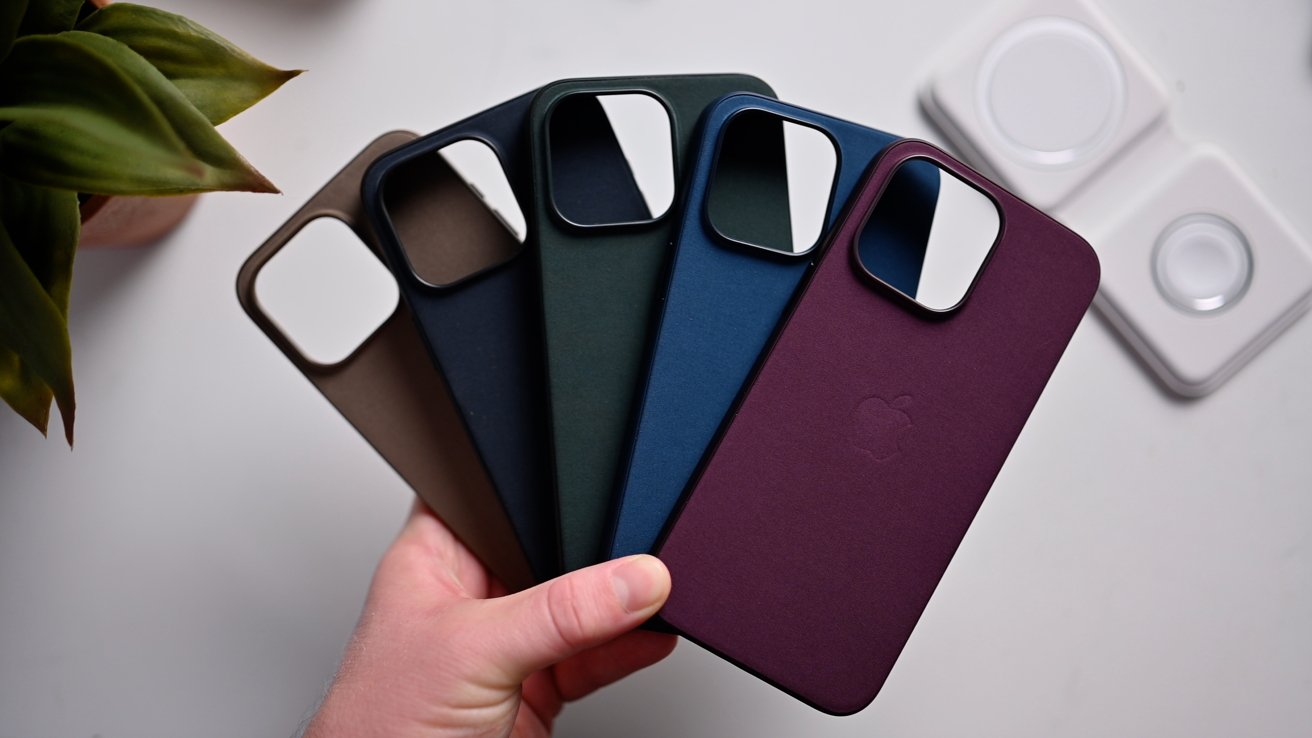 Ahead of the iPhone 15 launch, we nabbed all of Apple's new FineWoven cases. These are Apple's new eco-friendly alternatives to its popular leather cases, and we're going hands on.
The new cases are available in five new colors. None are particularly vibrant, sticking with the dark, muted earth tones to compliment the iPhone 15 Pro and iPhone 15 Pro Max.
We also took a look at the new MagSafe wallet that was updated too.
Apple's new FineWoven case colors are Cypress, black, Mulberry, Pacific Blue, and taupe.
Apple FineWoven cases
Apple has continued its environmental push, dropping leather from all of its products and even in Apple Stores. FineWoven is Apple's replacement and is now found in its cases, AirTag covers, MagSafe wallets, and Apple Watch bands.
In many ways, FineWoven is similar to the leather cases it supplants. The back has a depressed Apple logo in the center, because they of course need Apple branding.
The buttons are still aluminum and have been anodized to match the color of the cases. Since we looked at the iPhone 15 Pro Max cases, they sport the Action Button on the side.
Apple knows button feel is important so the buttons, including the Action Button, free float and make direct contact with the buttons they cover.
The interior microfiber has been replaced by more FineWoven material, providing an updated soft material to butt up against your phone.
We're a bit torn on the FineWoven material. It is very soft, almost satin-like, but seems to hold dust easily. The sides of the case also feel plastic-like, though they still have some texture to them.
The sides are one of the bigger differences. The leather cases had leather wrap all round the edges and to the inside, while the new ones have a distinct separation from the back to the sides.
In our limited testing, the new cases do seem to be more water resistant though. They do soak up water, but seem to dry without any damage.
FineWoven MagSafe wallet
To couple with the new cases, Apple has updated versions of its MagSafe wallets. Like with the cases, there are no longer any leather options.
It's available in the same five colors as the above FineWoven cases and we picked one up in Pacific Blue.
Unsurprisingly, the new wallet feels just like the case. A slight, velvet-like texture with a hole on the back to help remove the stored cards.
One nice addition is that this new texture makes the attraction feel stronger. Leather on leather would slide more easily.
This should prevent the wallet from inadvertently coming off the phone when in your pocket.
Otherwise, it is the same case we've had for the last year, including limited Find My support.
Available now
Apple's new FineWoven cases and the updated MagSafe wallets are available to order now for $59.