Apple rolls out watchOS 10 for Apple Watch with new faces, health features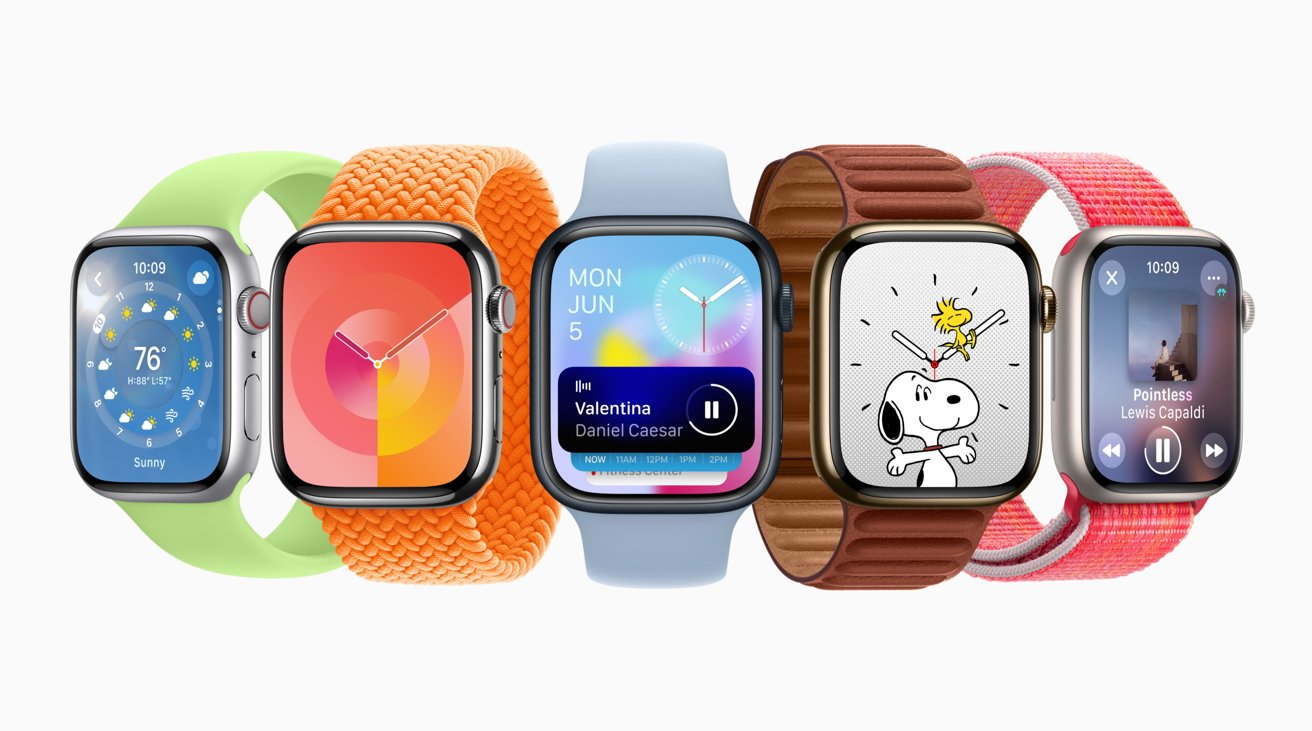 Apple has released watchOS 10 to the public, bringing new features such as new Cycling tracking features, new watch faces, and user experience updates.
Announced at WWDC 2023, watchOS 10 is now available to the general public. Users can update to watchOS 10 by accessing the iOS Watch app and navigating to General, then Software Update.
The app can automatically install the update, but the Apple Watch must be at least 50% charged, placed on a charger, and within range of the iPhone.
Display & Widgets
One of the big selling points of watchOS 10 is Apple's changes in how it handles widgets, with a new way to summon them on the watch face by simply turning the Digital Crown.
Core Apple Watch apps, including Weather, Stocks, Home, Maps, Messages, and World Clock, have been updated to use up more of the display and provide more glanceable information.
The latest addition to the watchOS experience is the Smart Stack feature. This feature lets users view widgets that display weather updates and upcoming appointments by simply turning the Digital Crown. This makes it easier for users to stay updated with their schedules and weather conditions without navigating multiple apps.
The latest update from Apple brings a new design language for developers to create a seamless experience between third-party and first-party apps. This means that users can expect a cohesive and unified interface across all apps on their device, regardless of the developer. This move aims to improve user experience and make the watchOS platform more user-friendly.
New Faces
Apple has added two new watch faces in watchOS 10.
Palette is an artistic watch face with three overlapping layers to display the time. As the day progresses, the colors on the display also shift to match an ever-changing image.
Peanuts is a watch face featuring the comic strip's characters Snoopy and Woodstock. The pair will interact and play with the watch hands, react to local weather conditions, and work out alongside the user.
For the Apple Watch Ultra, there's a new face: Modula Ultra. Taking advantage of the large display, the face uses the outer edge to show real-time data, such as seconds and altitude, as well as showing the most complications of any Apple digital watch face.
Cycling
While the Apple Watch is an all-encompassing health tracker, most major fitness updates this year focus on cycling.
More data points, including cadence, speed, and power, can be added to Workout View using select Bluetooth accessories.
A Power Zones Workout View will become visible when a power meter is detected. This view provides valuable information regarding your estimated Functional Threshold Power and Power Zones, allowing you to optimize your workout and achieve better results.
When cycling, your iPhone can display Live Activity data on its full screen when tapped. This feature shows speed, heart rate zones, elevation, and other details, making it easier for riders to view their stats when their iPhone is mounted on their handlebars instead of glancing at their wrist.
Hiking
Hiking activity tracking has also gained several new updates, helping hikers get the most out of their treks.
The Last Cellular Connection Waypoint feature automatically generates a waypoint in Compass, estimating the last place with cellular reception for placing calls and checking messages.
When searching for nearby trails, users can view details such as the name, length, time, elevation gain, difficulty, and other useful information. Additionally, topographic maps can provide helpful information such as geographic elevations, contour lines, points of interest, and lakes.
Vision Health
Apple's watchOS 10 includes vision health trackers. The light sensor measures time spent in daylight, and the data is viewable in the Health app. Health Sharing, part of Family Setup, allows parents to access this data.
The newly added Screen Distance feature uses the TrueDepth camera of the iPhone and iPad to prompt users to hold their devices further away from their faces.
Mental Health
Mental Health features have also been expanded as part of this update.
Mindfulness allows users to log their emotions and daily moods. Turning the Digital Crown will let users show how they feel via multidimensional shapes.
The Health app for iOS 17 provides valuable insights into factors that may affect the user's mental state, including lifestyle habits like sleep and exercise. Additionally, the app includes assessments for Depression and Anxiety that can be easily shared as a PDF with the user's doctor.
Apple Watch Series 9 and Apple Watch Ultra 2 Upgrades
At the time of the Apple Watch Series 9 and Apple Watch Ultra 2 launches, Apple introduced other changes that affect watchOS 10 for those models.
With the inclusion of a new S9 SiP with a new 4-core Neural Engine, the Apple Watch can now perform on-device processing with Siri. For queries that do not require Internet access, such as starting a timer or a workout, Siri can perform the action without going online.
This also enables Siri to access data from the Health app for health and fitness-related queries, such as asking how many hours of sleep the user had.
The Neural Engine also improves dictation accuracy by 25 percent.
The second-generation Ultra Wideband chip also gives the new models Precision Finding for the iPhone 15 device family. This allows you to find a misplaced iPhone, complete with direction and distance.
A new Double Tap gesture now allows users control the Apple Watch with one hand, and without touching the display. Double-tapping will perform commonly used actions within the current app, such as stopping or starting a timer.
The Ultra Wideband change also deepens the integration with HomePod, as users can see the Now Playing interface when they're within feet of a HomePod.
Miscelaneous updates
Apple included several other elements that don't fit into neat categories for watchOS 10.
Through Workout APIs, developers can use the improved motion sensors in the Apple Watch Ultra and Apple Watch Series 8 to detect rapid changes in direction and acceleration, which may be used to create new sporting experiences. The APIs will also allow training platforms to import scheduled workouts into the Workout app.
You can now watch recorded messages on your Apple Watch through the FaceTime video playback feature. Additionally, the Apple Watch now supports Group FaceTime audio calls.
iOS 17's contact-sharing feature, NameDrop, will also be accessible on the Apple Watch.
Another new addition is the Health app's medication reminder feature, which allows for critical alerts to be set as follow-up reminders.