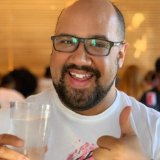 Damien Lavizzo


---
Damien has been interested in tech almost since he was born. The first device he can remember using is the Texas Instruments TI-99/4A, one of the first consumer home gaming consoles. One of his earliest memories is playing Gauntlet in his dad's lap. Ever since, gaming and tech have been a part of Damien's life.
His professional career started as a direct response to the 9/11 attacks. Damien joined the Navy on September 12, 2001. He spent four years as a part of helicopter squadron HSC-8 as an Aviation Electronics Technician, mainly being responsible for the onboard radar and sonar systems. After that, he spent the next few years as part of Governor Schwarzenegger's "Operation: Welcome Home program while obtaining his B.A. in Communications.
While he's a California kid at heart, and lived there most of his life, recently Damien and his wife moved to Nagano, Japan. Nagano is most famous for hosting the 1998 Winter Olympics, but it's also known as the home of Japan's world-famous snow monkeys.
Macs have always been a part of his life. The first Mac he bought for himself was the MD101 MacBook Pro while in college, and he has never looked back. He's been all-Apple ever since. He's currently exploring the game selection on Apple Arcade and waiting patiently for the next seasons of Foundation and Ted Lasso.
Currently, when he's not at work, you can find Damien in the world of Eorzea, playing Final Fantasy XIV with his wife or flinging paint at his former students in Splatoon 3.