21.5-inch iMac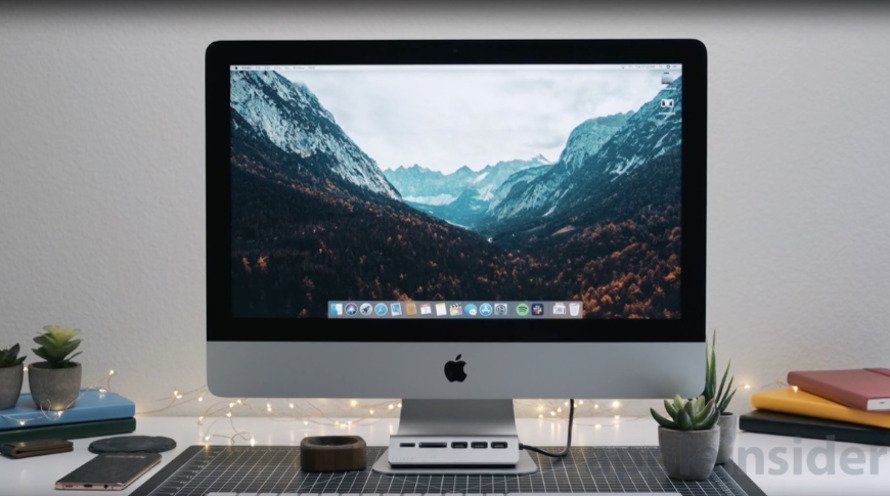 Last updated: 1 month ago
The 21.5-inch iMac 4K launched in 2015. It shares all the same design elements of the larger iMac, and retains the classic unibody all-in-one design. This iMac is priced to be education-friendly with decent specs through the lineup.
● 21.5-inch 4K Retina Display
● 500 nits and P3 color gamut
● up to 6 core i7
● up to 32 GB RAM
● up to Radeon Pro Vega 20
● up to 1TB SSD
● starts from $1,099
---
Starting at $1,099, the 21.5-inch iMac is what you would expect from an entry-level Apple desktop. Middling specs, a beautiful display, and modern processors make this the perfect buy for any casual user.
The baseline iMac is equipped with a 3.6GHz quad-core 8th generation Intel Core i3 processor. Other processor options include a 3.0GHz 6-core 8th generation Intel Core i5, and 3.2GHz 6-core 8th generation Intel Core i7 processors.
21.5-inch iMac Pricing
The 21.5-inch iMac with 4K display ships with a base configuration of 3.6GHz quad-core i3, 8GB DDR4 RAM, 256GB SSD, and Radeon Pro 555X graphics for $1,299. This can be configured with faster Intel processors up to the intel core i7, an SSD or Fusion Drive of up to 1TB, more RAM up to 32GB, and improved graphics with a Radeon Pro Vega 20.
Maxing this machine out would cost $3,049. AppleInsider recommends the middle tier 21.5-inch iMac for $1,499.
21.5-inch iMac features
Design
Since its reveal in 2014, the iMac has changed almost nothing about its outward appearance. The same 21.5-inch screen, 4K resolution, P3 color gamut, and 500 nit brightness has been in place through every upgrade.
The unibody design hasn't changed, either. The frame tapers at 5mm up to a large hump in the rear to house the internal components. There is a sizable chin under the screen. Cooled from an internal fan and vented below the screen, there is beginning to be some concern that this design will be thermally limited in the coming generations.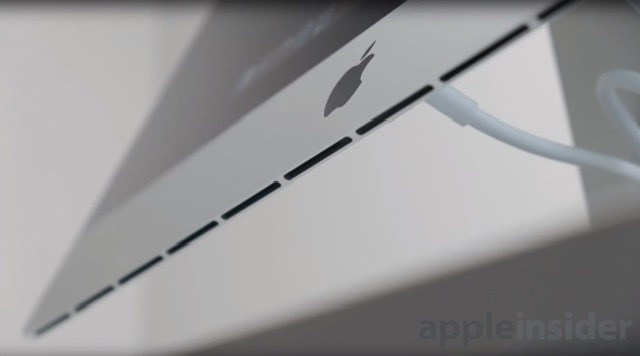 Processors
The 21.5-inch iMac with a 4K display comes with an 8th generation Intel Core i3 and i5 chipsets by default. It can be configured to include the i7 as well.
Customers can select between the Radeon Pro 560X with 4GB of GDDR5 memory, or go all out with a Radeon Pro Vega 20 with 4GB of HBM2 memory. Although, users who need more power and are willing to spend in this range will likely jump up to the 27-inch iMac or the iMac Pro.
Upgrade Path
Unlike its 5K counterpart, there is no rear door to access the RAM, but the RAM is upgradeable if the machine is disassembled. The smaller iMac has the same ports as the 27-inch iMac; two Thunderbolt 3 and four USB-A, an SD card reader, a headphone jack, and a gigabit Ethernet port.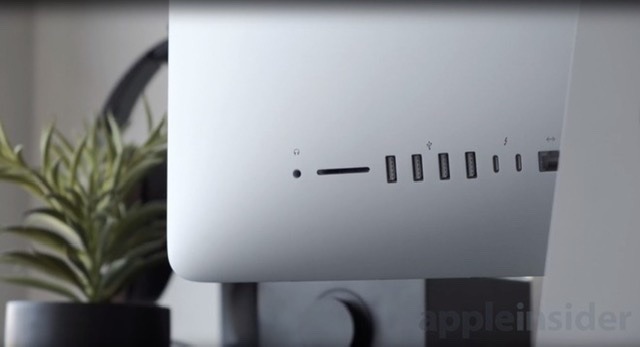 If users need more graphics capabilities, Thunderbolt 3 allows users to attach powerful external GPUs, such as those from Black Magic. This means that users can purchase a new external GPU instead of replacing the entire iMac when newer specs are required.
Thunderbolt 3 can also be used to attach external monitors. The iMac 4K can drive a single 5K display or two 4K displays. Apple partners with LG to produce official monitors for Macs, like the LG 23.7-inch 4K UltraFine Display.
History of the 21.5-inch iMac
2020
The iMac line was updated on August 4 to be up-to-spec with other Macs released in 2020. The naming scheme shifted to address the display size, not the resolution, to be more standardized.
The 21.5-inch iMac received no substantial update, but can now be configured with SSD storage by default. All other specs remain the same.
These updates are expected to be the last for the classic iMac models. The next update should arrive in 2021 with a larger display and running Apple Silicon. Rumors show a 24-inch iMac is likely to hit the market first.
2019
As stated before, the modern iMac 4K saw some decent speed boosts, new intel chipsets, better GPU options, and better memory when Apple updated the line this year. The biggest issue being that the baseline hard drive is still the same slow 1TB HDD drive that users may wish to upgrade.
Everything else remains the same, with the same design and screen.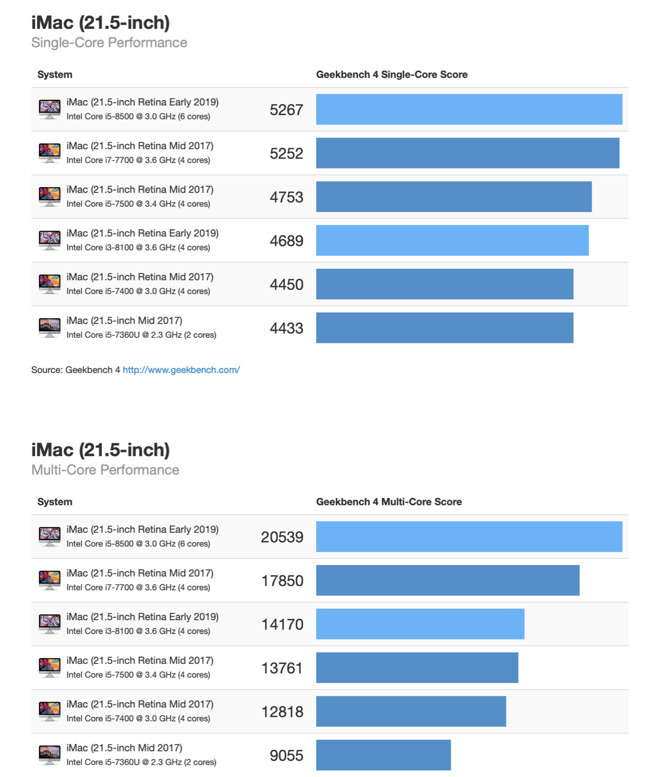 2017
2017 brought several new updates to the iMac. New Kaby Lake Intel processors, discrete Radeon Pro GPUs, and Thunderbolt 3 all arrived in the same year. This meant speed improvements across the board, making the base iMac 4K a much better value than before.
The entry-level machine still had a slow HDD that needed upgrading despite the other speed improvements.
2015
The iMac 4K was announced in fall 2015 to no one's surprise. After the 27-inch iMac 5K released the year prior, it was only a matter of time before the smaller 21.5-inch iMac received similar treatment. It released with a new feature to the iMac line: support for P3 color gamut.
Alongside the 4K model, Apple updated the iMac 5K with the same new features and launched upgraded peripherals. Shipped in-box with the new iMacs, the new Magic Mouse, Magic Trackpad, and Magic keyboard featured a modified design and rechargeable batteries.
Common 21.5-inch iMac Questions
Is the 21.5-inch iMac good for gaming?
The more expensive configurations should handle gaming fairly well. However, since macOS isn't nearly the gaming platform that Windows is, you'd need to use Bootcamp to get the best gaming experience.
Is the 21.5-inch iMac upgradeable?
No, the 21.5-inch iMac does not have user-installable RAM or other components.
What comes in the box of the 21.5-inch iMac?
Apple includes the following in the box:
iMac
Magic Mouse 2
Magic Keyboard
Power cord
Lightning to USB Cable
How much does the 21.5-inch iMac cost?
21.5-inch iMac pricing starts at $1,299. This base configuration includes a 3.6GHz quad-core i3 processor, 8GB DDR4 RAM, 256GB SSD, and Radeon Pro 555X graphics.