» »
How to find AirPods that have been lost or stolen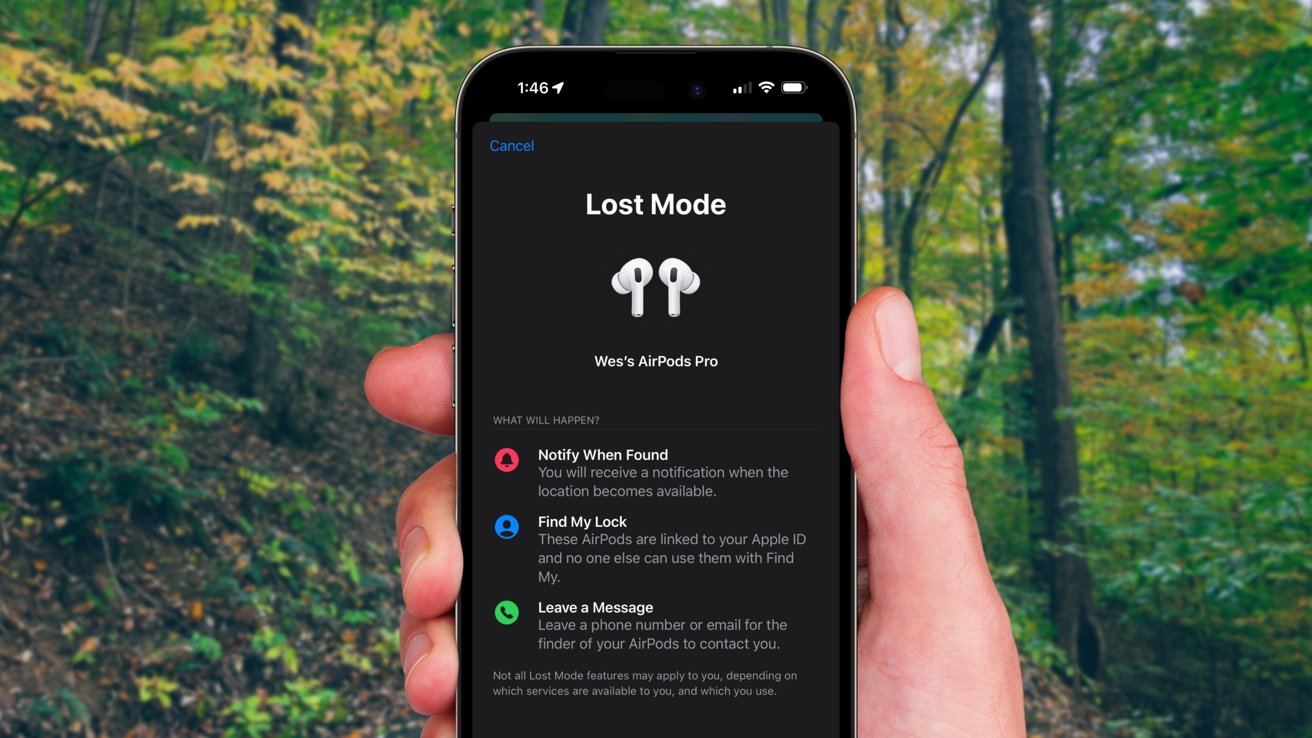 Apple's Find My network can help users locate their lost or stolen AirPods. Here's how.
Almost every Apple product connects together to create a mesh network over Bluetooth, Wi-Fi, or Ultra Wideband. This crowdsourced network is called Find My, and it can help you get into the general vicinity of any missing Apple product, even AirPods.
There are multiple generations of AirPods across three model categories — AirPods, AirPods Pro, and AirPods Max. The Find My AirPods experience is similar for each of them, though the AirPods Pro 2 have a few additional tricks.
The Find My network is useless if you're not opted in. So, ensure the feature is enabled before your AirPods go missing.
How to set up Find My on your iPhone
Open the Settings app.
Tap on your name at the top.
Tap on Find My.
Verify "Find My iPhone" is on.
Additional settings can be found in this menu to enable participating in the Find My network and sending your iPhone's last known location before battery exhaustion.
Get notified when AirPods are left behind
Before a device is lost in the first place, take some preventative measures. Set up "left behind" notifications for devices like AirPods in the Find My app.
Open the Find My app.
Tap the Devices tab at the bottom of the screen.
Locate your AirPods from the list and tap them.
Tap "Notify When Left Behind"
Toggle the feature on and set up exceptions like your home address.
This feature is great for ensuring AirPods are never left at the office or in the gym locker. Though, if they've been left in a less specific location, Find My has tools for getting within a few feet of the item.
How to find AirPods
Apple's Find My app can locate AirPods after they've been misplaced or stolen. Note that Apple doesn't endorse users tracking down known stolen items but instead asks that they report it to the police.
Open the Find My app.
Tap the Devices tab at the bottom of the screen.
Locate your missing AirPods from the list and tap them.
Use this menu to find your AirPods or activate lost mode.
How the Find My menu functions will depend on the model of AirPods being tracked. The state of the case may impact how easily the AirPods can be tracked.
Find My AirPods Pro 2
We're carving out a specific section for AirPods Pro 2 since they've got the most unique feature set. Apple changed how the Charging Case functions thanks to the addition of speakers and the U1 chip.
Normally, users wouldn't be able to locate their AirPods using the "Play Sound" feature of Find My if they are in the case. However, the AirPods Pro 2 case has its own set of speakers that create a loud chirping sound when activated.
There's also the added benefit of the U1 Ultra Wideband chip. Like AirTags, precision finding will show an arrow and guide the user within inches of the lost AirPods Pro 2 case.
All other AirPods
All three generations of the standard AirPods and the AirPods Max have similar functionality with Find My. They are limited by Bluetooth connection, which is only possible when out of the charging case or sleeve.
If the AirPods are free from their case or sleeve, or the case lid is open, the AirPods will attempt to connect to any nearby device and update their location. Use the "Find" or "Play Sound" function if you know the AirPods are nearby and need help locating them.
However, these functions will only work if the iPhone can connect with the AirPods via Bluetooth.
Find My can get the user within a few feet of where the AirPods are located, but will lack direction or distance. Playing a sound is the only way to get a more precise area to search in.
Find My AirPods Lost Mode
The Lost Mode in Find My tells a device it is missing and can notify the owner when it is located. From the AirPods Find My menu, select "Activate" beneath "Mark As Lost." This initiates the Lost Mode system for the AirPods.
Since AirPods cannot connect to the internet on their own, Lost Mode doesn't do anything until the AirPods connect to a new online device. Stolen, lost, or otherwise, the next time your AirPods connect to an Apple product, a message will appear, and the owner is notified with an updated location.
You can leave a custom message along with your email or phone number when a device is placed in Lost Mode. So if you suspect the AirPods are stolen, a message of "We have your location and police have been notified" may be apt.
Lost Mode doesn't prevent the AirPods from being used, and whoever has them can connect and use them as Bluetooth earbuds. However, the iCloud data will remain attached to the AirPods, and the device name will show up as "Not Your AirPods."
Stolen AirPods and involving police
While some situations won't warrant police, others will. AirPods are small devices that can be swiped from a table in a second, and your only recourse would be to involve the police.
Never chase down a thief or use Find My to track stolen devices to private property. AirPods aren't worth your life.
If your AirPods are stolen, and the thief tries to use them or sell them, chances are, Lost Mode will tell you exactly where to find them. Notify the police, file a police report, and hope for the best.
Since AirPods lack personal information and are relatively inexpensive, having a set stolen isn't a world-ending scenario. There's a slight chance a stolen set could be recovered, but you're likely going to be buying new ones.
Ordering replacement AirPods parts
Apple can provide a new earbud or charging case at a reduced price if one goes missing. Provide the serial number to Apple Support to set up a replacement.
The AirPods serial number is stored on your iPhone:
Open the Settings app.
Tap on Bluetooth.
Locate your AirPods in the list and tap the "i" icon.
The serial number is listed here.
Apple doesn't offer insurance for lost AirPods with AppleCare as it does for iPhone. So, if an entire set of AirPods goes missing, then you'll have to buy a new set at retail price.