Topic: mesh
01/07/2019, 03:01 pm

Netgear has used CES 2019 to introduce an updated version of its Orbi Whole Home Wi-Fi system, its mesh-based networking product, with the latest version offering connectivity using sixth-generation Wi-Fi, 802.11ax.
10/09/2018, 09:10 am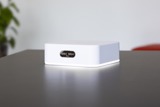 The AmpliFi Instant Home Wi-Fi Mesh System is designed to deliver hassle-free Wi-Fi that can be set up functioning in two minutes. But is it a worthy replacement for Apple's AirPort systems?
07/11/2018, 02:07 pm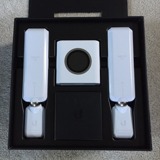 Amplifi, a subsidiary brand of Ubiquiti, sells Wi-Fi mesh routing systems that target the same market Apple's AirPort routers were focused on: easy-to-manage networks with high performance and industrial design pleasant enough to put in the home.