Apple's Broadway store to open Saturday, Nov. 14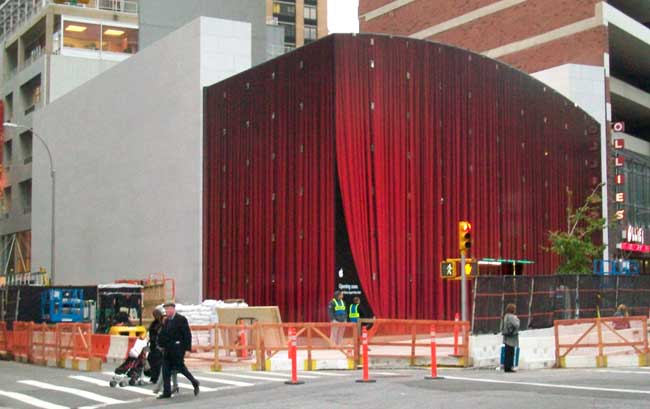 Apple has officially announced that its forthcoming flagship store on Broadway in New York City will have its grand opening on Nov. 14, in time for the holiday shopping season.
The store is located at Broadway and 67th, and Apple recently began hyping its impending opening by shrouding the glass-front store with a graphic depicting a red curtain. That same red curtain has appeared on the retail store's official Web site and on invitations sent to members of the press for the grand opening.
The company had promised the location at 1981 Broadway, which used to be home to a Victoria's Secret, would open by the end of 2009. It was originally expected to finish by Thanksgiving, but as of September that deadline was pushed back.
According to Gary Allen at ifoAppleStore, the store's unique curved glass roof design cover the rear three-quarters of the new store. The store's huge glass storefront is said to be 54 feet tall, 75 feet wide and 30 feet deep. It has been covered with black plastic, concealing the inside. Permits show that the Apple Retail outlet will include one level above ground and two below.
The sidewalk in front of the store is currently blocked off, and is under watch by security guards.
The location was first revealed in late 2007. The city required Apple to retain at least half of the original exterior wall for the new location. The construction reportedly cost $37.9 million.
The Broadway location will be Apple's fourth Manhattan retail outlet. Existing stores exist on Prince Street in SoHo, on West 14th Street in the Meatpacking District, and at Fifth Avenue and 59th Street. This year, the Fifth Avenue store was revealed to be the most profitable per square foot in the expensive shopping district. The store is estimated to have annual sales of more than $350 million.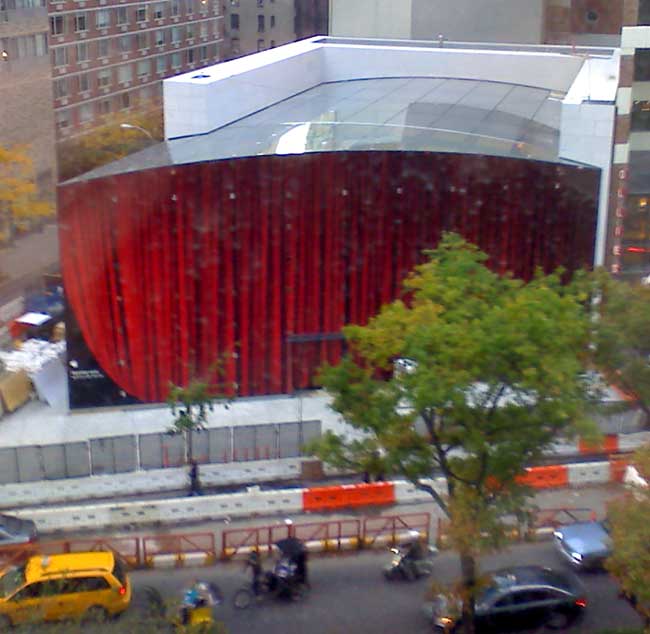 In other retail news, opening this weekend is the new Apple Store at the Carrousel de Louvre in Paris, scheduled for 10 a.m. on Saturday. MacGeneration was in attendance at a press briefing at the new location, where Ron Johnson, senior vice president of Apple Retail, reportedly said that France is poised to have the fastest opening rate of stores, with the Montpellier location to open Nov. 14 and one near the Opera Ganier to debut in the summer of 2010.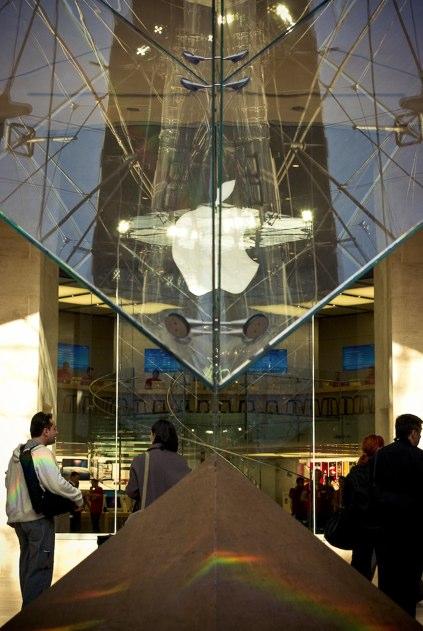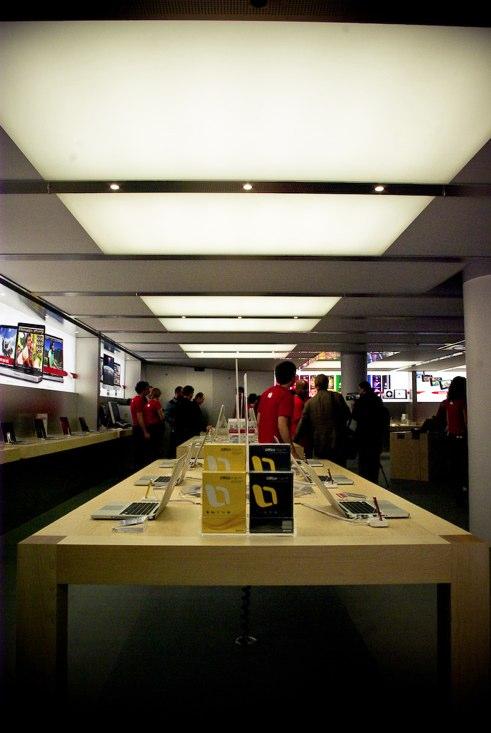 Finally, an AppleInsider reader sent word that the Apple retail store in the Mission Viejo Mall in Orange County, Calif., is set to re-open on Nov. 27. That store closed for renovations in September, after Microsoft announced it would open its own retail outlet in the same mall.